The latest in ORBCOMM's line of custom IoT devices, the ST 9100 is the most advanced terminal yet, boasting multi-network connectivity and a flexible programming environment for custom IoT solutions. The ST 9100 is purpose-built for use by ORBCOMM's vast partner network, enabling them to develop applications in a variety of industries.
Delivering cellular and satellite connectivity, this dual-mode telematics device is designed for monitoring and controlling assets in some of the most remote geographies around the world. The ST 9100 can be used for a wide variety of IoT applications such as vehicle security, fleet management, vessel monitoring, fisheries management as well as the remote monitoring of equipment in the oil & gas, construction and utilities sectors.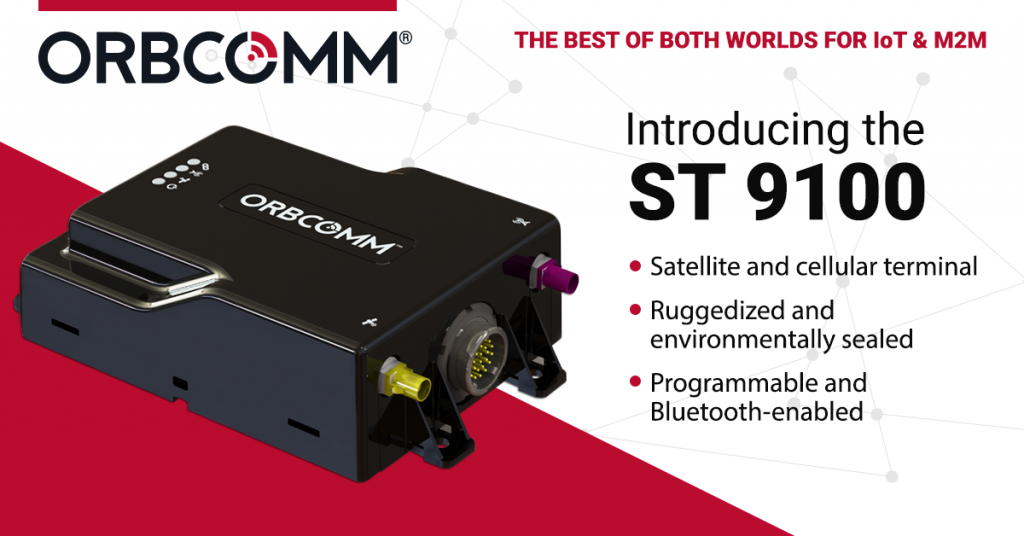 The ST 9100 is designed to be future proof. On cellular networks, the terminal has 4G LTE capabilities, along with 3G and 2G fallback. The satellite network provides low-latency connectivity that is cost-effective, reliable and ubiquitous. The ST 9100 comes with an ORBCOMM Global SIM, which provides access to over 565 cellular networks, allowing solution providers to deploy solutions with this device in nearly any region of the world. There is also a secondary IoT SIM card slot for bring-your-own-SIM solutions.
The device also comes with a long-lasting backup battery, which allows for uninterrupted operation when an external power failure has occurred, for a minimum of 48 hours for reliability and performance. The device is enhanced with inputs, outputs and serial interfaces, onboard memory as well as a dual CANbus that allows customers to monitor and control different electronic control units over various protocols. A ruggedized, environmentally sealed enclosure allows the ST 9100 to withstand extreme temperatures, shock and vibration and is rated to IP67 for ingress protection.
A Bluetooth 5.0 connection enables the integration of a variety of sensors for any solution, including door, temperature, identification and more. Using mobile applications, users can also visualize key data from the field or send messages from mobile devices through the device via Bluetooth. Technicians can use their device in the field for wirelessly configuring, troubleshooting and ensuring that devices are properly installed and functioning.
The ST 9100 uses the Lua framework, allowing solution providers to create custom IoT applications for a variety of industries. This allows easy customization of any IoT solution, and ORBCOMM also provides out-of-the-box terminal apps that help accelerate solution development, allowing solution providers to get to market faster. ORBCOMM further supports partners with a comprehensive development kit that includes hardware, software development tools, documentation, accessories and support to write and test IoT solutions and facilitate deployment.
Five Reasons to Choose the ST 9100 for an IoT solution
1. Accelerated time to market
The ST 9100 offers a flexible programming environment that supports the development of custom solutions, as well as support for ORBCOMM configurable terminal apps. Get to market faster with an easy-to-use programming framework, allowing significant flexibility in developing a solution.
2. Deep Integration
Numerous inputs and outputs and Bluetooth connectivity allow extensive integration and flexible solution development. Multiple SIM slots provide a variety of cellular connectivity options.
3. More Flexibility
Use cellular or automatically switch between cellular and satellite connectivity to keep costs low. Whether tracking assets in remote regions or monitoring in congested cellular areas, flexible connectivity options allow least-cost routing and reliable backup.
4. Reliable Operation
Never lose sight of assets again. The ST 9100 features a backup battery that enables reporting for more than 48 hours with 1-minute cellular reporting or 60-minute satellite reporting when power is interrupted.
5. Environmental Protection
The ruggedized device is rated for IP67 ingress protection, ensuring operation in the harshest environments on land and at sea. Multiple configurations allow for flexible installation options.
For more information on the ST 9100, download the datasheet here. To partner with us, or to find a partner in your area, email us at sales@orbcomm.com.
With over 15 years of marketing experience at companies big and small, Lina Paerez leads ORBCOMM's global marketing team, driving key positioning strategies, product launches, demand generation and brand awareness.