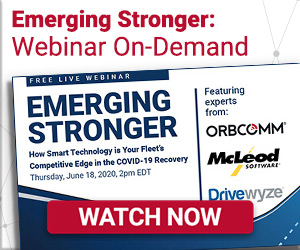 Every transportation business in the US and Canada has faced its challenges during the COVID-19 crisis. As fleets attempted to maintain a revenue stream, they were forced to amend employment procedures to combat virus transmission, change lane and trip policies and adjust to lower load availability and falling market rates. Yet throughout, transportation organizations and their drivers have played a critical role during the crisis in keeping food, pharma and other supplies moving, even as most other areas of business ground to a halt.
One of the more noticeable outcomes has been that fleets that turned to smarter technology during the pandemic have been quicker to bounce back. We hosted a panel of transportation experts in our recent webinar to find out how smart technology became a vital tool during these testing times and how it has been helping fleets to adjust to the new normal while remaining viable and profitable.
Here are some of the findings we learnt from our expert panel about how fleets can emerge stronger from the COVID-19 pandemic.
Technology to Stay in Touch
Technology is key at a time when we need to be more communicative than ever, without being able to meet and see anyone else. Through technology, fleets can reduce the points of physical contact between people, continue to ensure trucks are where they should be, monitor truck usage for proactive maintenance and keep communication lines open. Kenny Blankenship of Skyline Transportation said that for his fleet, although they had to shut the door to the drivers' lounge, technology helped drivers to keep in touch and not feel isolated. Randal Sanchez, Solutions Architect with McLeod Software said that in utilizing existing technology, they were able to quickly pivot to online training instead of on-site.