Major players like Amazon are changing customer expectations of acceptable delivery timelines and transportation requirements in many sectors, including the food industry. Customers are increasingly going online to buy cosmetics, housewares, health and personal items, furniture and more, according to Thom Albrecht, President, Sword and Sea Transport Advisors, speaking at the in.sight User Conference and Expo in Nashville this month.
Online grocery shopping—although growing slower—is expected to become significantly more widespread as consumers warm up to buying fresh food on the Internet. According to the Food Marketing Institute and Nielsen, one quarter of US households currently buy groceries online—up 20 percent from three years ago— but more than 70 percent are expected to do so in the next ten years.
Albrecht said that temperature-controlled shipments have grown 43 percent in the US since 2000. These numbers are a good indication that more refrigerated trailers and vans will be hitting the roads in years to come.  With increasing demand for online grocery shopping and larger volumes of temperature-sensitive loads moving along the supply chain, the ability for carriers to efficiently offer refrigerated and last mile logistics will be key to their success.
But hauling fresh and frozen food comes with challenges, such as tough food safety regulations like FSMA, blind spots in the network and chain of custody breakdowns. To help ensure successful operations, a growing number of transportation and logistics service providers are making IoT technology part of their core strategy, improving fleet and load visibility, maintaining temperature requirements, automating processes and complying with regulations.
Real-time temperature monitoring
A cold chain solution monitors cargo area temperature around the clock to ensure adequate temperature ranges are maintained during a trip. If the system detects discrepancies between the trailer temperature and the specified temperature, an alert is sent to the appropriate parties so they can deploy corrective action before the load is lost.
Accuracy and two-way reefer control
A state-of-the-art solution connects directly to a refrigerated unit to ensure accurate temperature readings and enable remote reefer control. Two-way functionality enables users to remotely initiate defrosts, run pretrip inspections, change reefer states and set reefer temperatures. By doing so, fleet operators take some responsibility from drivers, so drivers can focus on what they do best. It also reduces human error by enabling the monitoring and addressing of issues from a centralized location.
Regulatory compliance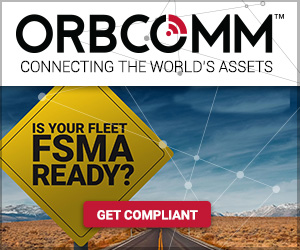 Automating data collection and record keeping (two key aspects of FSMA) safeguards operators, as proof of temperature compliance is always available. In addition, a telematics solution allows users to send automatic reports to shippers or receivers to prove cold chain integrity and document chain of custody. Solutions with onboard printers also allow drivers to provide records on site. As well as automating processes, a cold chain monitoring solution simplifies temperature management, enables pre-cooling notifications in preparation for loads and efficiently manages records by storing digitized copies of key hard-copy documents.
20 percent more brick and mortar stores are expected to close in the next five to eight years, said Albrecht. As more fresh foods are purchased online, expect increased demand for quick delivery times, real-time visibility of shipment status and location, and proof of product integrity. Here, solutions based on IoT technology can help carriers gain a competitive advantage.
ORBCOMM's solutions for refrigerated transporters feature smart tracking devices with 3G or LTE cellular or dual-mode satellite-cellular connectivity, sensors, and comprehensive management portals. To learn more about our next-generation cold chain monitoring solutions, email us or visit www.orbcomm.com/en/hardware/devices/pt-6000