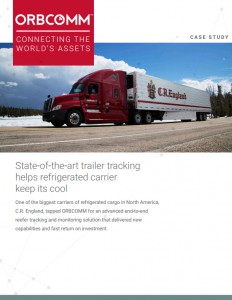 Discover how one of the biggest carriers of refrigerated cargo in North America, C.R. England, tapped ORBCOMM for an advanced end-to-end reefer trailer tracking and monitoring solution that delivered new capabilities and fast return on investment.
C.R. England is one of the largest temperature-controlled carriers in North America. The company manages a fleet of more than 5,000 refrigerated trailers and 1,600 intermodal reefer containers, providing transportation services to the food and pharmaceutical industry, among others, across the United States, Mexico and Canada.
The carrier needed a tracking solution that would provide around-the-clock visibility of trailer operations. Their previous solution could only transmit trailer data when trailers were attached to trucks, making them untraceable once at a yard or a customer's warehouse. This made trailers and cargo vulnerable to theft, put temperature sensitive cargo at risk, and left them unable to optimally utilize their trailer pools.
C.R. England needed a comprehensive telematics solution that would allow them to track and manage their refrigerated trailers anywhere in order to minimize loss to damages, improve claim prevention and maximize fleet utilization.
"At the time, one of the conversations we were having internally was around state-of-the art technology hitting the market," said Ron Hall, vice president of equipment and fuel. "As the largest refrigerated truckload fleet in the nation, we had an obligation to be on the cutting edge of product protection technology."
Read on to learn more about the benefits of the solution, and how ORBCOMM helped C.R. England comply with the US FDA Food Safety Modernization Act (FSMA), reduce claims by 44% and reduce the number of trailers that sat idle for more than 30 days by 53%…