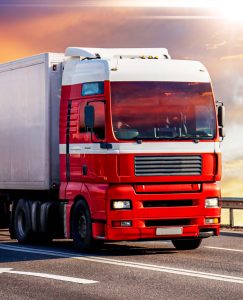 It's a growing problem that has the potential to disrupt supply chains and put the brakes on Europe's economy.  Amid rising demand for freight transportation, Europe's driver shortage poses a huge challenge that could turn into a major crisis if left unaddressed.
According to a survey by International Road Transport Union (IRU) across 15 European countries, there's a shortage of 380,000 truck drivers, which accounts for about 10% of the total demand. What's more, if the present trend continues, the IRU expects Europe's existing shortage of bus and truck drivers will expand to almost 2 million personnel by 2026.
The demographics don't look promising either, as there is a wide age gap between young and older drivers. People below 25 years of age constitute less than 7% of the truck driver population in Europe, while 34% are 55 years and above. This means that a third of the driver population will retire in the next decade, and with a scarcity of people to fill in the vacant spots, it could bring forth an emergency of alarming proportions.
IRU Secretary General Umberto de Pretto said, "Trucks transport 75% of Europe's freight by volume, and 85% of its perishable, high-value and medical goods such as vaccines and food. Bus and coach services, the most used collective transport mode in the EU, are central to Europe's decarbonisation goals."
With trucking and transportation being so pivotal to Europe's economy and climate plans, finding ways to get more drivers behind the wheel is important. The best way to begin would be to explore the factors that have caused the driver crunch.
More than just a personnel problem
The dwindling driver numbers appear to be more than just a personnel problem. Instead, it brings real issues plaguing the transportation industry—outdated vehicles, repetitive manual procedures and cumbersome administrative tasks that increase workload and impact efficiency. Fleet digitalization can streamline processes and reduce inefficiencies, improving overall working conditions for drivers and potentially helping keep them behind the wheel for longer.

How telematics can optimize fleet management and driver safety
There's much more to fleet safety than simply monitoring drivers and setting up reactive policy measures. With advanced telematics, fleets can optimize driver safety, boost driving performance and maximize driver retention.
Fleet cameras record videos of driving incidents to protect drivers, improve training and provide proof for insurance claims. This also offers fleet managers complete visibility in cab and on the road so they can have more control over their business
Distraction-free technology to minimize distracted driving ensures that drivers can access information easily without having to take their attention off the road. This includes separate driver modes depending on whether or not the vehicle is in motion. During drive time the screen only displays navigation and related information, while locking all other applications. In addition, all messages use text-to-speech (TTS) functionality and are read aloud to the driver, making sure they never need to take their eyes off the road.
Driver performance tracking is a proven solution with the aim of improving driving with color-coded scoring for safety, performance, and compliance. This allows fleets to reward their best drivers and keep them motivated.
Jobs and automated workflow guide drivers by creating their individual work schedule that indicates deliveries, pickups, fuel stops and even rest locations. Auto-arrive forms pop up when they reach a destination informing them of the work instructions for that location.
Driver messaging makes possible convenient two-way messaging between drivers and the office. Fleet managers can send custom messages and forms to specific vehicles and drivers can use the text-to-speech functionality to get notified of all communications.
Electronic DVIR enables drivers to scan documents, capture signatures and take vehicle images with their in-cab device. This avoids having to deal with paper-based inspections and ensures quick resolutions of issues due to the closed loop nature of eDVIRs with the maintenance team.
Our global SIM card in each device allows drivers uninterrupted connectivity across Europe providing them with continuous access to navigation data and messages as they drive through borders.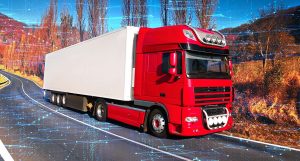 Smart maintenance powered by innovative technology that offers data-driven recommendations on when vehicles need servicing.
Service prioritization using color-coded severity levels helps repair shops fix vehicles by need, creating intelligent triaging that can lead to more fleet uptime.
Expedited troubleshooting can alert maintenance crews to repair needs before the truck arrives.
Simplifying depot-management by eliminating manual processes
Automated tractor-trailer pairing helps make sure drivers can easily find and leave with the right trailer in tow. This not only saves time and efforts for the drivers, but also minimizes the chance of human error. An incorrectly paired trailer being driven miles away from its intended destination means wasted time, fuel, budget and patience for drivers.
Reduce detention times by using GPS location data and geofences to track trailers at warehouses and loading stations. This ensures drivers do not waste time waiting for their trailers, thus maximizing their time on the road and, in turn, their billable hours.
In addition to a dent in company reputation and customer satisfaction, cargo theft can also impact driver retention as it jeopardizes safety, especially in high-risk areas. With sophisticated trailer tracking devices and sensors, it's now possible for fleet managers to continuously track the location of their assets and cargo. Unexpected developments such as unauthorized door openings, unplanned vehicle movements are detected, and alerts are immediately sent to fleet managers.
Camera cargo sensors provide improved visibility into the status of your cargo with automatic image capture when the trailer's door is opened and manual capture can be triggered anytime from the back office or the mobile app.
The wheels of the global economy are powered by drivers. By embracing the latest telematics technology, fleets can attract and retain talent by providing their drivers with a safer, more efficient work experience. Watch this quick video to learn more about how fleets can use digitalization to improve driver experience and to enhance their overall operations.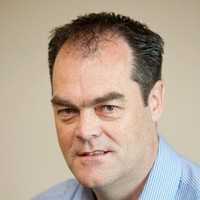 Trevor Durnin is ORBCOMM's VP of Sales for European Transportation. With over 18 years of experience in fleet management solutions, Trevor leads our European transportation strategy, helping to ensure European fleet prospects and customers receive the right solutions to meet their needs.