Anything that takes up 30% of your fleet operating costs deserves serious attention. With fuel prices continuing to soar –especially amidst the current conflict in Ukraine – finding ways to improve fuel economy can provide significant savings for your fleet – especially if it's done systematically across every vehicle in your arsenal. 
For many, technology is the solution. Through data collection and analysis, fleet managers can pinpoint areas in their operations where they can boost fuel economy, reducing costs and improving productivity. 
Here are 4 simple ways that fleets can cut fuel costs and improve their bottom line using innovative technology. 
Driver Performance 
The person behind the wheel can greatly impact the amount of fuel being used for each trip. If the majority of drivers tend to waste fuel based on their driving behavior, it can quickly eat away at profit margins. 
Live in-cab automated driver coaching can help ensure that poor driving behavior associated with higher fuel costs (excessive idling, harsh braking and driving without cruise control, to name a few) can be caught and fixed with voice feedback and suggestions. Having visibility into each vehicle as it's in motion can help fleet managers ensure that assets are being used in a fuel-conscious way. 
Drivers can also be tracked by the fuel they use each trip regardless of the truck that they drive. This can help provide a clearer picture of which drivers are using the most fuel, as certain vehicle older models may be less efficient than others and can skew numbers. With this information, fleet managers can also track progress and history to determine if corrective actions are having an impact on overall fuel economy. 
Preventive Maintenance 
Vehicles that are regularly maintained and serviced can be far more fuel-efficient than those that are neglected. By leveraging advanced vehicle diagnostics, fleets can stay attuned with the component-by-component performance of their assets, ensuring vehicles are being taken to the shop when they require repairs before they need to be replaced. 
With the current market posing issues for fleets looking to purchase new vehicles, ensuring existing assets are optimized for performance can go a long way in increasing productivity, reducing roadside repairs and boosting fuel economy. 
Data-Driven Procurement 
Acquiring new and used vehicles is a natural part of fleet management as business expands. By analyzing fuel data from every vehicle model and type within your fleet, you can benefit from an unbiased account of which models are most fuel efficient. Considering a little less than a third of operational expenses stem from fuel costs, this can wind up saving fleets a significant amount of money. 
Fuel Theft Protection 
Mitigating cargo theft and vehicle theft is often a focus for fleet managers; however, fuel is also a commodity worth monitoring. Fleet managers can compare the actual fuel that is burned to the amount that was purchased at the start and end of any given trip. Since it's often employees who are the culprits for siphoning fuel from fleet vehicles, having visibility into the data can help catch theft that would otherwise go unnoticed. And with a fuel sensor, fleet managers can be immediately alerted to rapid fuel losses which could be triggered by active theft or a vehicle issue. 
Driving Fuel Efficiency with Data 
Technology continues to play a vital role in fleet management, unlocking new levels of productivity and output at a fraction of the resource cost. Through addressing inefficiencies from different angles using innovative technology, fleet managers can devise a comprehensive plan of attack that can help them drastically reduce unnecessary fuel usage, improving their profit margins and reducing their carbon footprint. 
To learn more about how to reduce fuel cost, check out our free ebook here.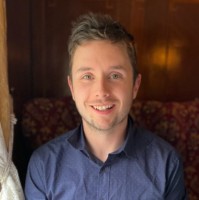 Cody Lirette is Senior Content Marketing Manager at ORBCOMM. With over seven years of marketing and communications experience for both the public and private sector, he uses his passion for innovative technology and plain language to build compelling content that provides value.