Free Live Webinar Hosted by the TCA
Beyond Borders: What the Canadian ELD Mandate Means to Regional and Cross-Border Fleets
Wednesday, February 10, 2021, 1:00 PM Eastern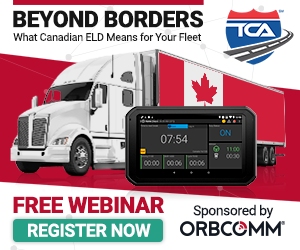 The Canadian ELD mandate is fast-approaching. Will your fleet be ready when these new regulations take effect? In January 2023, the Electronic Logging Device (ELD) mandate will roll out across Canada, ushering out the era of paper logs and making it mandatory for drivers to manage their hours electronically.

Join ORBCOMM for this informative and engaging TCA-hosted webinar, as we explore the mandate and what the implications are for fleets operating in Canada and on both sides of the border. Learn from company experts and understand the key differences between the Canadian and U.S. ruling, why third-party-certified ELD devices are so important, and what it takes to remain compliant in cross-border fleet operations to avoid hefty fines and keep your drivers on the road.

Key Takeaways:
Third-party device certification and other crucial differences between the U.S. and Canadian ELD mandate
Regulation differences and nuances across the provinces
Lessons learned from the implementation and deployment in the U.S.

Who Should Attend?
This webinar is a must attend for Owners; CEOs; COOs; operations, safety officers, compliance officers, driver trainers, fleet managers, dispatch supervisors, device maintenance managers, IT project managers, human resources personnel, and anyone involved in fleet safety and compliance.
Speaker:
Scott Stofer
Director, Product Management, ORBCOMM
Scott Stofer is the Director of Product Management at ORBCOMM, where he's responsible for the product lifecycle of fleet safety solutions, as well as ELD mandate and hours-of-service compliance for the US and Canada. Scott has over 10 years of IoT and Telematics experience, including web and mobile software development, as well as the design and deployment of wireless networks for data collection. He currently resides in Salt Lake City, Utah.
To learn more about reliable Canadian ELD solutions, schedule a demo or email eld@orbcomm.com.