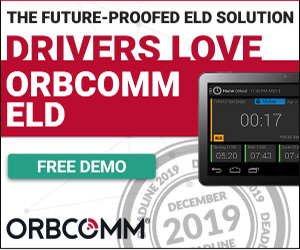 The Electronic Logging Device (ELD) deadline is here for US trucking companies, and fleets must outfit their cabs with the new systems to remain compliant and keep operations moving. But sometimes the hardest part of a transition is the adjustment period after the switch. In the case of the ELD mandate, poor preparation, lack of training and devices that don't comply with standards can all plague the process and severely affect a fleet's ability to operate.
ORBCOMM's Scott Stofer – Director of Product Management and resident expert on ELD mandate and Hours of Service compliance – is here to answer some burning questions on the transition process and discuss why ORBCOMM is the right choice for your ELD solution.
How would you define a successful ELD transition?
It mainly comes down to training and operations. The introduction of ELDs has tightened up many of the less strict requirements. With these new guidelines, drivers and office staff must adapt to new processes, leading to the necessity for new training programs. The business needs to become acclimated to these process changes, which can be made easier through an effective and user-friendly ELD solution.
From an operations perspective, there are multiple resources required to execute these changes, from solution providers like ORBCOMM to the account managers to the training personnel. With all these moving parts, the adoption process can take time and needs to be staggered. A successful transition will make room for a more gradual adoption that also accounts for the training component, all while keeping your business up and running at full strength.
What is ORBCOMM doing to help its customers make this transition?
We started looking at this process back in January, as we knew this change was on the horizon, and there would be nothing easy about it. Our first order of business was to put together an ELD task force that included account management, sales, operations and support teams. With everyone in the room, it was discussed and understood that this would be a difficult process for our customers and working through the growing pains alongside them by following a transition schedule was critical. Wasting no time, the sales and marketing teams began a campaign of consistent customer engagement, which will continue via frequent touchpoints that provide insightful updates. Ensuring that our customers can continue to operate their fleet seamlessly and in compliance with the law is important to ORBCOMM, so we want to be there every step of the way as the changes set in.
What is unique about the ORBCOMM ELD solution that's different from other solutions out there?
There are two benefits customers will find when choosing our ELD solution. The first is that we've worked side-by-side with vendors and customers through every deployment and have developed a deep understanding of the pitfalls that can arise in the adoption process, as well as how to avoid them. Pain points are sometimes inevitable when moving to the new system, but fleets can trust ORBCOMM to not take short cuts and do a thorough job.
The second benefit is in the devices. We've worked with third-party organizations to certify our devices and have fixed our focus on building comprehensive solutions that fully comply with the legal specifications, keeping your fleet firmly within the boundaries of the law. Unfortunately, there are hundreds of devices right now on the FMCSA-certified list that don't comply with these standards, as the ELD regulation required companies to self-certify, and the majority of them did. A very small number, like ORBCOMM, insisted on third-party certification, so you know what you're getting meets or exceeds the standards.
The Canadian guidelines were recently published. What are we doing to support the Canadian market?
We have already started the process of reviewing the guidelines and the mandate, which includes engaging with some of the entities that are expected to take part in the certification process. The Canadian ELD mandate is very much in line with the FMCSA's rules in the US, with which we are very familiar, so it's simply a matter of identifying the additional rules that apply specifically to Canada. Ultimately, we're in a great position to provide an ELD for the Canadian market as quickly and painlessly as possible.
The ELD transition process can be unforgiving, and the responsibility rests with transport companies to find a partner that will keep operations running smoothly and in compliance with the law. ORBCOMM's ELD solution includes a broad set of management tools such as driver communication, navigation, performance scoring, driver safety features and more, to help you run a more efficient operation. See significant ROI through new efficiencies built around fuel consumption and drive time and improve driver retention by making it easier to manage and maximize their hours.
Book your free ORBCOMM ELD demo now to learn more.
Scott Stofer is Director of Product Management at ORBCOMM, where he's responsible for the product lifecycle of fleet safety solutions, as well as ELD mandate and Hours of Service compliance for the US and Canada. Scott has over 10 years of IoT and telematics experience, including web and mobile software development, as well as the design and deployment of wireless networks for NASCAR to collect racing data. He currently resides in Salt Lake City, Utah.