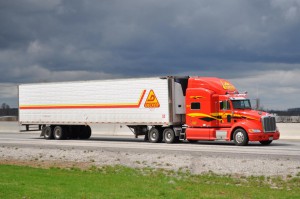 When evaluating the return on investment of a reefer management solution, reduced fuel consumption and improved trailer utilization are two of the selling points that resonate most when we're speaking with fleet owners.
But it's always nice to hear real-world examples directly from carriers who are already realizing the cost-saving benefits of trailer telematics technology. According to Bradley Baade, Treasurer of Decker Truck Line, the carrier has seen some dramatic cost savings, due primarily to two key capabilities of their reefer management solution:
1. Running reefer units in start/stop mode instead of continuous run.
2. Reducing reefer trailer to truck ratio by monitoring dwell times.
"ORBCOMM gave us the ability to do this with the real time information that is supplied to us," says Baade.  "We are also monitoring trailer idle reports along with reefer units running on our customer facilities. This information has also helped us bill some of our customers for trailer usage."
Unless you're carrying pharmaceuticals or temperature sensitive produce, carriers can achieve greater fuel savings by running in start/stop mode rather than continuous cooling mode. In fact, for Decker, switching to start/stop mode resulted in a 45% decrease in reefer run hours.
A good reefer management solution allows dispatchers to switch between modes by sending a command directly to the vehicle or messaging the driver to change mode. Similarly, the ability to track and locate idle reefer trailers not only increases profits, but also enables fleet owners to do more with their existing fleet of refrigerated vehicles.