2016 was a great year for our container and ports solutions business, which started on the heels of our exciting acquisition of WAM, a specialist in advanced Internet of Things (IoT) solutions for refrigerated containers and other intermodal assets.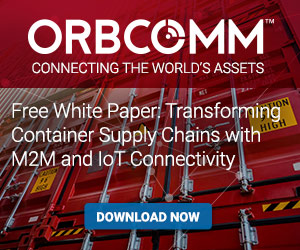 Throughout 2016, we expanded our already dominant presence in the global container supply chain. We're proud to be part of Maersk Line's ground-breaking Remote Container Management (RCM) solution for its global reefer container fleet and have also secured new enterprise and government clients, including Crowley Maritime, Pasha Group and Genset Pool.
Another important OEM relationship is with CIMC of China, the world's largest manufacturer of shipping containers, which is using ORBCOMM's OG2 satellite service and modem technology to develop a dual-mode telematics solution for dry containers. R&D work has progressed during 2016 and we have supplied both OGi and OG2 modem chipsets as CIMC builds out its connected container offering.
Cargo theft cost the global supply chain an estimated $22.6 billion in 2015, while illicit trade in drugs, people, wildlife, contraband and counterfeit goods by criminal and terrorist groups is said to be costing the world economy trillions of dollars a year. IoT and M2M technology have a big role to play in combatting cargo crime worldwide, both for detection and prevention.
As such, last year we also launched our CargoWatch® Secure application, providing end-to-end cargo shipment security and condition monitoring. Coupled with our trip-based cargo security devices, the CWS platform allows multiple parties – from shippers, logistics companies and freight forwarders, to port and DC operators, fleet owners, customs/tax and other government agencies – to detect, manage and correct supply chain breaches. (Read ORBCOMM's full 2016 Year in Review here)
We're picking up 2017 right where we left off Read more ›