Container shipping today is surely not a business for the faint-hearted. Industry debates at recent international shipping and intermodal logistics events drove home several harsh realities:
Sea freight is moving more slowly and unreliably than ever before
Ship, container and other intermodal transport assets are far from optimally utilized
Trade growth is fragile and uncertain
Market sentiment is depressed
Regulatory pressures and associated costs are on the rise, especially around climate change and environmental sustainability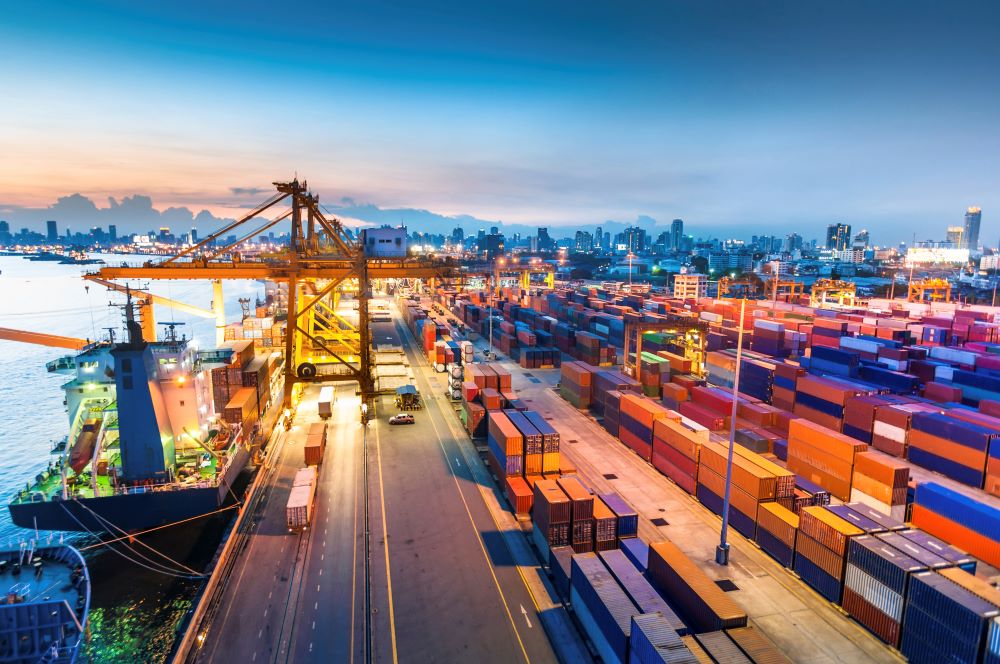 And all of this comes at a time when supply chains of all sorts are increasingly complex, with shippers expecting increased delivery time speed, precision and visibility – not least due to e-commerce.
Unused vessel slots (estimated at 10% of total sailings), schedule unreliability, empty container moves and longer supply chains that impact container turns – especially for high-value refrigerated container assets – are costing the shipping industry billions of dollars a year. The industry can no longer tolerate these inefficiencies, said Hamburg Sud CCO Frank Smet at the recent TOC Americas conference. The answer, he said, lies not in squeezing suppliers through procurement but rather through data-driven process change.
At Cool Logistics Global in September, Hamburg Sud parent company Maersk and other major reefer container carriers added to the digital drumbeat. Rising demand from Asia is creating new opportunities but equally presenting fresh challenges in achieving ROI on valuable reefer container assets, not to mention monitoring cargo quality on very long-haul journeys, said reefer shipping executives at the annual event.
Managing this complexity requires fresh thinking. And, compared to the caution of just a few years ago, digital is now seen by the ocean freight community as a critical pathway to tackle previously intractable issues. Even if actual adoption and deployment of digital solutions is still at an early stage, it's no longer good enough for containers and cargo to be 'dark, dumb and disconnected' during their supply chain journey.
Data is the way to bridge the gap between the realities of slow and unreliable shipping and rising supply chain expectations and "visibility is the new substitute for speed", said a senior executive from Kuehne + Nagel – the world's largest ocean freight buyer – at a recent industry event. But he also noted that it must be good data and as near real-time as possible to be of genuine benefit.
Unfortunately, much of the very large quantity of data latent in the shipping world today is not good, not real-time, and remains tremendously fragmented.
The need for and value of high-quality visibility data and analytic capabilities is increasingly significant for shipping, added the Kuehne + Nagel executive. IoT has, therefore, become a foundational building block for the successful digitalization of shipping, giving shippers and carriers alike trusted visibility and actionable insights into where shipments and assets are going, what condition they're in and where they can be routed to achieve more efficient delivery and return-on-assets.
As Gartner said earlier this year, "the increased availability of Internet of Things (IoT) data and extended external data sources such as weather or traffic conditions allow organizations to anticipate future scenarios and make better recommendations in areas such as supply chain planning, sourcing and transportation."
IoT data is also crucial to feed the growing wave of analytics, AI and ML that will drive more automated and intelligent decision-making in shipping, transportation and logistics. But big data that is bad data won't solve anything. IoT data has trust baked in to support digital transformation.
The Internet of Shipping – IoT adoption trends
So, where are we at today with IoT adoption in the digitalization of shipping and what does the IoT provider community need to do next, working alongside the shipping community?
Analyst Berg Insight reports that the global installed base of active cargo unit tracking devices reached 6.1 million units in 2018 and will grow at a compound annual growth rate (CAGR) of 27.3% to reach 20.4 million by 2023. That includes trailers, intermodal containers, rail freight wagons, air cargo containers, cargo boxes and pallets.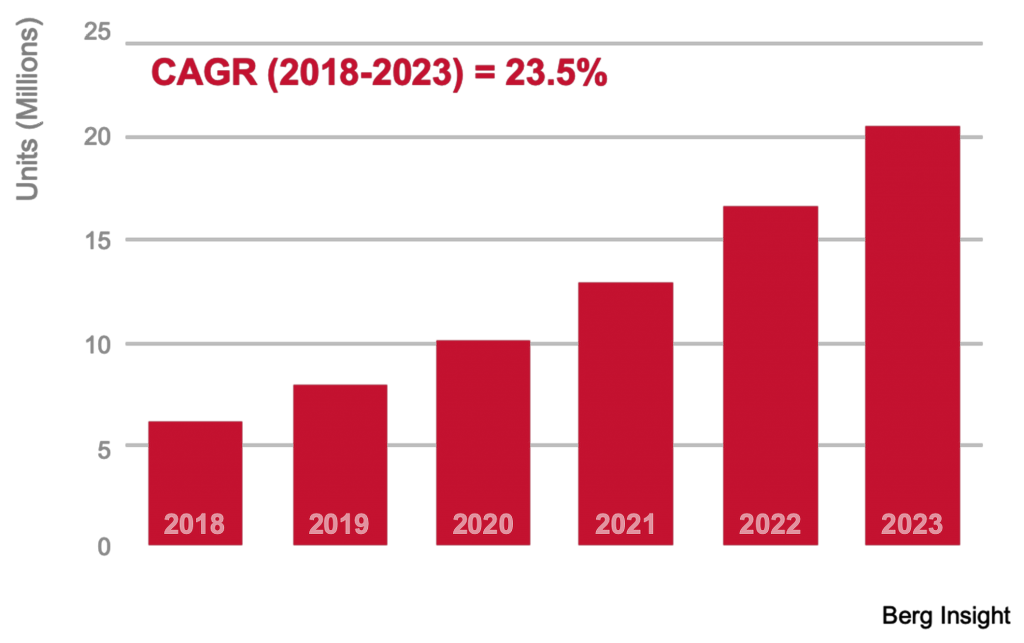 Trailers are by far the largest segment. However, Berg forecasts several years of healthy growth to come in the freight container segment. "Growing at a CAGR of 16.3%, the total market value is forecasted to reach € 1.8 billion in 2023."
Precise data on the number of IoT devices installed on freight containers are unfortunately still hard to come by. Maritime consulting firm SeaIntelligence recently predicted that by 2025, real-time tracking technology will be standard in 600,000 containers worldwide. Real-time container tracking will "quickly shift from competitive differentiator to 'must-have' qualifier," said Lars Jensen, CEO and Partner at SeaIntelligence.
Here at ORBCOMM, we estimate approximately 600 to 700,000 containers today are fitted with permanent IoT telematics devices, with the refrigerated container segment clearly heads and shoulders above other equipment types. That's understandable given the nature of refrigerated cargo and the desire to reduce cargo damage, loss and claims with remote condition monitoring.
As we discussed at the recent Intermodal Europe event, container shipping lines are the primary IoT investors today, with smaller and regional carriers moving the fastest to deploy. But container lessors and OEMs are entering the space and for the future, we predict more factory-installed IoT devices at the point of container manufacture.
We are also seeing growing interest in the use of the IoT to deliver real-time vessel connectivity, improving crew safety by eliminating manual inspections on-board and enabling better control and planning. Solutions such as VesselConnect are closing the visibility gap at sea and allowing carriers to integrate data from point of load right through to destination.
Approaches to Scaling at Speed
Supporting the industry to scale at speed with intelligent IoT is now a primary challenge for the technology supplier community. That includes innovative approaches to enable faster device installation, fast-tracking IoT eco-system development, and collaboration to define and deliver on new analytics use cases.
Facilitating multiple data streams and making it easy to integrate data from multiple sources is also crucial. As we have been discussing for several years now, interoperability and open standards are crucial enablers for IoT adoption as part of digital transformation. It is therefore heartening to see the emergence of industry initiatives such as the Digital Container Shipping Association (DCSA) and the Container Owners Association (COA) workgroup to develop telematics interoperability standards for containers.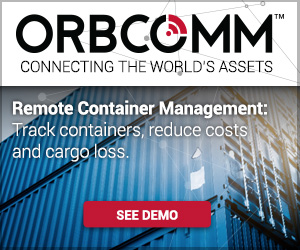 As COA notes, and as we discussed last year at Intermodal Europe, "one of the issues facing the industry is to find technology to permit the different systems to communicate with each other. The increase of partner shipping lines using the same vessel along with shipper owned container requires a level of commonality".
The COA workgroup, in which ORBCOMM is an active participant along with other IoT suppliers to the container industry, is now developing an open standard at the application layer level to permit interoperability of telematics device data. The initiative will start with refrigerated containers, but then expand to cover all container types, paving the way for container owners to have multiple choices of vendors and platforms for their container fleets when choosing telematics systems.
We applaud DCSA and COA for fostering cross-industry collaboration and dialogue on open standards as a key building block for digital transformation. Looking forward, these initiatives will also contribute to the big goal of end-to-end supply chain visibility, integrating cargo and shipment data from first to last-mile across production, trucking, rail, warehousing, ocean, ports and more. The smart and hyper-connected E2E supply chain is not yet a reality, but we can be sure it is coming towards us. And the digital container shipping enterprise, powered by IoT, will be one of the key pillars.
Al Tama is ORBCOMM's Vice President & General Manager, Container and Port Solutions. Al leads the teams that manage solutions for Container and Ports and Over the Road Transportation assets. Al has more than 13 years of experience delivering mission-critical systems to shipping lines, marine terminal operators and port complexes, and trucking companies.