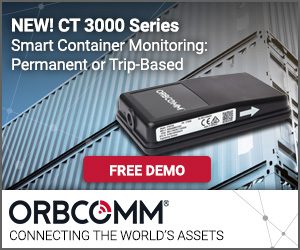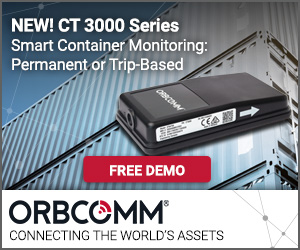 Thousands of container industry executives descended on Rotterdam this November for the annual Intermodal Europe show. Attended by container shipping lines, leasing companies, equipment manufacturers, technology suppliers and container service providers, this year's edition was the busiest we have seen in the last three years, with a stronger focus than ever before on digital technologies both on the show floor and in the seminar sessions.
ORBCOMM used Intermodal Europe as the launchpad for the new CT 3000 Series, our latest generation of refrigerated container telematics devices, available for permanent or temporary 'trip-based' installation. The new devices are smaller and quicker to install – around 10 minutes per unit – and the CT 3100 temporary device gives ocean carriers, inland barge operators, ports, depots, 3PLs and other members of the container transport chain the ability to monitor containers and shipments that they do not directly own or control.
In fact, as we discussed with The Loadstar during Intermodal Europe the genesis of the CT 3100 design was a request from one of our shipping line clients that wanted a way to remotely monitor non-telematics-equipped third party reefer containers on-board its vessels, rather than having to send crew to perform hazardous manual checks.
In today's world of container shipping alliances and vessel sharing agreements (VSAs), having containers owned by multiple carriers on a single ship is an increasingly common phenomenon. And as industry players digitise at different paces, solutions such as trip-based monitoring are clearly needed to bridge the adoption gap.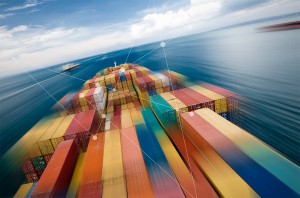 What's also needed are open standards, interfaces and interoperability, agreed speakers in the Smart Shipping Forum that we joined during Intermodal. Just as we heard and discussed at the Cool Logistics conference in October, the conversation around digitalization in container shipping and the intermodal supply chains is moving from 'if and why' to 'when and how'. IoT, blockchain, platforms, analytics and AI are the top technologies on the digital radar, along with automation and autonomous vehicles in cargo handling and transport.
Accepting that "Industry 4.0" is now an unstoppable force, key issues for the maritime and intermodal industries include how to ensure that companies along the chain get appropriate benefits in exchange for sharing their valuable data and how to avoid simply creating a whole new generation of competing, siloed data platforms and ecosystems. This latter would limit user choice and flexibility, create barriers to investment, prevent true end-to-end supply chain data flow and hamper the ability to future-proof systems as technology continues to move fast.
As discussed at Intermodal Europe, achieving the full value from IoT and other digital technologies therefore requires open platforms and compatibility with third party equipment and systems. Suppliers of technology can't work in isolation and will need to integrate with other service providers to successfully meet customer and supply chain needs. This is absolutely what we are seeing at ORBCOMM as clients ask us to integrate and amass data from multiple sources, not least as the basis for more advanced descriptive, predictive and prescriptive analytics.
Technology users are equally recognizing that they will play a crucial role in creating the industry's new digital foundations. Hard on the heels of the Intermodal show came the announcement that five of the world's largest container shipping lines – AP Moller-Maersk, CMA CGM, Hapag-Lloyd, Mediterranean Shipping Company (MSC) and Ocean Network Express – will collaborate on open industry standards to facilitate the take-up of digital technology across the maritime supply chain.  This follows the news earlier this year that an open group of international container terminal operators will collaborate on standards to support automation and digitalization in port operations.
The idea of the proposed non-profit association established by the five carriers — which aims to start up early next year, subject to regulatory approval — is not to endorse or launch any particular technological solutions but to provide standards that allow for easier information sharing through the supply chain, reported the UK Financial Times.
Talking to World Maritime News, group spokesperson André Simha, Global Chief Information Officer at MSC, said that the key driver is to create something for shippers and other members of the transport chain that is common and open. "The container shipping industry is at a fairly low start of digitalization if we compare it with other sectors like the aviation industry. Hence, the future association aims to accelerate and shape digitalization of the industry to help achieve higher level of standardized processes. The idea is to deliver better technological changes to our customers and more quickly compared to working alone," said Simha. "Today, implementation of digital technology happens by working in closed silos. It leads to frustration and more bureaucracy for customers and other collaboration partners… We believe all stakeholders in the industry can benefit from digitalization and standardization leading to increased interoperability."
As reported in The Loadstar, Adam Banks, Maersk's Chief Technology Officer, added that "a joint set of technical standards will ensure interoperability and enable all parties to concentrate on value adding differentiation … [benefiting] all parties in our customers' supply chains".
Interoperability and 'agnostic' data solutions are at the core of ORBCOMM's philosophy and we welcome and endorse these initiatives to foster more effective implementation of digital connectivity across the maritime supply chain.
Al Tama is ORBCOMM's Vice President & General Manager, Container and Port Solutions. Al leads the teams that manage solutions for Container and Ports and Over the Road Transportation assets. Al has more than 13 years of experience delivering mission-critical systems to shipping lines, marine terminal operators and port complexes, and trucking companies.