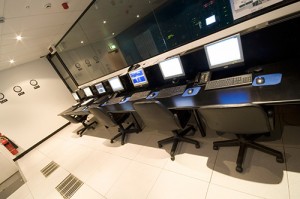 GE is taking their remote monitoring services to a whole new level. The machinery giant has opened three facilities around the world to provide 24 x 7 real-time monitoring and diagnostic services for its global base of 800 gas turbines and compressors.
Prior to the launch of the iCenters, equipment services were done on-site and data stayed at the customers' premises. Now, a combination of sensors and other control devices will capture large amounts of (big) data about the performance of the machines and send it to analytics software that will convert it into actionable information.
For energy companies, these new centers could translate to a substantial increase to the bottom line. I recently had an opportunity to learn first-hand the financial benefit of a remote monitoring center from a SCADA manager of a small energy company. It used to take an average of six hours to bring a well back online after a shutdown. Now with the remote monitoring center it takes an average of two hours.
The increase in uptime is only part of the savings. Technicians for the energy company are now able to service twice as many wells. This has allowed the company to allocate valuable technical resources for other tasks, rather than driving around inspecting wells.
Finally, the remote monitoring center allows the energy company to take a more regimented approach to well maintenance which has translated to a steadier rate of production and reduction in penalty charges for over and under production.
The SCADA manager for the energy company estimated that their remote monitoring center added tens of millions of dollars back to the bottom line by reducing downtime, vehicle and labour costs.
If a small energy company can realize this kind of cost savings and increased productivity, it's easy to see why GE is choosing to implement real-time remote monitoring on a much larger scale. While there was undoubtedly significant costs involved in opening the three dedicated monitoring facilities, GE and others are discovering that the costs of leaving critical equipment unmonitored are invariably much higher.