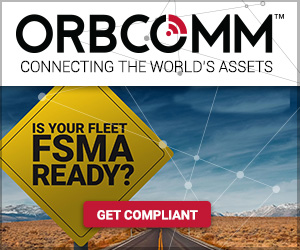 Fleets of all sizes in the U.S. have seen plenty of change in recent years, not least where food transportation is concerned. The Food Safety Modernization Act (FSMA) introduced seven major rules for its implementation that apply to the growing, harvesting and transportation of food. The Sanitary Transportation of Human and Animal Food rule gives the Food and Drug Administration (FDA) authority to protect foods from farm to table by keeping them safe from contamination during transportation and this rule is set to impact smaller carriers in April 2018.
The Sanitary Transportation rule governs and regulates the transportation of food and applies to shippers and carriers. It establishes regulations for vehicles and transportation equipment used for food products, how the food is transported, the training of personnel and clear maintenance of records.
On April 6, 2017, larger fleets were obliged to comply with the rule; it kicks in one year later for smaller fleets. Smaller fleets are defined as businesses "…other than motor carriers who are not also shippers and/or receivers employing fewer than 500 persons and motor carriers having less than $27.5 million in annual receipts" and " have to comply two years after the publication of the final rule." The date for small fleet FSMA compliance is April 6, 2018.  
The Problem of Rejected Loads
Whether it is hauling bananas or fresh strawberries across state lines or the delivery of fresh flowers going to a market under deadline, there will always be a demand for fresh products. As a result, there will always be a demand for refrigerated trucks and trailers to safely transport them.  
Transporting a blend of refrigerated and dry goods, or refrigerated only creates plenty of advantages for carriers, creating versatility in the types of cargo that can be moved. However, while the hauling of fresh produce delivers gains, reefer management can bring its own set of challenges. And for smaller fleets, these challenges will be highlighted further with the extension of the FSMA rule.
To avoid a load being subject to possible action by the FDA and the possibility of getting rejected, fleets can use technology to keep a close eye on some on their cold or chilled cargo.
As well as FSMA regulations, rejected loads are impactful across the entire business. They can hurt carriers in many ways:  
Compensation: The carrier will have to repay the shipper.
Disposal: The carrier must get rid of the spoiled cargo.
"Empty miles": Trucks may need to be taken to a washout facility which adds additional costs and contributes to 'empty miles.'
Increasing costs: Drivers still need to be paid and insurance premiums can climb if a claim is paid.
Customer relations: Reputation with a customer is built slowly but it can be lost by a single spoilt load.
Optimizing the journey that cargo takes in refrigerated trailers ensures compliance with FSMA rules and reduces the risks of rejected loads.
Here are seven key issues to address to ensure FSMA compliance and help your cargo reach its destination safely:  
1.  Avoiding Hot Loads 
Industry experts agree that as much as 32% of all cargo is loaded at the wrong temperature. This is often due to poor loading practices, where produce is left sitting at a loading dock for a long time. The driver starts to travel with no idea the cargo is at the wrong temperature.  
The Sanitary Transportation rule covers a number of specific areas. One of its elements is time/temperature control. This ensures continuing temperature maintenance during the operation and covers pre-cooling, loading and unloading. Transporting a load at the wrong temperature – "a hot load" – puts compliance and financial pressure on carriers. The risk of a load spoiling is higher if the temperature of the cargo is incorrect. Loads can be rejected on-delivery which results in compensation payouts and can impact on insurance premiums and inspections by officials can result in fines or even jail time.  
Using Advanced Temperature Monitoring prevents "hot loads" by detecting a problem within 30 minutes of its occurrence. Automatic notifications go directly to the carrier who can work on rectifying the situation. 
2.  Equipment Failure 
It is a fact of life; sometimes equipment can break down. It's the same with refrigeration units. If a reefer unit fails, the potential of your entire shipment or order can fail.  
In the event of a breakdown, knowing about it is as good as being able to fix it. Installing Active Alarms will help to combat the damages caused by reefer equipment failure. These signal directly to the back office in the event of a malfunction. The dispatcher can look at addressing the issue and advise the driver who can remedy the situation from where they are.  
3. Driver Error 
Modern refrigeration units can have over 200 alarm codes. That is 200 potential problems that can threaten assets.  Even if a driver did spend hours each day reviewing information booklets, they probably still wouldn't be familiar with every make and model of reefer unit available. Drivers already carry a lot of responsibility, staying safe and timely on the roads, without studying manuals for reefer units.  
Automatic Error Detection prevents driver error. Continuous reports send status information to the back office who can track and identify any problems. Human error can play a part in the transportation process. A driver, for example, could change a set-point to -2.0°F instead of –20.0°F. This could be disastrous for the cargo inside, making the entire load unusable. This will be identified in reports to the back office through Automatic Error Detection. 
4. Late Notification 
Timing is key for temperature-sensitive cargo like fruit, vegetables, or pharmaceutical products. Saving a load after the fact is one thing but being able to rectify the situation before the problem occurs is another entirely. Carriers need to be able to identify issues before they crop up. Real-time data with immediate notifications help to stop hot loads in their tracks.  
Real-time cargo temperature monitoring can give early warnings of any issues. These solutions are configurable to the type of cargo and carriers can set variations based on the tolerance level of the produce. Notifications are instant for 'out-of-range' temperature conditions with comprehensive reporting of sensors. It removes the responsibility from the driver who has little visibility of the controller when on the move. Four hours could go by before a driver inspects the trailer.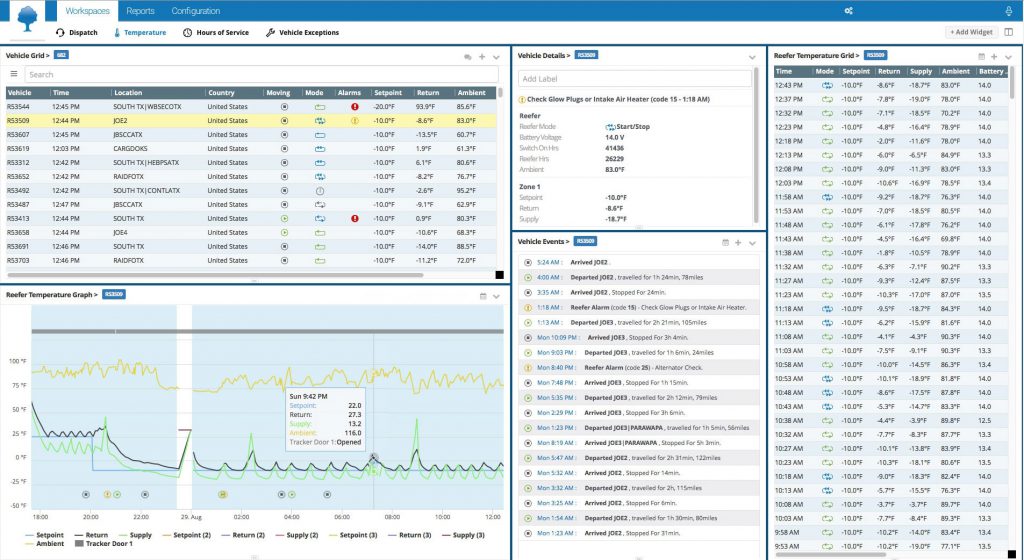 5. Immediate Proof on Delivery 
If something does go wrong, the driver or carrier is usually the first one to get the blame. If things do go wrong, carriers need evidence to back up the conditions of the transported cargo. Compliance, auditing and documentation are vital for each refrigerated unit.  
If a temperature query occurs, temperature monitoring solutions provide proof of in-transit monitoring and consistent vehicle updates. The information instantly delivers to the shipper or receiver to avoid extra costs or possible disruption.  
6. Regulatory Compliance 
The FSMA rule on Sanitary Transportation of Human and Animal Food is already in place for larger fleets. It will come into effect on April 6, 2018, for smaller fleets. Larger fleets are already complying with the regulations thanks to clear documentation and monitoring. Regulations on this theme are only set to increase and become more stringent to ensure clear audit trails in the event of a problem.
Fleets can ensure compliance by improving procedures, implementing the correct monitoring technology and training drivers in temperature management and records for each shipment. This ensures cargo is protected in real-time with an audit trail to prove it.  
7. Lack of Control from Head Office 
New regulations can introduce complex systems and procedures. There are enough distractions for drivers on the road, without having to worry about fixing an accidental defrost. This is when remote, two-way control can and does save the day.  
Temperature management systems allow approved users two-way reefer unit control in the event of a problem. Remote control features include switching the reefer on/off, defrost initiation, clearing alarms or changing the mode of operation from any location at any time.  
Addressing the Problem 
Training, development and outreach are high on the list of the FDA's priorities around FSMA enforcement. However, the agency is continuing with inspections and maintains its ability to take enforcement action.  
On a practical level, if a load is rejected at delivery, there are a number of steps to go through. The carrier will need to find a way to dispose of the produce or find a new home for it. It should be removed from the truck.  
Once the cargo is unloaded or warehoused, claims adjusters and carriers can then work to sell the product on if possible. They can identify buyers who may be interested in purchasing. If it can be sold, this can offset financial losses.  A call to the insurance company is a wise idea too.
If the cargo cannot be salvaged, there are other ways of disposing of it. Instead of it ending up in dumpsters, there are charities that will still take some cargo, especially if it is rejected for aesthetic reasons such as torn packaging.   
Companies hauling food, plants, pharmaceutical products or even animals face complex decisions on a daily basis. Reefer transportation requires careful planning, consistent monitoring and clear documentation. The right technology helps to ensure FSMA compliance and can be the difference in a load getting rejected or not. 
Whether for a truck, dry van, reefer or mixed fleets, ORBCOMM provides the total visibility needed to allow fleet managers to optimize fleet safety and utilization, reduce costs, ensure compliance and more. That's why top trucking companies trust us for reliable, cost-effective, easy-to-use tracking, monitoring and control. To learn more, schedule a demo or contact us at sales@orbcomm.com; 1-800-ORBCOMM (or outside the US at +1-703-433-6329).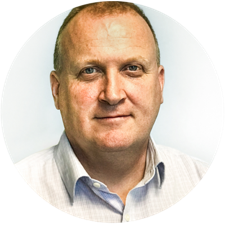 As ORBCOMM's Senior Director of Product Marketing, Denis Cody leverages over two decades of industry experience in international B2B marketing to help develop and execute GTM strategies, positioning and messaging for our suite of products and solutions.