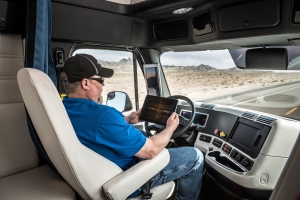 Driver retention and high turnover are some of the key challenges facing the trucking industry today. In 2014, the American Trucking Association (ATA) estimated a shortage of 30,000 drivers in the US, with the numbers expected to grow to a staggering 239,000 by 2022. Adding to the problem is the age of the driver population. According to the American Transportation Research Institute (ATRI) 51% of truck drivers are 45 or older, and many of them will retire in the next 10 to 20 years. Once they do, there won't be a pool of drivers large enough to meet demand, and competition to attract and retain new drivers will be fiercer than ever.
Sure, competitive wages, comprehensive benefits, adequate time off and proper training are key elements of your driver retention strategy, but can you leverage technology to improve drivers' quality of life at work? The answer is yes.
Improving Fleet Safety and Driver Security
Telematics systems based on cellular and satellite technology deliver around-the-clock fleet visibility for unparalleled driver security. When natural disasters strike, compromising the cellular infrastructure, satellite offers a lifeline to drivers, allowing them to request assistance. This is also the case for drivers travelling through high-risk areas where jamming devices may be used by hijackers to disrupt cellular communications. A dual-mode telematics solution can not only allow continuous communications over satellite, it can also send alarms when jamming occurs.
Advanced fleet management systems incorporate peripherals such as panic buttons, driver ID and support one-way emergency voice applications to further enhance driver safety.
Help drivers find trailers quickly
Driving around looking for trailers or getting dispatched to the wrong location are common situations that hinder driver productivity and their ability to make money. Telematics devices can accurately track trailer location, making it possible to ensure drivers always find their trailer when they arrive at a yard. Mobile and in-cab applications also allow drivers to map a trailer's location and follow directions to get to it fast. For drivers, this means quickly getting back on the road and making money, which plays a role in driver retention.
Improve turnaround times
Long detention times are a problem for both fleet owners and drivers. Drivers often reach their destination only to wait several hours before their trailers are unloaded. Strict Hours of Service (HoS) regulations and long dwell times make it difficult for drivers to maximize billable hours before their shifts time out. Telematics systems use GPS location data along with geofences to track trailers at warehouses and loading docks. By keeping track of dwelling times and billing customers for detention, fleet owners promote better practices from shippers and receivers, reducing wait times and maximizing drivers' hours.
To learn more about how to get fleet tracking technology working for you, and your drivers, email us at sales@orbcomm.com
With over 15 years of marketing experience at companies big and small, Lina Paerez leads ORBCOMM's global marketing team, driving key positioning strategies, product launches, demand generation and brand awareness.