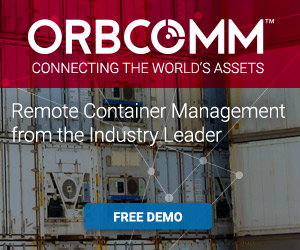 Digitalization and Data Analysis Bringing Benefits
This article was originally published in Ports & Harbors Magazine 
Increased digitalisation and data analysis can bring the maritime sector a wealth of benefits provided that companies are willing to work together to progress towards a shared goal, says Al Tama, vice-president and general manager, container and port solutions/technology at ORBCOMM 
The ongoing global COVID-19 pandemic has thrust digital technology into the spotlight of the maritime world, accelerating conversations about large-scale change that would ordinarily have taken a backseat to other operational concerns. 
The need to pivot to a digital-first model wherever possible has built an airtight business case to boost transparency along the supply chain and facilitate remote monitoring of assets. Given that the average person is now used to tracking their assets in real time, whether this is an Amazon package or an Uber vehicle, this change is long overdue. 
Making Use of Technology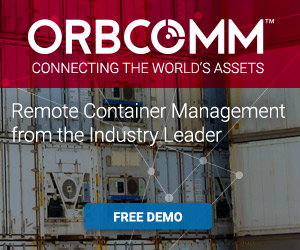 It is not that this technology does not exist. The automatic identification system (AIS) is one of the most established and comprehensive maritime data streams available today. In fact, many organisations already harness this data for a variety of uses, from vessel tracking and maritime safety to fleet management and enforcement of regulations. Furthermore, we have been talking about big data, internet of things (IoT), blockchain, and more in a maritime context for many years, and there are already test cases for harnessing these tools that have demonstrated tangible benefits. 
We at ORBCOMM have long been advocates for increased transparency in the maritime industry and have assisted shipping, fishing, port, and containers sectors. Clients use our thousands of satellite and terrestrial data sources to construct an accurate, time-sensitive picture of the supply chain. Merging various data streams to allow real-time asset management in the supply chain is the obvious direction for the maritime industry to take, so that we close the gap with other transport sectors.  
The fly in the ointment is digital cohesion, where the industry must agree upon standardisation of data terms and then create interoperable technologies that can work as an effective whole. 
The maritime industry is currently extremely fragmented, and getting various stakeholders to agree to industry-wide data standards and terminology will take considerable time and effort to overcome. After all, even in the case of shipping, you not only have different vessel categories but within individual categories, company size and access to capital for investment will all vary. When you take a step back and consider additional stakeholders such as ports, charters, ship managers, equipment manufacturers, and more – each with their own priorities – it is easy to understand why the maritime industry has been slower to digitise than many other sectors.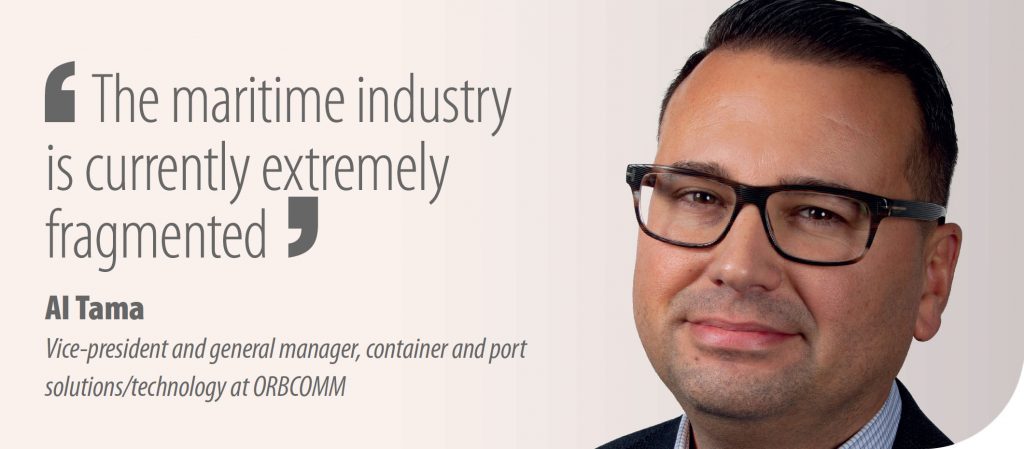 True Change
However, we are on the cusp of change and, despite the challenges to align digital input from so many different sources, we have recently seen a number of high-profile efforts out to break down the digital silos between stakeholders.  
In June 2020, the Digital Container Shipping Association, whose membership consists of some of the leading international container lines, published IoT connectivity interface standards for shipping containers. The standards are designed to level the playing field across the supply chain and enshrine interoperability between smart container solutions at the radio interface level. It applies to shipowners, ports, terminals, container yards, inland logistics providers, and other third parties. The fact that these standards, and others released by the association, are being championed by the container lines virtually guarantees their wide adoption and overcomes the hurdle of industry buy-in. 
Another victory for data synergy came in the form of a joint policy document submitted to the International Maritime Organization (IMO) in June by a group of extremely high-profile industry associations, including the IAPH. Titled Accelerating Digitalisation of Maritime Trade and Logistics: A Call to Action, the document aims to accelerate the adoption of the IMO's single maritime window initiative, harmonise data standards, and push for the adoption of port community systems. 
The IMO, which has been making digital inroads for over a decade with projects such as the Electronic Chart Display and Information System (ECDIS), drew a line in the sand in 2019 by mandating electronic ship-to-shore communication through amendments to its Facilitation of International Maritime Traffic (FAL) regulation. Most recently, its public-private partnership Global Industry Alliance released a just-in-time arrival guide that will facilitate port call optimisation by allowing vessels and ports to exchange data (see page 39). This will permit vessels to match their operating speed to the availability of berths at their destination ports – an effort that brings cost and environmental benefits.
There are multiple projects by private shipping companies that have been in place for years; new efforts are also are emerging virtually every day. The pandemic has irrefutably highlighted the risk management advantages to identifying where vessels and cargoes are at every stage of the transportation journey, as being a victim of bottlenecks in the supply chain has serious financial and reputational implications (see page 18). 
Going Further
These various efforts are music to our ears as we truly believe that data is the fuel that will propel us to the next stage, and we support all efforts to create a level digital playing field with ease of access for innovators. We acknowledge that there will almost certainly be teething issues as the industry adjusts to a new technology. Verifying the veracity of the data, cyber security, and accurate analysis are just some of the hurdles that will follow in the wake of harmonised standards, and companies must protect and future-proof themselves with the help of experts such as ourselves. 
As a company with a long-term investment in the maritime sector, we know the benefits of advancing as a unified industry outweigh any advantages that fragmented growth can bring. We look forward to the collaborative opportunities that arise as more people identify the opportunities that data analysis and IoT grant them access to and stand ready to embrace what the World Economic Forum has termed the Fourth Industrial Revolution in 2016 – the power of data. 
This article was originally published in Ports & Harbors Magazine.
Al Tama is ORBCOMM's Vice President & General Manager, Container and Port Solutions. Al leads the teams that manage solutions for Container and Ports and Over the Road Transportation assets. Al has more than 13 years of experience delivering mission-critical systems to shipping lines, marine terminal operators and port complexes, and trucking companies.

Get started with ORBCOMM
Digitalization is transforming industrial operations around the globe. Learn how ORBCOMM solutions can optimize yours.
Get a Tailored Quote