The 10th Cool Logistics Global congress took place in early October and, as usual, ORBCOMM joined as sponsor and speaker. Refrigerated container and trailer operations are key markets for our Internet of Things (IoT) tracking and monitoring solutions along with end-to-end cold chain traceability solutions for major food suppliers and retailers. So, Cool Logistics provided a great chance to share our experiences and take the industry pulse.
As we head off to continue the smart container conversation at Intermodal Europe, here are our 5 key Cool Logistics takeaways:
1. Digital disruption is coming (fast) to cold supply chains
Reefer transport, logistics and infrastructure are moving to embrace digitisation, but the big disruption will come from external societal mega forces, including:
An explosion in e-food commerce, driven by mobile, pressuring downstream supply chains to get faster, more flexible, more transparent and more precise. 'Legacy-light' China and other parts of Asia are leading the charge
More educated consumers expecting more traceability, safety and sustainability plus a faster, more convenient and personalised shopping experience
Growing public and media pressure to tackle waste along the food chain
An exponential increase in global regulations and compliance – from food and drug safety to climate change mitigation and environmental sustainability – requiring monitoring and reporting on a grand scale
And, of course, continued rapid advances in digitalisation itself, including the blending of technologies such as IoT, blockchain, AI/ML, mobile and smart packaging to build entirely new business models
 2. IoT adoption in the reefer container industry is shifting from 'if and why' to 'when and how'
While Maersk is the only global reefer box carrier so far to fully embrace IoT telematics, the consensus is that adoption will speed up in the coming 3-5 years. "It needs to be part of the future that all reefer boxes are connected," said Ole Schack-Petersen of cold chain logistics specialists LCL and the Broom Group.
The practicalities of large-scale IoT adoption should not be underestimated, however. Maersk said that it took five years to fit its entire reefer box fleet with telematics. Developing robust solutions that help users implement and scale at speed is therefore a crucial capability for IoT vendors.
Shipping companies outside the top 10 can get up and running faster and smaller carriers have successfully deployed IoT telematics across their reefer box fleets and other intermodal transport assets. That includes vessel-based GSM networks for on-water monitoring of containers and cargo.
A new trend to help the global reefer container fleet get smart is the supply of embedded IoT right out of the factory. Reefer OEMs are now starting to work with telematics suppliers and leasing companies are also enhancing their offering with telemetry.
The development of 'plug and play' reusable IoT telematics devices for temporary asset monitoring will be important, giving all parties the chance to monitor shipment on a trip basis, at terminals, depots and yards, and on vessels.
3. Blockchain is coming and will pair with IoT for new systems of trusted data
There's a global buzz around blockchain and the cold chain is no exception. Indeed, food and health supply chains have been early targets, especially to address contamination and counterfeits.
Recent examples include Walmart's blockchain database for leafy green vegetables in the wake of an e.coli outbreak involving romaine lettuce. China's giant online retailers JD.com and Alibaba have also launched food and drug safety blockchain programmes for cross-border trade.
The data that feeds the blockchain needs to be trustworthy, however. That's where IoT telematics and sensors come in, providing a verifiable digital record of assets, cargo, processes and hand-offs.
It's still early days but more blockchain-based platforms are expected to emerge in cold chain over the next 3-5 years, consuming more IoT data.
4. As the focus shifts from IoT devices to data ecosystems, APIs and open, interoperable platforms are a must
While there's still lots to come from IoT telematics and sensors, hardware is becoming mature. The focus now is shifting to:
The best and most cost-effective ways to filter and present IoT data to a growing number of engaged stakeholders both within and across companies.
How to combine and integrate multiple data streams on and across platforms and enterprise software
Helping users build out secure, stable, scalable and smart IoT ecosystems.
From the C-suite down, more departments are consuming IoT data, but they do not want or need to see everything. Intuitive, customisable dashboards and reports are critical for different people to see just the data and metrics that matter most to them.
No single digital platform can ever dominate. Rather, the future lies in a 'system of systems.' APIs and interoperability are crucial to avoid creating new data silos. The IoT data ecosystem needs to allow users to integrate multiple smart devices and suppliers, plus other information sources.
5. It's all about the data – but analytics, change management, governance and cyber security are key to unlocking the next level of value
Ever more smart devices are entering the cold chain, and more of them are talking to each other – including cargo level sensors and container telematics. Leveraging this to transform business processes and create new commercial propositions is the next big step.
As data is amassed and shared more widely – such as Maersk and other carriers have done for their customers – it opens the door for more proactive asset and supply chain management. That includes analytics to predict future patterns and make rules-based decisions.
It takes a large historical database to extract full value from predictive and prescriptive analytics, but this is coming as more cold chain and transport assets get connected and more data is aggregated on integrated IoT platforms.
Data makes mistakes visible and all parties accountable. That can be a culture shock both inside enterprises and across supply chain communities. Proactively managing this as a strategic business priority, not just another IT project, is vital.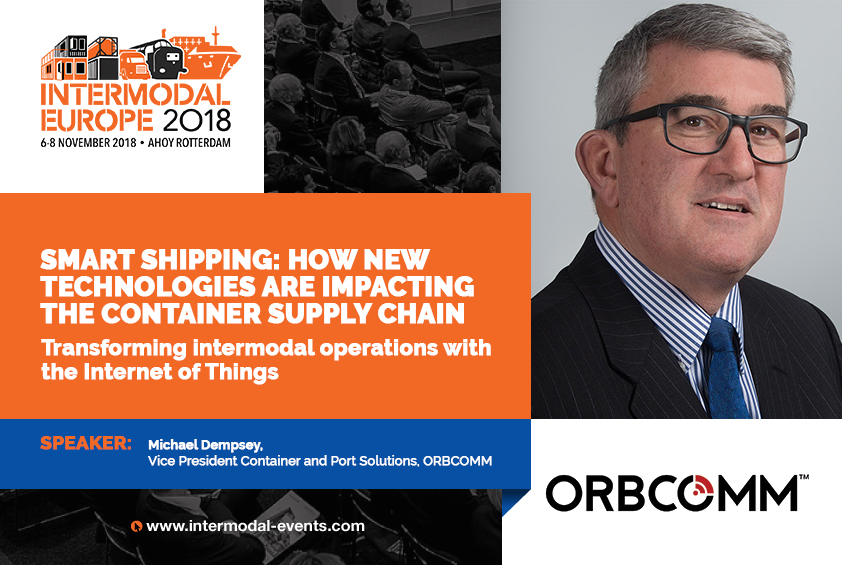 Deep change management is needed to reinvent business processes and relationships, retrain existing staff and on-board digitally-savvy talent. This is a big but necessary challenge to avoid being left behind as the pace of technological change continues to escalate.
Data governance and cyber security are two of the biggest challenges. This will require cooperation between public and private sectors at many levels. Various bodies are now working to develop protocols, frameworks and tool-kits and industry must get deeply involved to ensure workable legislation and policy.
Join us on stand B26 at Intermodal Europe in Rotterdam, November 6-8, to see the latest in IoT telematics, software and analytics including our new solutions for temporary or permanent monitoring of refrigerated containers. Schedule a Meeting.
Al Tama is ORBCOMM's Vice President & General Manager, Container and Port Solutions. Al leads the teams that manage solutions for Container and Ports and Over the Road Transportation assets. Al has more than 13 years of experience delivering mission-critical systems to shipping lines, marine terminal operators and port complexes, and trucking companies.