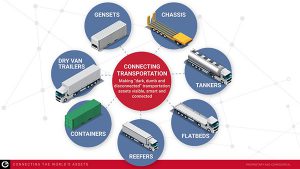 Refrigerated containers spend a large portion of their in-transit time at sea, where managing them poses a series of challenges. Crews are often unable to complete regular checks because of heavy workloads, unfavorable sea and weather conditions and the size of the vessels themselves. Furthermore, traditional reefer telematics rely on cellular communications that lose connectivity with the cellular network once in open water, causing containers to go 'dark' and putting cargo at risk.
The need for end-to-end visibility of the moving supply chain is prompting IoT technology to close the connectivity gap for reefer containers on water. VesselConnect, ORBCOMM's comprehensive solution for monitoring reefers at sea, is used globally in some of the largest container deployments, enabling a continuous flow of actionable data from reefers to a centralized platform for complete insight of reefer operations. With more than 20 years of experience in the business, ORBCOMM is a pioneer in remote reefer management.
What's driving reefer technology adoption?
Streamlining Pre-Trip Inspections (PTI): telematics enables mass automated PTI management, helping expedite cargo distribution upon arrival. Conducting PTIs on vessels helps eliminate downtime and ensures containers can be quickly routed back to customers once onshore. Units are cleared ahead of time, avoiding costly and lengthy manual processes. And, when a container fails an inspection, crews can be adequately prepared to address those specific issues onshore, mitigating potential delays.
Customers need for end-to-end visibility: as container telematics proliferate, beneficial cargo owners (BCOs) have come to expect complete visibility into the location and status of their shipments for better planning. Containers outfitted with IoT devices travelling on a vessel can now report critical information such as temperature and location, allowing shipping companies not only to stay on top of their operation but also to share trip data with customers, so they, in turn, can accurately anticipate arrival times and better coordinate internal processes.
Cargo care: spoiled loads have negative effects on a company's bottom line, including lost revenues and high insurance premiums. In addition to lost profitability, preventing cargo loss due to unexpected temperature fluctuations or theft is crucial to maintaining a carrier's reputation and long-standing relationships with customers. Enabling remote container monitoring at sea becomes a necessity, especially when transporting high-value cargo such as pharmaceuticals. IoT solutions have completely transformed container checks from a manual process that was carried out on average twice a day to around-the-clock monitoring and real-time alerts. Today, remote container management solutions make it possible for crews to identify problems as they occur, deploy quick corrective measures before a load is lost and take actions to ensure the supply chain is not disrupted when a load is compromised.
Crew safety: weather conditions are unpredictable at sea, posing a challenge for operators who rely on crews to conduct manual reefer checks. The risk of injury to personnel is heightened during inclement weather if they're able to perform their duties at all. Often, extreme weather makes it impossible for reefers to be checked, increasing the likelihood of problems to arise and go unnoticed until it's too late. Remote container telematics eliminate safety concerns for crews by automating reefer checks and delivering timely information and real-time status updates regardless of weather conditions. If an issue is detected, an alert is directed to the platform and crew phones, and technicians are dispatched only when necessary.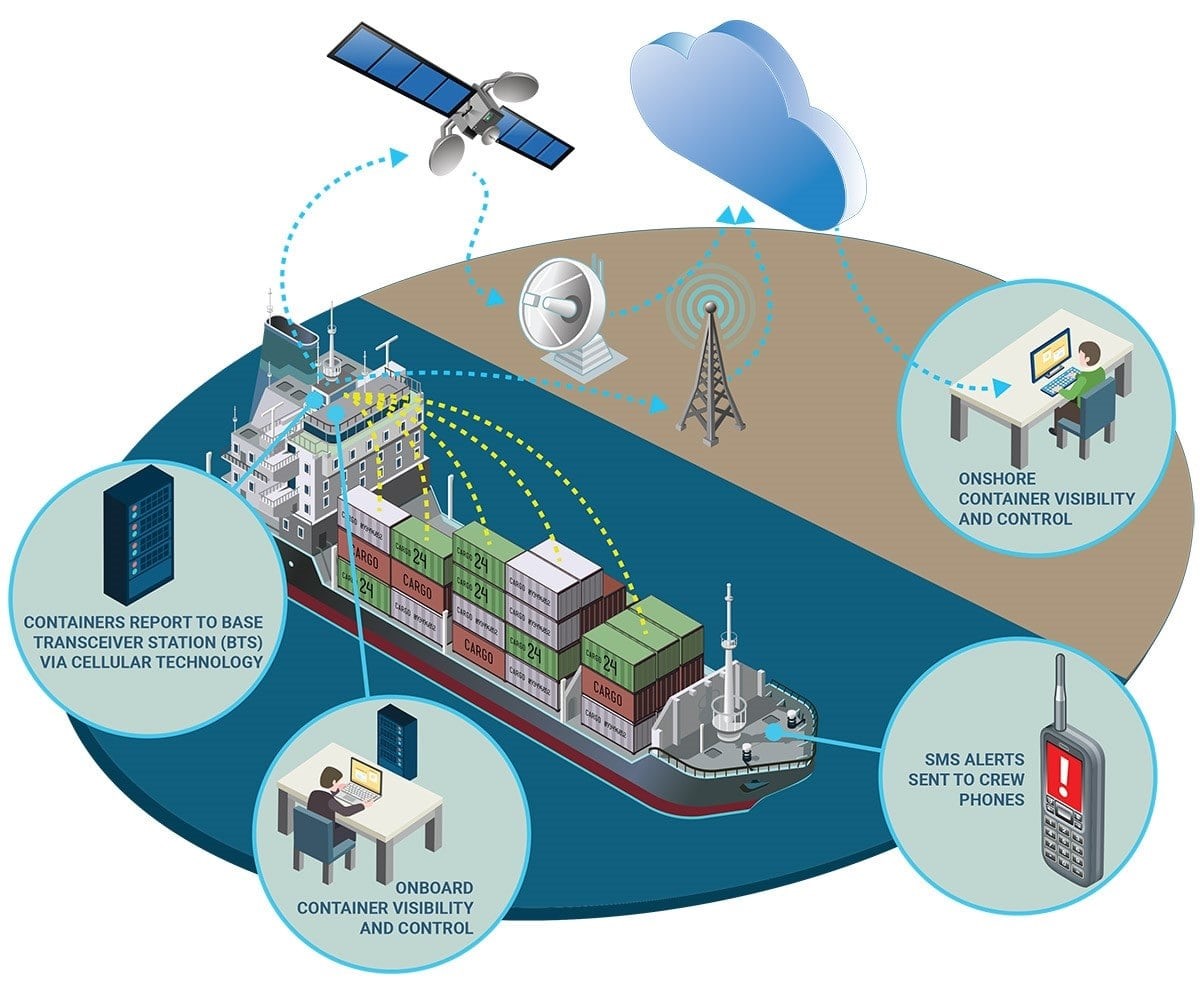 How has vessel monitoring evolved?
The latest in remote refrigerated container monitoring combines third-generation smart IoT devices along with wireless, cellular and satellite technologies to turn containers into smart, connected devices that automatically report critical information—temperature, humidity, location and slot position among other things—to a centralized platform that enables crews to have continuous cargo visibility and remotely monitor and control container fleets.
Using an innovative onboard cellular infrastructure, which can be fully deployed in less than six hours, VesselConnect creates a wireless network on the ship that enables the seamless transmission of real-time container data. Unlike other vessel networks available in the market, VesselConnect doesn't require a connection to a land-based cellular network, significantly reducing data requirements and transmission costs. The system can optionally integrate with satellite technology, allowing reefer data to be sent to the shipping company's back-office application.
Because of its simple infrastructure and hardware requirements, VesselConnect can be easily deployed on ships of various shapes and sizes, including conventional container vessels, barges and roll-on-roll-off and ConRo ships. The system can also integrate with AIS vessel data and vessel stowage plans (BAPLIE), as well as data from other telemetry systems and wireless technologies. Furthermore, crews can use the cellular infrastructure to call other crew members via mobile phones free of charge on the vessel and call ashore.
To learn more about how to efficiently manage reefer containers at sea, visit our website or email us at sales@orbcomm.com.
Al Tama is ORBCOMM's Vice President & General Manager, Container and Port Solutions. Al leads the teams that manage solutions for Container and Ports and Over the Road Transportation assets. Al has more than 13 years of experience delivering mission-critical systems to shipping lines, marine terminal operators and port complexes, and trucking companies.