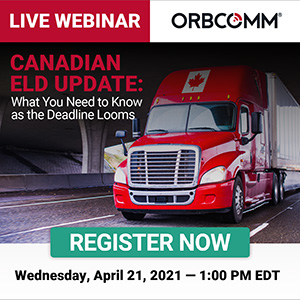 Free Live Webinar Hosted by Today's Trucking
Canadian ELD Update: What You Need to Know as the Deadline Looms
Wednesday, April 21, 2021, 1:00 PM EDT
The landscape around the Canadian ELD mandate is changing quickly. Even if you've attended a previous session on Canadian ELD, you'll want to tune in to find out the very latest news and what it all means for your fleet.

Join our experts for this informative and engaging webinar, as we explore:
Recent changes and what new information you need before the upcoming Canadian ELD mandate
What to make of Transport Canada's recent announcements and how to ensure your fleet is ready when enforcement begins
The timeline and rollout plan for Transport Canada's enforcement of the mandate

Who Should Attend?
This webinar is a must attend for Owners; CEOs; COOs; operations, safety officers, compliance officers, driver trainers, fleet managers, dispatch supervisors, device maintenance managers, IT project managers, human resources personnel, and anyone involved in fleet safety and compliance.
Moderated by: Joe Glionna, President, Newcom Media
Speaker:
Scott Stofer
Director of Safety and Legal Compliance, ORBCOMM
Scott is responsible for the product lifecycle of fleet safety solutions, as well as ELD mandate and hours-of-service compliance for the US and Canada. Scott has over 10 years of IoT and Telematics experience, including web and mobile software development, as well as the design and deployment of wireless networks for data collection. He currently resides in Salt Lake City, Utah.
Be sure to also consult the following resources designed to help your fleet prepare for the Canadian ELD deadline:

The Definitive Canadian ELD Deadline Transition Guide

The Canadian ELD Mandate FAQ – Penalties, Deadlines & Certification

Webinar Replay: What Canadian ELD Means for Regional and Cross-Border Fleets
To equip your fleet with a trusted Canadian ELD solution, request a quote today or email eld@orbcomm.com.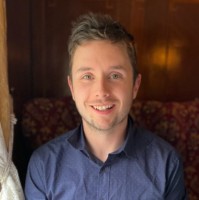 Cody Lirette is Senior Content Marketing Manager at ORBCOMM. With over seven years of marketing and communications experience for both the public and private sector, he uses his passion for innovative technology and plain language to build compelling content that provides value.