Canadian and cross-border fleets—and their drivers—are acutely aware of the fast-approaching Canadian ELD deadline in 2023.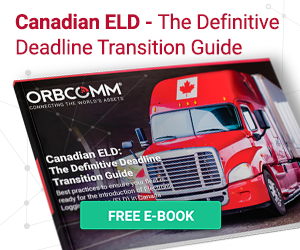 As part of our approach to ensuring a smooth transition, we recently took part in a webinar with the TCA (Truckload Carriers Association) on the fast-approaching Canadian ELD deadline. It became clear during that webinar that there are still a lot of questions that need answers. We put these to our ELD expert Scott Stofer to ensure you and your fleet remain compliant, avoid any hefty fines and keep drivers and trucks on the road in Canada.
Here, you'll find some of the most frequently asked questions we've received on Canada's ELD mandate. If you have any others, feel free to post them in the comments, or email them to eld@orbcomm.com.
Here are some of the most common Canadian ELD questions answered
If a driver uses paper logs in the U.S., can they also use them in Canada?
If your fleet is eligible for the 160km Short Haul exemption and remains within 160 km of your home terminal, even if the terminal is in the U.S. You can use paper logs under the Canadian ELD short-haul exemption.


Can drivers send PDF RODS and CSV files to an inspector via Bluetooth, USB, or another way?
Email is the only delivery method required by Transport Canada. Providers can add USB and Bluetooth as options, but email is still a requirement.


Will paper logs be accepted if an ELD malfunctions?
Yes. Drivers will need to switch to paper logs and rebuild records for the last 14 full days plus the current day. In the event of a malfunction, an ELD will need to be replaced or repaired within 14 days. If it is not repaired or replaced, this could result in non-compliance.


What are the main differences between Canada and the U.S. when it comes to enforcing the mandate?
Canada has worked to harmonize its ELD regulations with the U.S. as much as possible to support smooth operations.

Unlike the U.S., Canada is not offering a grandfather clause for compliance. Non-compliant fleets could face citations and fines or difficulties in entering Canada from the U.S. if they do not have a certified ELD. A "progressive enforcement plan" has been announced by Transport Canada, with new details to follow.

In Canada, an ELD must give a 30-minute warning before a driver reaches their duty limit. In the U.S. there's no requirement for this alert.
In Canada, fleet managers must choose an ELD that is third-party certified by a Transport Canada-accredited certifying body. If a fleet has an ELD approved for the U.S., it does not automatically mean it can be used in Canada. Fleets, including those crossing the Canadian border, need to have an independently certified ELD before the deadline.


Will U.S. motor carriers need to follow the Canadian ELD mandate rule or will Transport Canada accept an ELD that already complies with the U.S. rules?
No, Transport Canada will not accept an ELD that only complies with the U.S. regulations. Once you cross the border, the Canadian mandate applies and the ELD must be certified in Canada.


Will there be a grace period once the deadline rolls around?
Transport Canada has indicated it will continue with the Canadian ELD deadline with early enforcement measures of "education and awareness."


Will ELDs be available in French and English?
There is currently no requirement for an ELD to offer French to achieve certification. If this is a requirement for your fleet, it is important to confirm with ELD providers that they offer Canadian French support.

Our ELD for the United States is already available in Canadian French. Our Canadian ELD will also be available in French to facilitate dual-language fleets.


Is third-party ELD certification permanent or is there an ongoing process to ensure vendors remain compliant?
There is a formal process to maintain third-party certification. After an ELD is certified, it enters a surveillance period, with full recertification every four years. There is also a process for customers to report non-compliant ELDs.


Are there specific rules in different provinces or territories?  Am I exempt if I only operate within a single province or territory?
As of March 1, 2021, the provinces and territories have not issued their own set of rules regarding ELD compliance. The mandate applies to fleets operating under federal regulations and carriers operating within a single province do not require an ELD.


Why is third-party certification required in Canada?
In contrast to the U.S., where vendors can self-certify ELDs, Canada requires third-party certification. Third-party certification provides an extra layer of protection for drivers and carriers to ensure that an ELD meets all the requirements of the Canadian ELD Mandate.

In November 2020, FPInnovations, a Canadian research center was accredited as the first third-party organization to certify ELDs. The group already has an active program providing third-party ELD certification in the U.S. for providers seeking to ensure the highest levels of compliance, of which ORBCOMM is certified.

ORBCOMM has initiated the certification process for Canadian ELD. You can find the latest information regarding the Canadian ELD Mandate 2021 here.


Where can you see what devices are certified in Canada?  
Transport Canada will update its site with approved ELDs once they are certified by an accredited body. You can see the list here.  
For more information on the Canadian ELD mandate and what it means for you and your fleet, we have some options...
Learn more about our Canadian ELD solution, or speak to a Canadian ELD expert today at eld@orbcomm.com.
Catch up on our webinar with TCA, for the full picture of Canadian ELD
Beyond Borders: What Canadian ELD means for Regional and Cross-border fleets.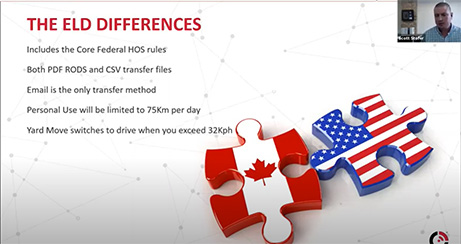 Download our transition guide
Canadian ELD Mandate: The Definitive Deadline Transition Guide.
Scott Stofer is Director of Product Management at ORBCOMM, where he's responsible for the product lifecycle of fleet safety solutions, as well as ELD mandate and Hours of Service compliance for the US and Canada. Scott has over 10 years of IoT and telematics experience, including web and mobile software development, as well as the design and deployment of wireless networks for NASCAR to collect racing data. He currently resides in Salt Lake City, Utah.