As the Fourth Industrial Revolution ushers in a new wave of smart digital, automated and autonomous technologies, it's worth a reminder that longer established systems are playing a vital role in our brave new data-driven world – and indeed continue to actively develop and combine with other existing and emerging technologies.
For our blue ocean economy, world shipping, trade and supply chains, one such technology is the global vessel automatic identification system (AIS ) and, more specifically, satellite AIS (S-AIS).  In this introduction to a new series showcasing and celebrating the current and evolving dimensions of S-AIS in the digital age, here's a brief primer on the origins of AIS, the satellite revolution, and some of the major applications today
Q: What is AIS Technology?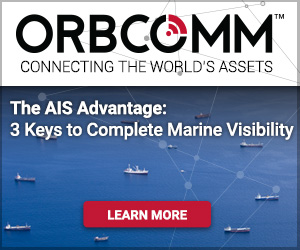 AIS (Automatic Identification System) technology is a shipboard broadcast system that transmits a vessel's identification, position, course, speed and other critical data.
Major adoption of AIS kicked off after 2002, when the International Maritime Organization (IMO) – the UN regulator governing international shipping – modified its Safety of Life at Sea (SOLAS) Convention to mandate that most large vessels over 300 gross tonnes must fit 'Class A' AIS transceivers for international voyages.
In 2006, IMO's AIS Technical Standards Committee followed up with its 'Class B' AIS specification, ushering in lower-cost devices for a broader array of smaller commercial vessels. Since then, IMO's AIS Committees have continued to advance standards and protocols across a myriad of vessel types, sizes and fleets sailing on international waters today. That ranges from merchant vessels including dry bulk, container, general cargo, reefer, ro-ro and tankers; to passenger ships, yachts and other pleasure craft; offshore supply ships; fishing vessels, military fleet and more.
Q: Why was AIS Developed?
AIS was originally conceived as a short range, high-intensity identification and collision avoidance system that would allow ships to see, and be seen by, other marine traffic in their immediate vicinity. It was also later utilized by national and regional maritime authorities to track vessels plying their coastal waters and to support vessel traffic services (VTS) who, like air traffic control for planes, are responsible for the safe navigation of authorized ships into and out of their ports and harbors.
So, in short: safety and maritime domain control.
Q: What's the Difference Between Terrestrial AIS and Satellite AIS?
It's all about the medium and capabilities, versus the intent. In the first wave of AIS development, messages were received exclusively by land ground stations. Known as terrestrial AIS (T-AIS) this technology continues to play a vital role today, with base stations dotted across the planet.
But there is a drawback.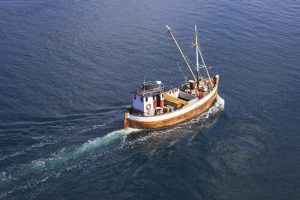 T-AIS is limited in range to around 30 nautical miles from shore. This means it cannot track vessels across the open oceans. With a view to developing AIS as a more comprehensive global tool for maritime domain awareness, the late 1990s therefore saw some national maritime authorities start to investigate the possibility of managing AIS messages from space.
One of these was the US Coast Guard (USCG), which approached ORBCOMM in 2001 to discuss the concept of AIS-from-space. At the time, ORBCOMM was one of a handful of pioneers in the satellite world focused on developing space-based, communications devoted to commercial machine-to-machine (M2M) applications, versus mainly defense and government usage.
That opening dialogue was followed by a 2004 USCG contract for ORBCOMM to develop and operationally demonstrate the viability of satellite AIS.
After 4 years of intensive research, development and testing, in 2008 ORBCOMM became the first commercial satellite network owner in the world to provide AIS data service with its launch of six first generation AIS-enabled M2M satellites. With the subsequent addition of the second generation OG2 constellation in 2014-15 (some of which were famously launched into orbit on Elon Musk's SpaceX rockets), ORBCOMM now operates the world's longest serving and most trusted multi-generational satellite AIS network, working together with its 16 ground earth stations around the world.
Q: Why Does Satellite AIS Matter?
Today, ORBCOMM  processes tens of millions of AIS messages from hundreds of thousands of unique vessels every day, powering visibility into the global blue economy, maritime trade and international supply chains that our planet, people and economies depend on.
The inherent risks of operating in space cannot be underestimated. Yet satellite AIS solutions developed by ORBCOMM and its partners have risen to the challenge, delivering near real-time monitoring of vessels across the world's deep oceans with a high level of reliability.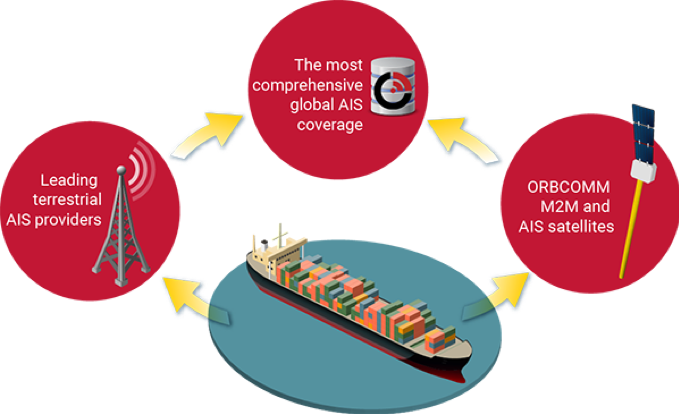 Consider the Statistics
Oceans cover approximately 72% of the world's surface, equating to 140 million square miles (363 million square km),
An estimated 90% of world trade moves by sea – from essential foodstuffs, medicines and healthcare items, to key commodities (oil, grain, timber etc), to parts and finished goods across complex manufacturing and industrial supply chains and, of course, a truly staggering quantity of consumer products
At least 155 million tonnes of seafood per year is fished or farmed from the seas for human consumption and other uses
Around 65 million people make their living in merchant shipping – not including the many millions more working ashore in the ports, logistics and landside transport industries whose livelihoods depend on seaborne trade
Fisheries and aquaculture are responsible for an estimated 260 million jobs worldwide and contribute $US100 billion per year to the global economy according to the United Nations
The seas give pleasure to millions of people annually and support the global economy via cruises, yachting and other leisure activities
The value of visibility into ocean shipping and trade therefore surely cannot be overestimated.
Pushing the boundaries of detection and exploiting all the new information available, satellite based AIS data are today contributing so much more to the world than originally envisaged.
Q: So Why Does Satellite AIS Matter Today?
ORBCOMM works with a growing raft of value-adding public and private partners to develop ever more applications for AIS data, including new ways to combine AIS with other digital technologies including M2M, IoT, AI and more. We will be delving into this in future reports focused on specific case studies, but to highlight some key existing and emerging big use cases:
Assisting ports & harbors worldwide to coordinate vessel arrivals & departures for more effective port community operations and onward supply chain efficiency
Better cold chain visibility to reduce wastage of food, medical supplies & other perishables with remote real time monitoring and control on board and ashore for refrigerated cargoes and transport equipment
Combatting the global scourge of illegal, unreported & unregulated fishing (IUU)
Delivering better global supply chain resilience & responsiveness with real time ocean updates for proactive planning & mitigation against (inevitable) delays & breakdowns
Enabling global maritime safety, security & the rule of law
Facilitating maritime sanctions compliance, enforcement & risk management
Gathering data to support with environmental, social & governance (ESG) compliance
Generating near-live data to support commodities pricing & trading
Providing hard data to support maritime insurance, protection & indemnity (P&I) and loss prevention including war risk, piracy & more
Supplying data to enable innovative new apps & digital platforms including global seafarer health & wellbeing
Supporting climate change & broader sustainability initiatives with hard data, such as the IMO Global Industry Alliance and Port Call Optimization Taskforce to reduce emissions & improve efficiency in the ship-port interface
Through resellers, partners, national governments and international agencies, ORBCOMM satellite AIS is already enabling global maritime shipping and trade visibility, supporting everything from supply chains to sustainability to national security. It has been said that 'data is the new oil' and, with the widely anticipated digital acceleration in the wake of the COVID-19 global pandemic, AIS surely has a big part to play in providing automated, trusted and very big data to help power the digital transformation of world maritime trade and supply chains.
To see how our AIS solutions portfolio can enhance the way you do business, contact us online or email info@orbcomm.com.