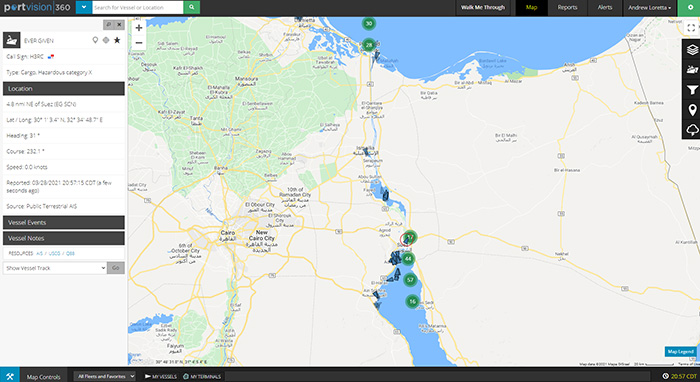 Suez Canal Incident Illuminates Importance of AIS
In recent days you have probably seen a lot of coverage on the Evergreen marine container vessel, Ever Given, getting stuck in the Suez Canal and holding up global trade as a result. One of the critical maritime shipping choke points in the world, the vessel became stuck in a channel of the Suez where traffic goes in both directions, so the Canal was completely shut down for nearly a week because of the accident.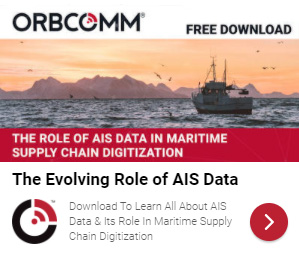 Some experts have estimated that this hold-up cost $400 million an hour in global trade. There were reports of vessels in the canal queue that were carrying livestock with a limited supply of feed available on board, tankers delayed that were causing oil rationing in countries such as Syria and countless refrigerated containers with perishable goods on board other ships. Going around Africa from Europe to Asia adds seven days to a voyage, so many vessel operators were stuck trying to decide whether to go the long way around or hope the Ever Given would be dislodged in under that time while balancing the financial and logistics impacts.
Unfortunately, a traffic jam like this was probably inevitable. The good news is that thanks in part to technology like ORBCOMM's satellite Automatic Identification System (AIS) data services, global shipping companies and operators are more connected to their vessels than ever before. Nearly all large commercial vessels also have broadband satellite connectivity, so critical operational information, such as engine diagnostics or the status of the refrigeration units of the containers it is carrying, is being collected and sent off the vessel at sea to home offices on land. Vessel charters and routers have maritime IoT technology at their fingertips to re-route the vessels that were waiting at the canal or other vessels they may have been able to re-position from somewhere else. There is no understating the significant impact that the Ever Given has in shutting down the Suez Canal, but it would have been much worse if it had happened even twenty years ago when the use of AIS data was limited to ship- to-ship collision avoidance, and commercial satellite broadband was not widely available or affordable.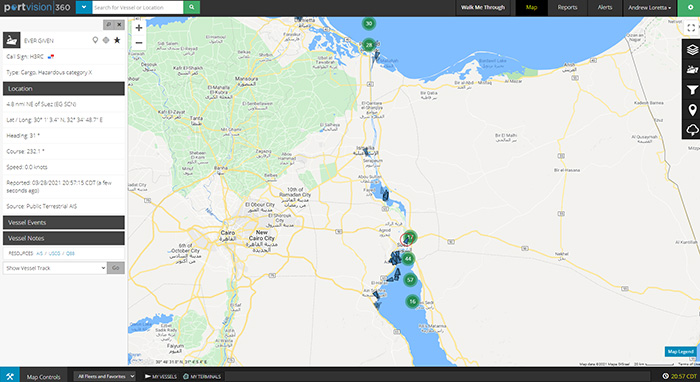 ORBCOMM launched the first commercial AIS satellites over a decade ago, and our industry-leading containers and ports solutions provide remote, refrigerated, multi-modal container systems to hundreds of thousands of containers globally. ORBCOMM is focused on continuing to illuminate the dark areas of the supply chain by developing and deploying the latest advancements in IoT technology.  Our next-generation OGx satellite technology, which uses Inmarsat's L-band satellite network, as well our VDES consortium with Saab and AAC Clyde Space, are just two examples of how we will be delivering more robust and reliable global satellite connectivity in the world of maritime digitalization and optimization.
Another way ORBCOMM helps to fill those informational gaps is by partnering with trusted solution providers who deliver applications that enable shippers and operators to make the best-informed decisions about their maritime operations. The expertise of ORBCOMM's partners, together with our global AIS data services and multi-modal container monitoring solutions, provide critical operational information to our maritime customers up and down the supply chain than any other industrial IoT ecosystem. We know that taking calculated risks such as waiting for a vessel to be unstuck in the Suez Canal, versus sending the vessel all the way around the Cape of Good Hope, is a decision that could put tens of millions of dollars at stake depending on the cargo, supporting the need for making ORBCOMM's best-in-class satellite AIS services and IoT technology solutions an integral part of global maritime and shipping operations.
To learn more, visit https://www2.orbcomm.com/ais-data or email us at info@orbcomm.com

Get started with ORBCOMM
Digitalization is transforming industrial operations around the globe. Learn how ORBCOMM solutions can optimize yours.
Get a Tailored Quote