The ongoing disruptions snarling global maritime container trade and supply chains have driven home the acute need for better visibility into the location and status of container cargo and equipment moving through the system. Nowhere is this more important than in the refrigerated container trades carrying vital supplies of perishable food, pharmaceuticals and medicines, including vaccines, across the world.  
The recent logjam at the Chinese Port of Yantian hit reefer shipments hard, with major ocean carriers advising that a percentage of refrigerated cargoes will be diverted–in some cases "without prior notice"–to other ports in the Pearl River Delta. Not only does this raise concerns about cargo integrity if other ports lack plugs to power unexpected reefer shipments; it also dislocates finely tuned cold chain logistics and reefer repositioning networks on a potentially global basis, with ripple effects for some long time to come.  
Leading global reefer carrier Maersk Line has warned that this is "a much bigger disruption" than the Suez Canal blockage. In its latest advisory on July 2, Maersk cautions that while the congestion in Yantian is now clearing up, one impacted port could become a downward spiral for neighbouring ports, creating new bottlenecks. Coming so soon after the Suez Canal blockage, and on top of so many months of disruption, events in southern China have deepened concerns about how to monitor, manage and mitigate perishable supply chain shocks, congestion and capacity shortages. Smart containers cannot resolve the macro issues, but they can and do play a vital part of the digital ecosystem in the face of volatility, uncertainty and complexity. 'Simply' being able to check the live location and status of containers and their cargo – and make remote adjustments to temperature and other critical conditions – is a big step forward.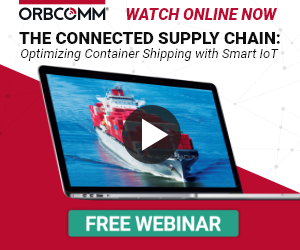 Well before the pandemic, the reefer segment of the container market was leading the way in adoption of IoT telematics for remote real-time visibility, monitoring and control. To date, ORBCOMM has deployed IoT telematics on over 600,000 container assets and the great majority are reefer containers. Still, with less than 40% of the global reefer container fleet estimated to have telematics installed today (c. 600,000 units out of the current fleet of around 2.4 million), adoption of IoT in the reefer container space has lagged when compared with the reefer trailer market, where ORBCOMM currently has 700,000 cold chain subscribers. That could now change quite quickly. Pandemic times have seen an acceleration in IoT telematics for reefer containers amidst a surge of newbuilding activity to keep up with global cold chain demand amid equipment shortages. That includes more factory installations on newbuilds. 
The efforts of the Digital Container Shipping Association and the Container Owners Association in developing standards for reefer container IoT communication technology and data have been a big boost for adoption. This June, the COA's Reefer Telematics Working group, a collaboration of reefer equipment manufacturers and telematics Providers, published a new open standard Reefer Data Classification Scheme, supported by an open source Unified Data Model (UDM), to enable the exchange of information on refrigerated containers in a uniform way, independent of the model and manufacturer. 
"By using the standard data model provided in this document, shipping lines and other reefer container operators who have mixed fleets of different reefer machinery will benefit from the convenience of accessing relevant data, without the complexity of accessing [these data] with different formats and means," says COA. "This is relevant as it is estimated around 70% of all data integration activities today are spent validating, structuring, organizing and cleaning data, a cumbersome burden that the UDM model eliminates.  
Open standards published by the DCSA include IoT Gateway Connectivity Interfaces, IoT Data Standard for Remote Reefer Container Monitoring On Board a Vessel and Track & Trace. "Using digital standards, integrated IoT technology can stream high-quality, real-time data from connected devices, providing end-to-end visibility into both the whereabouts of containers and the status of their contents," said DCSA CEO Thomas Bagge in a recent editorial.   
The standards published by bodies like the COA and DCSA are helping foster interoperability and stakeholder collaboration as the industry wants to be able to not only share data easily, but also to buy hardware from multiple telematics suppliers and not to have to use multiple software platforms.  In our era of shipping alliances and vessel sharing agreements (VSAs) where a single vessel carries containers for many different carriers, shipping lines are also concerned about the ability to monitor their smart reefers using partners' onboard remote monitoring systems and vice versa.  This is an equal concern for cold chain shippers and distributors who need robust visibility into temperature and other key cargo care and compliance KPIs along the cold chain, including at sea. 
ORBCOMM believes that open, interoperable and non-proprietary must be the direction of travel for all IoT vendors to the global container industry, with software platforms and mobile applications that fully support interoperability with third party telematics devices and data from other sources. ORBCOMM has already successfully integrated 3rd party telematics devices on our ReeferConnect and VesselConnect platforms and will continue this work. 
Data interoperability matters.   
It matters so that data generated by telematics devices can be integrated with other enterprise software systems for added insights and efficiencies. A typical case in point is with a booking system. By integrating details about a shipment – such as origin, destination, set temperature and commodity – with an IoT platform, business rules and AI can be applied to the data to create alerts for incorrect set temperatures or temperature excursions. Plus, full-trip data histories can also be shared automatically via APIs.  
It matters so that smart container data can be shared with the growing number of visibility platforms operating across the cold chain, incorporating data from multiple systems such as TMS, WMS and more. For true end-to-end supply chain visibility, all these systems must be able to 'talk' to each other to ensure efficient management of hand-offs along the chain and allow container data to inform other segments of the chain – for instance, last mile delivery planning for e-commerce chains. 
And it matters for future proofing as new IoT technologies and communication channels continue to enter the mix. A case in point is our upcoming CT 3500 smart reefer device that now not only interfaces with the native protocols of the reefer container machine's microcontroller, but also supports a suite of wireless sensors to augment the data already collected by the reefer controller.  
These wireless sensors use LoRa technology to communicate with the CT 3500 IoT device and overcome the historical challenge of using other wireless technologies such as Bluetooth, which are not robust enough to penetrate the insulation of the refrigerated container.  LoRa wireless door sensors, wireless cargo sensors, and wireless temperature sensors provide valuable data that can be analyzed and interpreted for things such as trip start and end, reefer loading and unloading, security breaches, temperature compliance and refrigeration performance, to name a few.  
"What's in the reefer box" is going to become ever more important to deliver segmented supply chain services in an increasingly integrated logistics world. IoT will play a big role in enabling this as part of the evolving cold chain data infrastructure and digital ecosystems. Open, interoperable and non-proprietary are the keys to the future of reefer container IoT in the global cold supply chain. 
Want to learn more about interoperability and container IoT? Watch my latest Smart Reefer video presentation or email us any time at info@orbcomm.com.
Al Tama is ORBCOMM's Vice President & General Manager, Container and Port Solutions. Al leads the teams that manage solutions for Container and Ports and Over the Road Transportation assets. Al has more than 13 years of experience delivering mission-critical systems to shipping lines, marine terminal operators and port complexes, and trucking companies.