With the Hanjin bankruptcy now official, the crisis serves as a reminder that when shippers of any cargo engage with great global container cold chains, 'caveat emptor' must be observed. Containerization, 60 years old in 2016, has done more for world commerce than any free trade deal, The Economist famously observed in 2013. But shippers caught up three years later in the bankruptcy of the world's seventh largest container carrier are not so sanguine.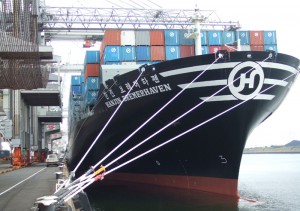 Last year saw dozens of Hanjin vessels, hundreds of crew, hundreds of thousands of containers and billions of dollars of cargo are languishing at sea, or held at port. Even when vessels get permission to unload, cargo was at risk of ending up far from its intended destination and need to be reshipped with other lines. For shippers of temperature-controlled cargoes, this is especially dire. "Where's my cargo, where and when will it land, and will it be fit for purpose?" are questions that many food, and possibly pharma, shippers may not be able to answer right now.
Lars Jensen of maritime consultancy Sea Intelligence notes that at least 25 lines had active slot charters or vessel sharing agreements with Hanjin on various trades. This means that many shippers that don't even do business with Hanjin or its alliance partners are still affected. He points out that the "ever-closer operational collaboration across carriers" has served to increase the risk profile for shippers' supply chains, "often without the shippers realizing this is the case."
Recent events have shone a spotlight on the deeply interconnected nature of today's container shipping networks and demonstrated how little visibility many shippers have into the whereabouts and status of their cargo as it moves through a complex web of service providers.
None of this is to gainsay the immense value of containerization to world trade in perishables. The refrigerated container has opened up international markets and has allowed food, pharmaceuticals and other temperature-sensitive goods to be shipped safely and cost-effectively over very long distances. The current trend for container cold chains to shift from air to ocean is at least partially driven by the more controlled cold chain that containerization can provide, helping to meet new regulatory requirements such as the EU Good Distribution Practice (GDP) rules for medicinal products.
But GDP and other major new legislation such as the US Food Safety Modernization Act (FSMA) also highlight how governments around the world are themselves seeking to improve supply chain risk management in a global trade environment, especially for products that will be consumed by humans. Temperature control and traceability go hand in hand in this tougher legal environment. And shippers, mainly, are liable for compliance.
Over the next few years, the increased risks of container operations, plus new regulations such as GDP and FSMA, will make cold chain visibility and chain of custody data more important than ever before. Machine-to-machine (M2M) telematics and sensors, as part of the Internet of Things (IoT), will play an important role for many supply chain stakeholders.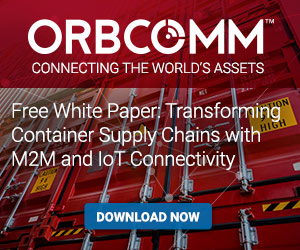 As detailed in our new white paper, M2M is helping container assets, cargo and shipments to make the move from "dark, dumb and disconnected" to "visible, smart and connected." Today, ocean carriers and equipment OEMs have begun to invest in M2M solutions to remotely monitor, and control, refrigerated container and genset operations. GSM-enabled ships also make it possible to watch over M2M-equipped reefer boxes at sea.
But making the global reefer container fleet 'smart' is a big deal and can't happen overnight. There's also no requirement for carriers to share their data with shippers – although some already do.  Even then, this does not give shippers data at the actual cargo level. For that, most still rely on tags inserted in pallets at point of loading, with trip data downloaded at the other end.
One of the breakthroughs ahead for M2M in the container supply chain, made possible by advances in smart sensors, will be to integrate container level and cargo level tracking into a unified, trip-based solution. Multiple sensors can be placed inside the container to monitor all sorts of conditions in real-time – from door opening and light intrusion for security purposes, to cargo temperature, humidity and atmosphere down at the pallet, case or carton level. A single telematics device mounted temporarily on the outside of the container will communicate with dozens (if not hundreds) of these smart sensors, capturing data from 'inside the box' and transmitting it live via GSM or satellite networks. Satellite, of course, can't reach into ships' holds, but does work with on-deck containers.
While M2M & IoT connectivity can't solve the bigger issues facing global container trade and supply chains, it surely can provide critical data for more proactive decision making, risk mitigation and contingency planning. With trip-based telemetry and sensors, for instance, shippers caught up in a catastrophe like the Hanjin affair could assess not just the location of their cargo, but also if temperature requirements have been maintained, whether the product will be fit for consumption and if it's even worth the cost to reship.
To learn more, please feel free to contact us anytime to discuss container cold chains and connected technology. You can also schedule a demo of our industry-leading solution for remote container management at www2.orbcomm.com/reeferconnect.
Al Tama is ORBCOMM's Vice President & General Manager, Container and Port Solutions. Al leads the teams that manage solutions for Container and Ports and Over the Road Transportation assets. Al has more than 13 years of experience delivering mission-critical systems to shipping lines, marine terminal operators and port complexes, and trucking companies.