In summer 2018, the UK saw one of the biggest and longest heatwaves on record. While this was great news for some, it posed its own challenges for the foodservice industry. As temperatures soared, fresh, cold and frozen foods were ordered by customers at much higher levels and with greater frequency than normal. Retailers saw an increase of 2.2% in total grocery sales in a four-week period during summer 2018, a growth traced directly to the heatwave thanks to customers buying more fresh foods, beverages and snacks. According to Nielsen figures, it was the biggest growth volume outside of traditional periods since 2013. Dining al fresco became standard, ice cream was more popular and fresh burgers and olives saw significant growth.
Shoppers spent +4.5% more on groceries in the last four weeks to 14th July, as the hottest June in more than 40 years.
Supply Chain Under Stress
Out of this irregular occurrence came an unlikely hero – the refrigerated rigid truck (or the rigid reefer as it is sometimes called) – the "workhorse" vehicle for many fleets in the foodservice industry.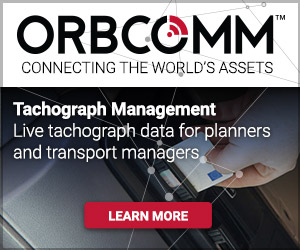 The strengths of the refrigerated rigid – combined with advanced telematics – became something of a hero for supply chains under strain. Already, valued for its convenience for urban deliveries, the refrigerated rigid truck is designed to cope with multiple stops, frequent door openings and operation day and night. Its payload capacity is ideally suited to foodservice operations and its temperature management capabilities are just what is required for these conditions.
Hauliers were asked to prove that their cargo was delivered on time and at the right temperature, all while ensuring that their drivers were not overworked and operating within driving and working hours regulations. And just because there were more jobs and not enough hours to complete them, fleets still had to ensure that drivers did not abandon fuel-efficient, legal and environmentally-friendly driving styles.
For both own account operators and for-hire foodservice operators, summer 2018 was a test of their vehicles and the telematics data used to support them. Temperature data needed to be available in real-time and reported on historically to shippers within minutes of delivery. Tachograph data from drivers needed to be instantly viewable to planners so that additional stops could be added. In addition, engine data needed to be analysed to ensure drivers were not speeding between locations to avoid missing delivery slots or cooling themselves down with excess idling.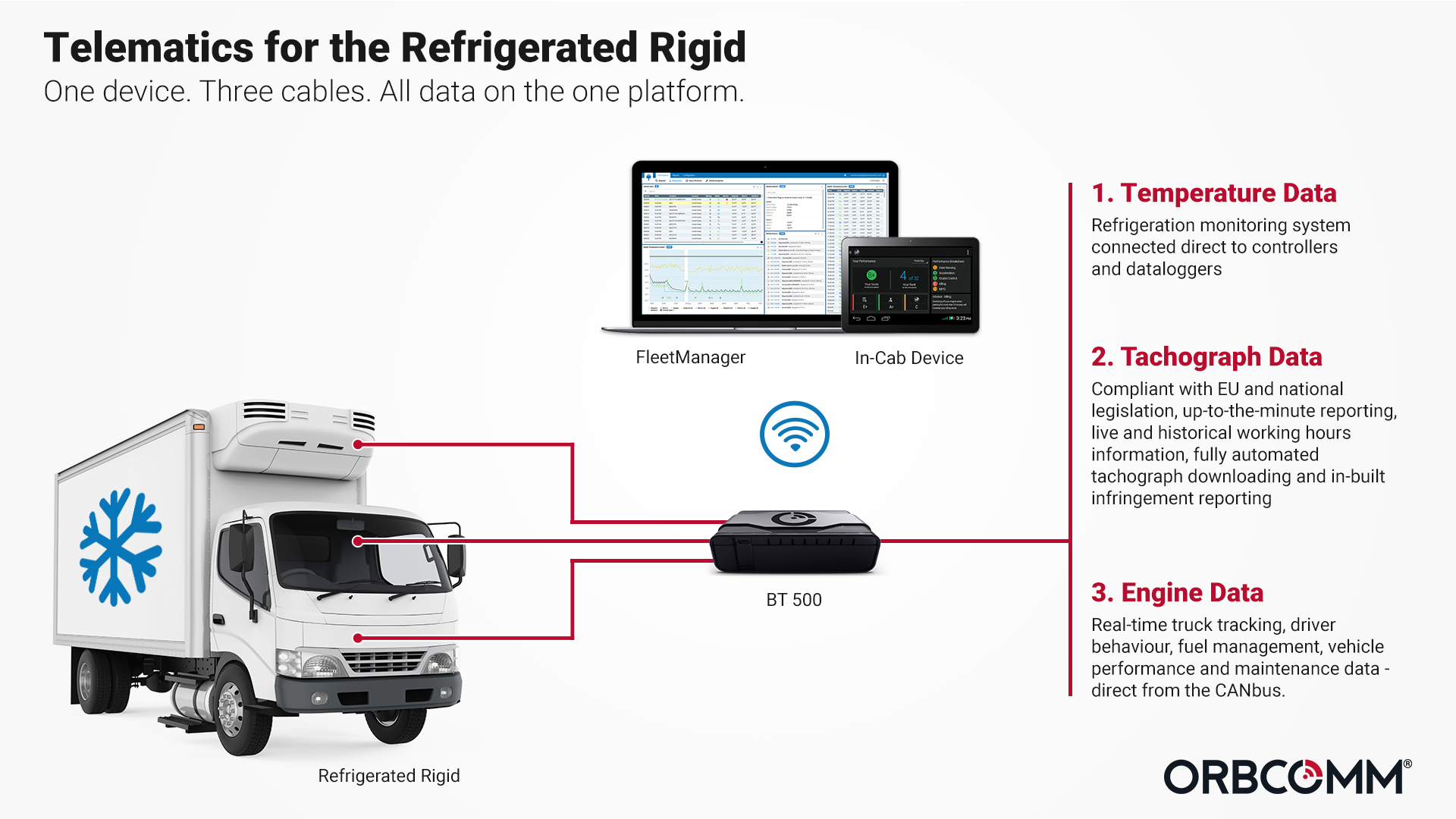 Temperature Management Is Vital
The primary function of a refrigerated rigid is to keep its cargo cool. During times of extreme hot weather events, cold chain monitoring solutions are even more important.
With an increase in temperature-sensitive produce, hauliers and private fleets need to be sure that the assets they carry can be maintained and delivered at the right temperature. Constant reporting is required; shippers and receivers want immediate proof of temperature consistency during trips, sent by email in graph formats that can be instantly understood.
Multiple short stops with frequent door openings/closings are also a challenge. Shippers and receivers are always keen to know how long doors have remained open and the effect of this on temperatures. By connecting a door switch into the platform, hauliers are able to use telematics to show the length of times a door is open at delivery – and the temperature movements that occur during that period of time. Geo-fences can monitor where and when a door is opened, alerting management to any unplanned or unauthorised access.
If something does go wrong, real-time alerts can be the best friend of a dispatcher. Telematics can provide automatic error detection in reefer units and set variances and tolerances based on the cargo carried. Anything out of the ordinary triggers an alert, so a driver and dispatcher can check conditions immediately.
Keeping Fleets Compliant And Cool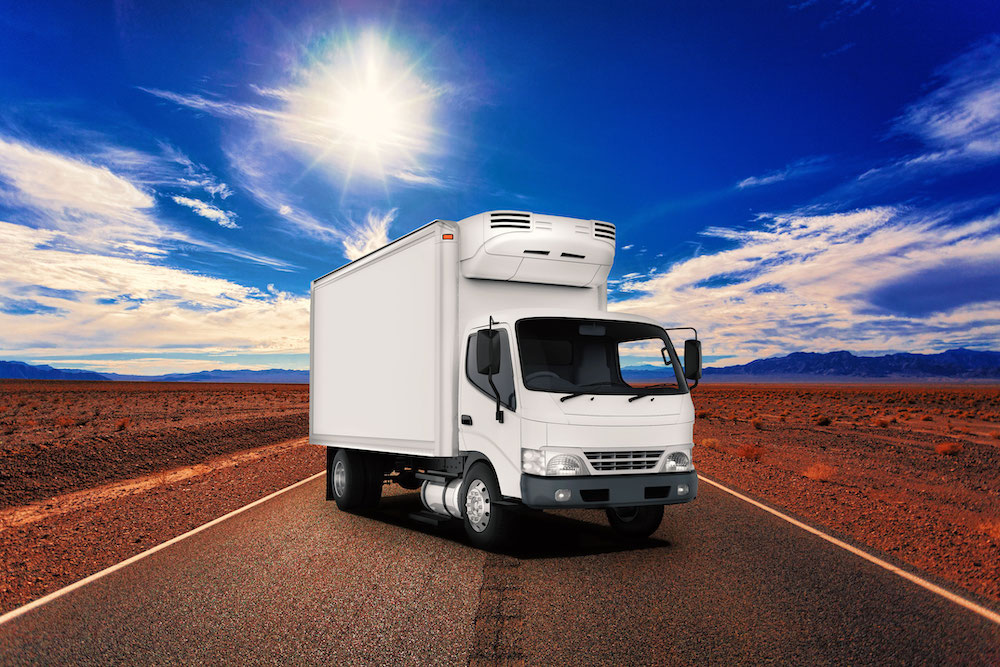 Temperature data is not the only data refrigerated fleets need to operate with; compliance data is equally crucial. On any given day in the UK, there are hundreds of foodservice companies using thousands of drivers to deliver multiple cold chain products. Dispatchers, planners and operations managers need to keep a close eye on their drivers to ensure they are working to driving hours and working time legislation.
During times of extreme heat, when order requirements might increase and driving conditions can be tough, the success of a single job can hinge on whether a driver has enough driving and working hours left to fulfil the delivery. Live tachograph and working time data become critical for dispatchers and planners to keep an even closer eye on drivers than normal, to ensure they have time left to fulfil every job. Real-time tracking and cargo visibility help drivers do more with their driving hours. With in-depth knowledge of how long a driver has left, planners can schedule or reschedule as needed.
With the increased number of deliveries during a hot summer, there is more pressure too on detention times for deliveries. Using geo-fencing, telematics systems can be used to monitor and compare wait times for drivers day-to-day at specific pick-up points or depots, to ensure that these do not drift outwards as the weather heats up.
Don't Let Drivers Get Hot Under the Collar
In times of extreme heat experienced in summer 2018, operators need to constantly monitor what's happening with their trucks and drivers.
For drivers, there are several issues in hotter weather. Due to the increase in the number of jobs, there is a temptation to speed between deliveries. During deliveries, there is potential for a spike in idling across the fleet as drivers struggle to keep their cool. Each of these can have a big impact on an operator's bottom line.
To keep control, fleet managers need to be able to monitor, review and analyze drivers' performance closely – and communicate more frequently to drivers if they see any slippage from agreed metrics. Driver data taken from the CANbus can be used to generate driver scorecards in the truck through an in-cab display, like speeding, idling, harsh braking or acceleration. In-cab displays can also communicate jobs details and two-way messages; driver messaging available at-a-glance means drivers know exactly where their next job is coming from and dispatchers know that it will get done. If drivers can also see temperature data in the cab through this display, drivers can also report any deviations that they see.
Bringing It all Together
ORBCOMM's refrigerated solution was the ideal partner for UK foodservice organizations in summer 2018.  When orders were piling up, operation teams were under pressure and drivers were under extra stress, the combination of the rigid reefer's strengths and a complete telematics solution – on the one platform and the one screen – was there to give hauliers some breathing space.
Through being able to see temperature, tachograph, vehicle and driver performance data on the one screen (the ORBCOMM solution for refrigerated rigids uses only one hardware device, the data sits on one portal and the analysis is available from one screen), dispatchers, planners, safety and compliance managers could take reassurance from telematics knowing that assets were arriving on time at the right temperature. Operators were able to rely on refrigerated rigid vehicles that are nimble and flexible – and telematics solutions that do a lot on a single platform.
With the UK food and grocery industry set to grow by £28.2bn by 2023, it's more important than ever before for operators to look closely at clever combinations for their business. As another heatwave is looking likely for summer 2019, operators might look at how they can be a bit more prepared.
To learn more about our products email us at sales@orbcomm.com or visit our tachograph pages here. Download our datasheet on Refrigerated Rigid here.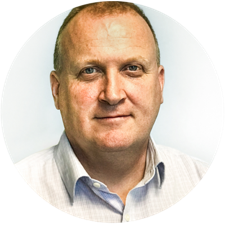 As ORBCOMM's Senior Director of Product Marketing, Denis Cody leverages over two decades of industry experience in international B2B marketing to help develop and execute GTM strategies, positioning and messaging for our suite of products and solutions.