Podcast: Keeping it Cool with Smart Container Monitoring Technology
Smart container technology has been in the spotlight of late, due in large part to Maersk Line going public with its decision to equip its fleet of over 260,000 refrigerated containers with machine-to-machine (M2M) technology that gives global real-time visibility into equipment location and status, and allows the carrier to remotely control temperature, humidity and other climate settings for perishable cargoes.
The Loadstar logistics news portal recently published a new podcast and an article entitled The Inside Story of How to Keep it Cool, which includes details of the project, how the technology works and how Maersk and its customers have already started to reap the benefits of remote container monitoring technology.
In the podcast, Mike Dempsey, ORBCOMM Vice President of Container and Port Solutions, outlines the five main areas of value for carriers using container monitoring technology, namely:
Asset visibility
Reefer status monitoring
Operational savings
Regulatory compliance
Competitive business advantage
For more details on how these benefits combine to provide real-world ROI, listen to the podcast here:
ORBCOMM is looking forward to discussing more digital supply chain benefits at the upcoming TOC Container Supply Chain conference in Hamburg, June 14-16. We'll be joining a session on The Internet of Things & Big Data: Connectivity, Visibility & Analytics , taking place on Wed., June 15 as part of a full-day debate on Innovation & Technology in global container supply chains.
ORBCOMM is also exhibiting at Stand F74, so please drop round to find out more about our work in real-time container, intermodal and port equipment asset management. If you can't be there, visit www2.orbcomm.com/intermodal  or contact sales@orbcomm.com.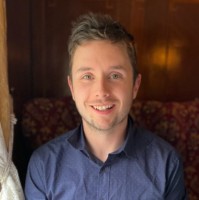 Cody Lirette is Senior Content Marketing Manager at ORBCOMM. With over seven years of marketing and communications experience for both the public and private sector, he uses his passion for innovative technology and plain language to build compelling content that provides value.

Get started with ORBCOMM
Digitalization is transforming industrial operations around the globe. Learn how ORBCOMM solutions can optimize yours.
Get a Tailored Quote