Earlier this year Berg Insight (a dedicated M2M/IoT market research firm based in Sweden, with a focus on fleet management and industrial M2M) published their report, Trailer and Cargo Container Tracking – 6th Edition. This report focuses on the connected transportation market—the tracking and security of cargo loading units including trailers, intermodal containers, rail freight wagons, air freight cargo containers, cargo boxes and pallets. The installed base of remote tracking systems for this market is forecasted to grow at a compound annual growth rate of 19.6 percent from 3.7 million units at the end of 2017 to 8.9 million units by 2022.
The report ranks ORBCOMM as the largest vendor of tracking solutions for cargo loading units, having a significant installed base of trailers as well as containers. Berg Insight states that 'The company has been highly involved in M&A activity related to real-time asset tracking, including notable acquisitions such as Blue Tree Systems, Euroscan and WAM Technologies. ORBCOMM has been involved in the Maersk/AT&T project to equip Maersk's entire fleet of nearly 300,000 refrigerated containers with real-time tracking solutions. The project is one of the largest cellular-based industrial IoT deployments of its kind'.
Another Berg Insight report, Fleet Management in the Americas – 8th Edition, for the first time, listed ORBCOMM in the table of leading connected transportation management providers. This is in large part due to the acquisition of inthinc Technology Solutions and Blue Tree Systems in 2017.
These reports are further evidence that ORBCOMM is putting more distance between ourselves and the competition in truck, trailer, reefer and container management, and that the company has truly arrived as a major player in connected transportation, truck telematics and fleet management. ORBCOMM is the only telematics provider that is fully capable of meeting the demands of transportation companies looking to manage their entire fleet under a single platform.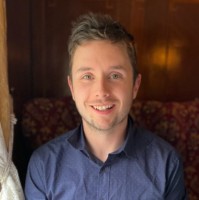 Cody Lirette is Senior Content Marketing Manager at ORBCOMM. With over seven years of marketing and communications experience for both the public and private sector, he uses his passion for innovative technology and plain language to build compelling content that provides value.