Our latest case study takes a closer look at how ORBCOMM smart agriculture technology supports Wiagro in increasing productivity for their customers, by ensuring stored crops remain at their best.
"ORBCOMM technology, combined with the expertise of their field application engineers, helped us deliver a solution on time that exceeded customer expectations." – Martin Codasco, Company Director, Wiagro.
ORBCOMM partnered with Wiagro to deliver maximum ROI for their customer. The company wanted to store their soybean crop and sell when market conditions were most favorable. The grain required constant monitoring to ensure its quality and that it would be ready to sell when the time was right.
Wiagro worked with ORBCOMM satellite terminals to build a smart agriculture solution that delivers temperature, humidity, and C02 monitoring. Utilizing satellite technology was vital since the silos were in an area without cellular service.

This is just one example of how IoT is improving agricultural operations. Smart agriculture solutions are using IoT Technology in many ways. From minimizing plant loss through pest, disease and plant health tracking, to monitoring rainfall and soil moisture to ensure optimum growing conditions, the future looks bright for IoT and Smart Agriculture.
To find out more about how ORBCOMM can help its partners achieve email us at sales@orbcomm.com.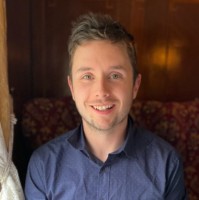 Cody Lirette is Senior Content Marketing Manager at ORBCOMM. With over seven years of marketing and communications experience for both the public and private sector, he uses his passion for innovative technology and plain language to build compelling content that provides value.