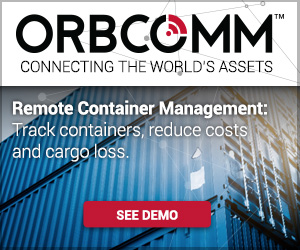 As we prepare for the annual Intermodal Europe conference taking place this year in Amsterdam from 28-30 November, our thoughts turn to the current and future role of digitalisation and the Internet of Things (IoT) in fostering modal shift.
According to the EU, road freight transport in Europe is projected to increase by around 40% by 2030 and over 80% by 2050. Not surprisingly, taking freight traffic off the roads is, therefore, a key policy priority for the European Union (EU) to help alleviate pollution, congestion, noise, accidents and climate change, ensure the free flow of goods and help Europe to remain competitive with other parts of the world. Meanwhile, long-haul intermodal rail is a central pillar of the Chinese government's One Belt One Road (OBOR) initiative to create a new Eurasian transport network.
Whether you call it multimodal, intermodal or combined transport, the goal of moving more of Europe's goods by modes other than road is a long-cherished one. Unfortunately, progress over the years has been negligible. Latest EU figures indicate that the split of traffic between road, rail and inland waterway is virtually unchanged in the last decade. In 2015, road made up 75.8 percent of all freight transport, versus 76.3 percent in 2006. Inland waterway has crept up from 5.7 to 6.3 percent over the same period, while rail has, in fact, declined slightly, from 18 to 17.9 percent.
So, how can digitalisation and the IoT make a difference to intermodal? It's a big topic that we will be discussing during Intermodal Europe in the Smart Shipping Focus panel, but here are 5 reasons intermodal and IoT and a match made in heaven:
1. Real-time container visibility, locating and monitoring
This is a bedrock benefit of the IoT whatever the application – the "simple concept of getting inanimate objects to communicate across the Internet," as we discuss in this recent Port Strategy editorial. In the case of intermodal, where goods and transport units are moving largely unaccompanied between modes and nodes, with many different parties involved along the way, the ability to accurately locate and monitor the status of shipments in real-time allows issues to be quickly identified and proactively addressed, helping to level the playing field with accompanied road transport.
For long haul rail operations, IoT-connected containers are critical to ensuring shipment security and quality and thereby breeding shipper trust, as outlined in our recent case study on UNIT45's adoption of IoT telematics for temperature-controlled containers moving on the New Silk Road.
2. Seamless, shared information flows and a 'single version of the truth'
Inaccurate, after the fact and siloed information along the intermodal supply chain present considerable barriers to efficiency and competitiveness. Improved access to, and sharing of, real-time transport data brings benefits for both public and private stakeholders—from better information on goods arrival and pick-up time for shippers, to more accurate and reliable information on infrastructure use and cargo flows for public authorities, to more precise asset and network management for logistics and transport providers.
As we reported in this recent blog, Maersk Line is now sharing live data from its smart reefer containers with its customers and is looking at how to extend that visibility to other members of the intermodal transport chain. In the future, we can expect to see even more data-sharing platforms, networks and ecosystems emerge, where multiple parties access the same information and share a 'single version of the truth'. This will reduce friction, facilitate the integration of intermodal services and ease administration.
3. Managing intermodal transport complexity
Compared to road only, intermodal transport is inherently complex, with many parties and hand-off points which currently lack visibility and control. An intermodal supply chain thus presents more opportunities for errors, breakdowns and black holes than a single-mode operation. As we discussed earlier this year in an editorial on What the Next Stage of the IoT Means for Supply Chain Management,  improved IoT technology makes it far easier to locate and monitor these hand-off errors and, as noted above, can help break down information silos between public and private parties that can add cost and delay to cargo flows.
4. Intermodal asset, infrastructure and network optimisation
Access to live data on the location of vehicles, containers and cargo creates opportunities for multiple players in the intermodal chain to optimise capacity and utilisation, with many added benefits.
For seaports and inland terminals, being able to monitor the flow of traffic in and around their facilities assists in mitigating congestion, optimising traffic flow and managing security. Emerging port IoT platforms will also facilitate better infrastructure, energy and information management. For intermodal transport and logistics operators, the ability to pinpoint all their assets in transit and at facilities will greatly improve fleet utilisation, especially with the use of sensors to detect when containers are empty and ready for reloading, as JB Hunt is now deploying in its North American intermodal operations.
Transport and logistics service providers will be able to monitor operations in real-time, react to unexpected events and give more accurate and timely information to shippers.
5. Fact-based intermodal supply chain decisions
Beyond the immediate operational benefits, amassing accurate 'big data' from IoT-connected trucks, containers, chassis, cranes, infrastructure and other intermodal supply chain assets can enable more intelligent decision making based on what is really going on, versus what was expected to happen. A port authority or rail terminal operator, for instance, might change the way it manages traffic flows. A carrier might change routings or suppliers. Asset owners could change their maintenance regimes.
We are only just beginning to explore the possibilities as more intermodal assets connect to the Internet, and there is much more to come.
Visit us on Stand F14 at Intermodal Europe and join us at the Smart Shipping Forum to discuss the future for IoT and intermodal. Going to be at Intermodal Europe? We'd love to meet with you! Schedule a meeting with us. For others, please feel free to schedule a demo or contact us any time to discuss how IoT can elevate your intermodal operations.