Power outages and delays in service repairs are costly events for utility companies—when consumers lose power, utilities lose money.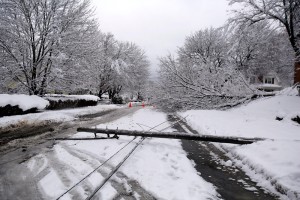 Faults along the power distribution network that result in interruptions to the service are often caused by broken tree branches, damage to utility poles or weather-related events like those experienced recently in the North American Eastern seaboard with heavy, blizzard-like snowfall.
In recent years some power operators have come under scrutiny and have even been subjected to steep fines due to their lack of preparedness during some tropical and winter storms. This was the case for four companies in Massachusetts who were fined a combined $24 million in 2012 for their inadequate response during Tropical Storm Irene and a major early-season snowstorm in 2011.
It's crucial for utilities to quickly identify faults in the distribution network and isolate those sections of the network in order to prevent outages to a much larger number of customers. Today's utility companies rely on smart field devices to monitor and control the distribution process in order to increase operational efficiency. These devices collect and deliver field data to a control center in near real time, giving operators the visibility they need to minimize impact of unplanned outages.
The need for reliable communications connectivity between field devices and the control center is critical because the power distribution network extends beyond urban areas where cellular connectivity can sometimes be spotty or not available. By deploying dual-mode, satellite-cellular network conectivity, utilities can be sure the data is collected and transmitted to and from the field reliably.
Smart devices that process data at the edge in order to reduce the volume of data flowing back and forth can also provide utilities with significant savings on data transmission costs and help the operator provide more efficient and continuous distribution of electricity.
To learn more about dual-mode networks and smart field devices, Contact Us.
With over 15 years of marketing experience at companies big and small, Lina Paerez leads ORBCOMM's global marketing team, driving key positioning strategies, product launches, demand generation and brand awareness.