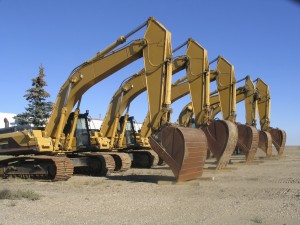 At the 2014 Association of Equipment Management Professionals (AEMP) symposium, Thompson Machinery (a Caterpillar dealer in Tennessee) delivered an interesting presentation that stressed the importance of turning telematics data into actionable information when managing heavy equipment.
To set the stage, the speaker started with a concept that applies not only to telematics systems but also any machine-to-machine (M2M) system…
You will not save a single cent unless you interpret and act upon data that has been converted into actionable information
In other words if you are just collecting data from your machines, you are wasting your money. It is not until you drill down further and information is unearthed from your hauled data that you will strike gold. While this may be a difficult task, the rewards can be powerful and include:
Reduced number of catastrophic failures
Reduced fuel consumption due to reduced idle time
Increased uptime due to predictive maintenance scheduling and telematics diagnostics
Reduced travel expense due to fleet tracking
Informed equipment purchases
According to the presentation, the cost to repair catastrophic failures can be 10 to 20% of the price of a new machine, so avoiding these can have a huge impact on maintenance budgets. At the same time, knowing the true cost per hour of a machine enables companies to make smarter multi-million dollar purchases.
It takes resources to act upon the information you collect with your telematics system. One company has a dedicated full-time administrator that monitors for critical fault codes, cautions and maintenance alerts. They also look at equipment utilization and fuel burn to see how hard the machine is being worked and if maintenance is required.
There are a variety of tools available to make the job easier. Geofences pen equipment in worksites to quickly detect unauthorized use or theft; dashboards show key information like engine utilization and whether the equipment is being used in high, medium or low load scenarios; and notifications via email or text message ensure that critical alerts are received by the right people.
So before you bulldoze into selecting a telematics system, be sure that the necessary infrastructure is in place to take advantage of all the information that you may mine.