Did you know… in the UK alone, there are five bridge strikes per day?
At every Transport Manager Conference in the UK in 2019, we heard of the many challenges and opportunities hauliers are facing daily. One thing that we've heard crop up again and again – an avoidable issue – is that of UK bridge strikes. Recent figures say there are typically five strikes per day across the UK. Hauliers face losses of millions of pounds per year as a result. There is a lot of scope for improvement in preventing bridge strikes with the right systems and processes. Telematics and clear processes can work together on the prevention of bridge strikes and eliminate the risks associated with bridge strikes.
What is a Bridge Strike?
A bridge strike happens when an HGV or other vehicle collides with a railway bridge or with a bridge over a railway. There are around 2,000 incidents in the UK annually and approximately 180 in Ireland. Sarah Bell, Traffic Commissioner for London and the South East outlined at the recent FTA Transport Manager Conference series that UK bridge strikes are still a major issue for operators. In a four-week period alone in 2019, there were 96 strikes leading to March 5. As Sarah Bell says, there's plenty of room for improvement.
Research says that nearly half of lorry drivers surveyed (43%) admit to not measuring their vehicle before taking to the road. More than half (52%) do not take low bridges into account when driving. In research conducted by Network Rail, lack of knowledge was the most common cause of bridge strikes:
32% of drivers don't know the vehicle height
8% of drivers don't believe signage
9% of drivers face inadequate signage
11% reported poor information about low bridges when planning a route
22% reported poor route planning
15% drivers did not understand signs
3% other
There is growing frustration around the issue of bridge strikes, not least from operators who face financial losses, but also amongst commuters and general road users who face significant delays in the event of a bridge strike. Each strike causes two-hour delays on average for commuters and can result in long-term damage to structures. In Birmingham this year, Network Rail said repeated bridge strikes forced a road closure for nearly five months while repairs were made. Another example is in Peterborough where a railway bridge has had to close for a year after being struck 12 times in 2019.
What are the Penalties for Bridge Strikes?
In the UK, those responsible for causing a bridge strike are liable for all costs associated with the incident. And each incident of a bridge strike is costly, averaging £13,500. As an operator, your company could be liable for the costs of inspections to the bridge, road infrastructure, any repairs required, train delays, damage to vehicles, other road users and to the load itself. In the event of a strike, your company will likely be investigated by the DVSA and in some cases, you or your driver could face criminal prosecution.
In Ireland, the penalty for striking a bridge is a direct summons to court, a fine up to €5000, and/or six months imprisonment and three penalty points. Failure to notify of a bridge strike can earn a fine up to €1000. Here is an example from Irish Rail of a bridge strike early in 2019.
Had pedestrians, cyclists or motorists been on the other side of the road, people could have been killed at Amiens St this lunchtime.

Know your load height for the safety of all. @RSAIreland pic.twitter.com/IDA648GMLm

— Iarnród Éireann (@IrishRail) April 8, 2019
Best Practice in Preventing Bridge Strikes
Here are some of the best practice actions for operators looking at bridge strike prevention and to reduce the damage of bridge strikes:
Transport Managers should have effective policies and procedures in place to prevent bridge strikes from happening.
Display the maximum vehicle height clearly in the cab.
Advise drivers and remind them constantly of the height of the vehicle.
Assess the risk based on the correct height of the vehicle.
Routes should be planned to eliminate any risk of bridge strikes.
Drivers need to observe traffic signs and re-act.
Arch bridges require special attention. Signed clearance is only provided in part. Drivers need to also be aware of the width.
How Telematics can Help to Avoid Bridge Strikes
Telematics can play its part in reducing the potential of bridge strikes. With a fully integrated telematics system, fleets can reduce the likelihood of bridge strikes, keep drivers safe and minimise damage to assets or to reputation caused by delays.
The most obvious action is that drivers need to be equipped with maps that contain truck-specific navigation. Truck drivers cannot rely on personal, phone-based mapping systems to show all the warnings required to avoid low bridges for trucks.
In addition, adequate route planning is often not the work of the driver but that of the dispatcher and the planning department. While drivers retain primary responsibility in the event of an accident, UK Traffic Commissioners will pay close attention to how much support and relevant software the driver was equipped with to negotiate the route safely.
As technology develops, telematics companies and local authorities are looking to co-operate to use geofences and alerts to warn of upcoming clearance heights.  Utilising audio warnings in the cab or visual warnings of upcoming hazards will help drivers avoid any potential incidents in real-time.
For more information on preventing bridge strikes, check out the UK Department for Transport or in Ireland the RSA website.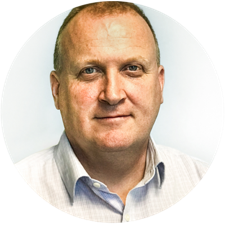 As ORBCOMM's Senior Director of Product Marketing, Denis Cody leverages over two decades of industry experience in international B2B marketing to help develop and execute GTM strategies, positioning and messaging for our suite of products and solutions.