Today, we're bringing you the latest Canadian ELD news.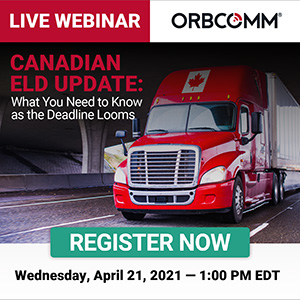 As part of the communication between ORBCOMM and Transport Canada, we received confirmation that Transport Canada is further refining the Progressive Enforcement policy that was announced by the Minister of Transportation on March 2nd. Transport Canada has confirmed to ORBCOMM that there will be no penalties issued during the initial Education and Awareness phase, which begins on June 12. This penalty-free period is estimated to last three months from the June 12 deadline. This will apply to both Canadian-domiciled and U.S. cross-border drivers. 
While drivers and carriers will not be penalized for lack of a certified ELD during the 1st phase, they must continue to maintain accurate Records of Duty Status (RODS). ORBCOMM's Hours of Service and ELD systems provide accurate RODS today for both Canada and the U.S. and will continue to do so seamlessly through the Canadian ELD transition. 
ORBCOMM remains committed to offering the highest level of safety and compliance, including providing a certified Canadian ELD solution to meet the June 12 deadline. We welcome the progressive enforcement approach, which will provide drivers and carriers adequate time to successfully make the transition to the ELD standard. 
Transport Canada has reinforced the importance of outfitting vehicles with certified ELDs "as soon as reasonably possible." Because this progressive enforcement period has not been legislated and could therefore be modified at any time, we strongly encourage fleets to ensure they have certified devices ahead of June 12. The Education and Awareness phase can be used as a time for drivers to familiarize themselves with the new processes before true enforcement begins. 
For more on this and other updates surrounding the Canadian ELD mandate, please join us for a Live Webinar with Today's Trucking on April 21. We will provide valuable information and insights to help you ensure readiness for this mandate:
Canadian ELD Update: What You Need to Know as the Deadline Looms
Live Webinar Co-Hosted with Today's Trucking
April 21, 2021, 1PM EDT
Have any questions about Canadian ELD news? You can ask me directly at eld@orbcomm.com
Scott Stofer is Director of Product Management at ORBCOMM, where he's responsible for the product lifecycle of fleet safety solutions, as well as ELD mandate and Hours of Service compliance for the US and Canada. Scott has over 10 years of IoT and telematics experience, including web and mobile software development, as well as the design and deployment of wireless networks for NASCAR to collect racing data. He currently resides in Salt Lake City, Utah.