We've seen fleet needs evolving and niceties become necessities in the face of this new transportation market. It's times like these when it's important to continue developing smart truck technology that solve industry pain points and keep fleets winning.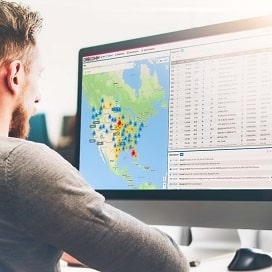 Earlier this year, we announced our new cargo camera sensor, which seamlessly fits within our nose-to-tail smart truck ecosystem. We integrated our tractor ID sensor for dry vans with refrigerated trailers–a market where incorrect pairings can be particularly painful. With the cargo camera sensor, fleets can save time by viewing trailer interiors for load progress and cargo damage. Adding door sensors allows the back office to be alerted when a trailer door is opened or closed without authorization. Future plans with this product include leveraging machine learning to provide insights involving turnaround time, utilization averages, load volume estimations and more.
Spoilage remains a significant problem in the reefer industry. Trailers that are incorrectly paired can be brought hundreds of miles away from their destination. This wastes driving hours and fuel while also running the risk of increasing insurance claims and reducing customer satisfaction. By adding tractor-trailer pairing capabilities to our smart refrigerated transportation solution, we can ensure drivers pair with the correct trailers.
To further showcase our commitment to safety, we are working with Bendix on providing fleet safety data to our customers. Driving trends can be assessed and strategic training can be deployed from this to improve fleet safety, maintain compliance and more.
Have questions about our smart truck solution? Feel free to send us a message today.