In our latest case study, we look at how ORBCOMM worked with our partner Machinestalk to develop a custom fleet management solution for one of their customers. The customer had a set of stringent requirements for the solution. In addition to wanting to ensure driver safety, the solution had to be localized into Arabic, it needed to work in all regions of a country where cellular coverage is known to be spotty and required data to be stored in-country.

"ORBCOMM's field application engineers helped us to meet tight customer deadlines and exceed customer expectations by working closely with us and allowing us to leverage their technical expertise." – Nawaaf AlShalani, Group CEO, Machinestalk.
ORBCOMM partnered with Machinestalk to deliver a fleet management solution meeting the customer's rigorous requirements. The solution monitored driver behavior including sharp cornering, speeding, harsh braking and seatbelt usage to make sure all drivers followed safety and security procedures while operating company vehicles. In addition, all regulatory requirements were met.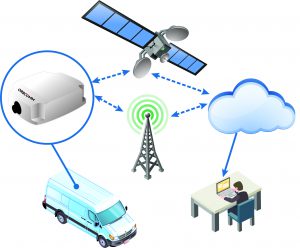 Machinestalk worked with ORBCOMM engineers to develop a solution that combined an ORBCOMM dual-mode satellite-cellular terminal with an integrated seatbelt sensor and an immobilizer installed on the fleet of vehicles. Satellite connectivity was vital to guarantee coverage in all regions of the country.
This is just one example of how ORBCOMM is working with our partners to deliver the benefits of satellite IoT.  From enhancing fleet safety and monitoring the electrical grid to maximizing uptime and helping minimize illegal fishing, the applications for satellite IoT are endless.
To find out more about how ORBCOMM can help its partners enter new markets and achieve success, visit our new Partner website or email us at info@orbcomm.com.