It's hard to believe, but it's already been almost a year since the historic SpaceX launch (and landing) that carried the second set of satellites into orbit for ORBCOMM's next generation OG2 constellation. On December 21, 2015, the world watched with bated breath as SpaceX launched its Falcon 9 rocket, achieved a historic landing of its first stage back to earth, and successfully placed ORBCOMM's 11 additional OG2 satellites into orbit. There were a few anxiety-filled moments, but it wasn't long before all of our satellites checked in as healthy and the in-orbit testing began to start providing much improved service for AIS and IoT applications.
One year later, the OG2 satellite fleet is now processing over 60% of the network's M2M traffic. The performance and availability of our enhanced satellite constellation has exceeded expectations, as echoed by the positive feedback from our customers around the world, who are experiencing significantly improved service and faster message delivery.
ORBCOMM's OG2 satellites are far more advanced than OG1 satellites, which not only translates into a higher level of service and reliability for our customers, but also more opportunities through our expanded global coverage, increased market reach and the new IoT applications that we can support through improvements such as:
Faster message delivery
Larger message capacity
Lower power consumption
Broader global coverage at higher latitudes
Increased network capacity and performance
OG2 is improving service for customers across a variety of industries, including:
Satellite AIS / Maritime
The OG2 satellites are equipped with an AIS payload to receive and report transmissions from AIS-equipped vessels for ship tracking and other maritime navigational and safety efforts. With the launch of 11 more powerful AIS-enabled satellites, ORBCOMM now operates the largest space-based AIS network, with 18 AIS-enabled satellites.
Combined with our existing network of 16 ground earth stations around the world, average AIS data latency as short as one minute can be achieved, which enables near real-time monitoring of vessels and increased analytics capabilities. The high number of satellite passes (up to 142) and coverage overhead up to 90% of the time, translates into data refresh rates measured in minutes.
ORBCOMM is now collecting over 18 million AIS messages from approximately 180,000 unique vessels per day, surpassing all other AIS networks in service quality.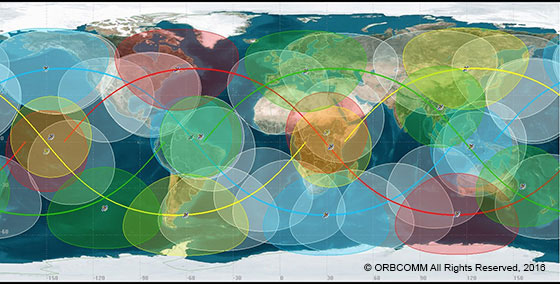 OG1 and OG2 satellite footprints—complete global coverage. Image © ORBCOMM All Rights Reserved, 2016.
Heavy Equipment
For heavy equipment customers with machinery working in deep quarries or urban canyons, connectivity using improved, faster and lower power OG2 satellite technology is highly effective.
Shortly after the OG2 launch, ORBCOMM took another step in simplifying the hardware decision-making process for OEMs and creating a truly standardized IoT platform by launching the completely interchangeable OG2 and OGi satellite modems. The modems provide customers with plug-n-play satellite connectivity using the ORBCOMM VHF network and/or the Inmarsat L-band network without the need to redesign their IoT applications or stock and support two devices. The versatile modems are nearly 50% smaller than a credit card and feature an identical footprint, connectors, power input, programming environment, communication interface and protocols.
Transportation
One of the key benefits of having satellite is knowing where your assets are at all times. ORBCOMM's OG2 network brings peace of mind to our customers by allowing them to remain in contact with their valuable cargo (including refrigerated produce and pharmaceuticals) through remote areas and cellular network disruptions due to natural disaster or capacity outages.
To relive the historic OG2 launch, watch the full replay (which never gets old) at: https://www.youtube.com/watch?v=O5bTbVbe4e4 . For more information on OG2, visit www.orbcomm.com/og2.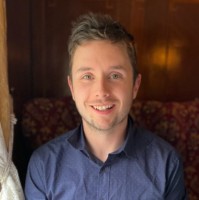 Cody Lirette is Senior Content Marketing Manager at ORBCOMM. With over seven years of marketing and communications experience for both the public and private sector, he uses his passion for innovative technology and plain language to build compelling content that provides value.