International Women's Day 2023: an interview with Angela Shue
International Women's Day 2023: an interview with Angela Shue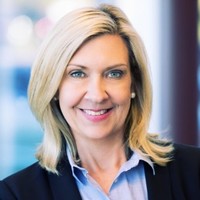 We sat down with Angela Shue, Director of North American Transportation, Enterprise Markets, here at ORBCOMM to discuss this year's International Women's Day, the difficulties she's faced as a senior leader in a male-dominated industry and more.
---
Where did it all start for you?
I was born and still reside in North Carolina. I started working in the telematics industry right out of college in a family business. Fast forward 30 years, telematics is—and has been—my career and I now proudly have two children, one of which is following in my footsteps at Volvo!
Did you have similar career ambitions when you were younger?
I can't say I did. I had always planned on going to law school, but I started working in the telematics industry and haven't slowed down to look back.
How long have you been in transportation? And what's the proudest career accomplishment so far?
I've been serving this industry for 30 years and I have so much gratitude for the professional and personal relationships I have developed. Reflecting over the years, my proudest accomplishments were the times I sat around tables with chairs filled with men and never felt intimidated to express my thoughts or suggestions.
As you know, today is International Women's Day. Why is this day so important to recognize?
It's significant for several reasons. I think we need to celebrate where we are, where we came from and where we're going. While progress has been made in terms of gender inequality, there are still injustices. International Women's Day provides a platform to discuss and highlight the issues that women still face every day.
It's a day to demand change. One where we can work towards a world where women have the same opportunities and rights as men. And although we have a long way to go, International Women's Day shows the great amount that we've accomplished in human rights, which can help inspire future generations to pursue their dreams and ambitions.
The theme this year is #EmbraceEquity. Where do you feel that's taking place in trucking?
Women have historically been underrepresented in trucking–and in technology. And there are still barriers today. However, with the current labor market constraints, new educational opportunities and degrees in supply chain and logistics, women can leverage education credentials to be more competitive in the industry without working their way into management and leadership positions.
What are some of the biggest difficulties with being a senior leader in a male-dominated industry?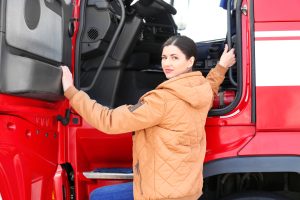 Gender bias and stereotypes to start. There's an assumption that women are less competent or committed than their male counterparts. This is a real issue and can make it harder for women to gain respect and credibility in this industry.
There's also a lack of female representation in leadership, and when there are a few female leaders, women can feel isolated and unsupported. Beyond the discomfort, there is pressure too, as it can feels at times that as a female leader, you are representative of the entire female population within an industry. The pressure to succeed can be a heavy burden.
Balancing a demanding career with family responsibilities is challenging for anyone. But in some cases, it can be harder for women as they also often feel they must prove themselves in this field more than their counterparts who are men.
Can you name some of the barriers you faced personally in your career? How did you overcome them?
Certainly. I've been overlooked for leadership and promotions and have been paid less than my male counterparts for the same job. I've faced workplace harassment and discrimination and faced barriers to training, development and networking opportunities. Getting past these obstacles took time, determination and support from colleagues who believe in me as a person, not as a female.
I found networking was crucial to building strong relationships and continuing to learn in the field. Staying on top of my game—honing my skills and expertise to stand out—and never losing sight of my goals allowed me to grow in my career every day.
Advocating for myself was also key. Luckily, I learned this early in my career! Speak up for yourself and ask for what you deserve, whatever it is.
If you could dine with three inspirational women, dead or alive, who would they be and why?
First, Ruth Bader Ginsburg. RBG never stopped advocating for women's rights. She was an Associate Justice of the US Supreme Court and a trailblazer for gender equality and a champion for women's reproductive rights. I would love to learn more about her early years and how they gave her the fortitude to overcome the challenges she faced in breaking down barriers for women in the legal profession.
Maya Angelou would be my second. She's one of my favorite writers and perhaps the most influential voice against racism and sexism, two topics we share a common passion for. I would love to hear her thoughts on how we can continue the progress she advocated for and avoid the mistakes she endured during her lifetime.
And then we have Malala Yousafzai. I am an advocate for education–especially for females. Since being named the youngest Nobel Prize laureate, she's had a significant impact on women's rights. Her struggles and the adversity she's faced are so unrelatable to most of us.
She survived a gunshot wound to the head after speaking out against the Taliban's prohibition on girls' education in Pakistan and refused to give up. Wow! Can you imagine the discussion over dinner on how she was able to recover and come back stronger than before?
Angela, this has been wonderful. Thank you so much for your time.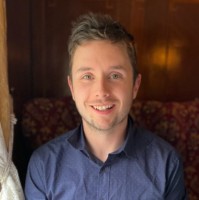 Cody Lirette is Senior Content Marketing Manager at ORBCOMM. With over seven years of marketing and communications experience for both the public and private sector, he uses his passion for innovative technology and plain language to build compelling content that provides value.

Get started with ORBCOMM
Digitalization is transforming industrial operations around the globe. Learn how ORBCOMM solutions can optimize yours.
Get a Tailored Quote