As we are all aware, the world is changing rapidly, and we are going through an unprecedented time of uncertainty caused by the COVID-19 outbreak. At times like this, it becomes even more apparent how the nation's truckers support us and keep trade moving.
Truck drivers are in the spotlight as one of the leading figures in keeping food on the shelves and hospitals in stock of vital emergency equipment. As HDT Trucking reports, it's a scary time and drivers are worried about their health on the road.
To help keep drivers informed, ORBCOMM has developed a handy visor card for drivers with some tips on staying safe during the current pandemic. It's available to print, download and share by email or mobile version. It contains some short, but essential tips for drivers to stay safe during the Covid-19 crisis. Our highest priority is the health and safety of our transportation community, including drivers, employees, partners and vendors.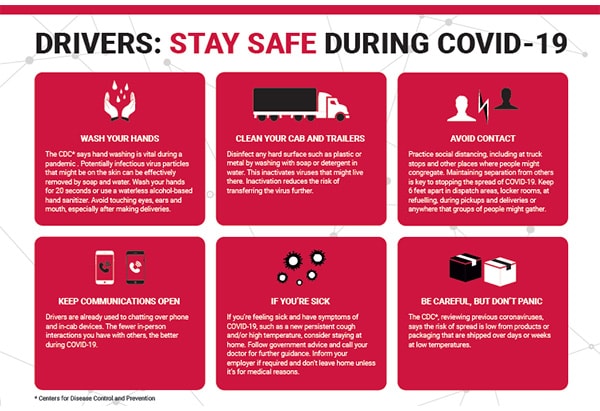 (Download and Print Visor Card) (Download Mobile Version) (Español)
Wash Your Hands
The CDC says hand washing is vital in pandemic times. Potentially infectious virus particles that might be on the skin can be effectively removed by soap and water. Wash your hands for 20 seconds (or the length of time it takes to sing happy birthday) or use a waterless alcohol-based hand sanitizer. Avoid touching eyes, ears and mouth, especially after making deliveries.
Clean Your Cab and Trailers
Disinfect any hard surface such as plastic or metal by washing with soap or detergent in water. This inactivates viruses that might live there. Inactivation reduces the risk of transferring the virus further.
Avoid Contact
Try to avoid places where other people in areas where they might congregate, such as truck stops. Practice social distancing. Maintaining separation from others is key to stopping the spread of Covid-19. Keep 6 feet apart in dispatch areas, locker rooms, at refuelling, during pickups and deliveries or anywhere that groups of people might gather.
Keep Communications Open
Drivers are already used to chatting over phone and in-cab devices. The fewer interactions you have with others, the better during Covid-19.
Don't Go to Work If You're Sick
If you're feeling sick and have symptoms of Covid-19 such as a new persistent cough and/or high temperature, stay at home. Call your doctor for further guidance. Inform your employer if required and don't leave home unless it's for medical reasons.
Be Careful, but Don't Panic
The CDC – reviewing previous coronaviruses – says the risk of spread is low from products or packaging that is shipped over days or weeks at low temperatures.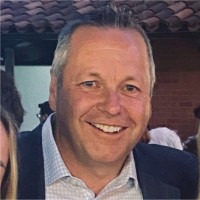 Chris MacDonald—ORBCOMM's Senior Vice President of North American Sales—has over two decades of experience in transportation, enterprise software, telematics and IoT applications that he leverages to deliver world-class ORBCOMM technology to businesses across North America.