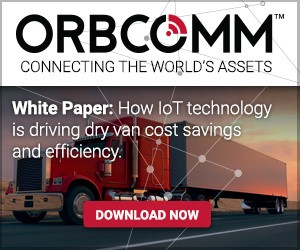 The coming years will see exponential growth in smart transport solutions that enable fleet managers to use telematics devices to remotely track, monitor and control their road and intermodal assets. New use cases and applications will emerge at a rapid rate as Internet of Things (IoT) and other digital technologies are adopted by growing numbers of transportation and logistics companies, and as the technology sector continues to bring new products and services to market. Real-time visibility and control, leveraging the latest IoT technologies, will emerge as a norm within the next 3-5 years, becoming a basic requirement for remaining competitive in business.
Technology analyst Gartner forecasts that 20.8 billion connected things will be in use worldwide by 2020. In the latest edition of its annual Trailer and Cargo Container Tracking report, Berg Insight says that the number of tracking devices on trailers, intermodal containers, air freight boxes and cargo pallets reached 2.9 million units at the end of 2015. Berg forecasts that the trailer and cargo container tracking market will increase at a CAGR of 23.2 per cent over the next few years, hitting 8.1 million devices by 2020. The analyst estimates that shipments of remote tracking systems with cellular or satellite communication capabilities totaled 800,000 units in 2015, with trailer tracking accounting for 56.8 per cent of deployments.
To help future-proof current investment in fleet telematics, here are 5 practical issues to consider when it comes to IoT technology suppliers:
1. Implementation
Deploying and managing telematics devices across a dispersed fleet of hundreds or thousands of mobile assets can be a daunting prospect. Talk to your service provider about the practicalities and time required for initial installation and ongoing management. Check that devices can be easily configured and upgraded over the air. Device battery life is a significant cost and operational issue, especially in the dry freight/dry van sector. Telematics devices utilizing solar power and energy harvesting technology can help address the issues.
2. Integration
Consider how your telematics solution needs to integrate with custom and third-party dispatch and in-cab systems and with other enterprise IT applications, today and in the future.
3. Mobile Access
Mobile apps are rapidly becoming a critical feature, extending visibility and control of trailer operations to drivers and operators on-the-go out in the field. Among other uses, mobile has a critical role to play in aiding regulatory compliance and reporting, such as required by the US Food Safety and Modernization Act (FSMA).
Consider your mobile needs from the administrative, operational, customer service and compliance perspectives and check what your technology provider already has available, or can help you develop.
4. Continuity
Cellular has emerged as the leading global communications network, but it is not always available.
Optional backup satellite connectivity ensures uninterrupted coverage in some of the most remote regions of the world where cellular is scarce or non-existent, and in case of storms and other natural disasters that may compromise cellular infrastructure and service.
Map your likely geographical usage, including plans for service expansion, and assess whether satellite capability will be needed to ensure uninterrupted coverage.
5. Breadth
When choosing dry van telematics, factor in how your operations may expand or diversify in the future and incorporate those plans into the decision-making process. Will tracking solutions be needed for temperature-controlled, bulk or intermodal equipment? Will it be important to support mixed fleets from a single operating platform or interface?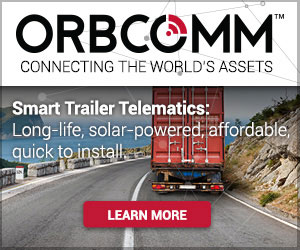 Other factors to assess when reviewing IoT technology providers for fleet telematics solutions:
✔ Track record
✔ Previous deployments in your field
✔ Financial stability/strength
✔ Total business scope — geographic and by market
✔ Customer service and after sales support
✔ Capabilities across the core components of an IoT telematics solutions:
– Devices
– Sensors
– Communications networks
– Cloud, enterprise and mobile apps
– Out-of-the-box and bespoke solutions
Get tracking with the industry leader in smart transport telematics
Whether for dry, refrigerated or mixed fleets, trailer and container tracking solutions from ORBCOMM provide the total visibility needed to allow fleet managers to optimize utilization, reduce fuel costs, improve preventative maintenance and more. That's why the world's top companies trust ORBCOMM for reliable, cost-effective, easy-to-use tracking, monitoring and control.
To learn more, schedule a demo or email sales@orbcomm.com.