Maritime history is usually divided into separate eras: the Age of Navigation, the Age of Discovery, the Age of Sail, the Age of Steam and the Rise of Steamships and Motorships. During this time, innovations such as steering oars and rudders, navigation by the stars, the keel, the triangular sail, maritime engines and the chronometer have redefined what was possible.
In the 21st century, it is time for technology to lead a new revolution
In ocean freight supply chains, meaningful innovation is long overdue. The container shipping industry in the past decade and more has been characterized by intense peaks and troughs, rivalries and rate wars – but little in the way of real technological innovation. While container ships, ports and inland logistics alike have gotten much larger, they have not become much smarter, nor more connected to the wider logistics ecosystem.
But not for much longer, it seems. A wave of change is coming to container supply chains both on land and, increasingly, at sea, driven on the one hand by rapid advances in the cloud, digitization, automation and autonomous traffic, and on the other by evolving market dynamics.
In contrast to just a couple of years back, technology-enabled change is increasingly on the senior management agenda as an "when, not if" response to help manage massive complexity and scale, strip out waste and cost, and repurpose the ponderous might of maritime container trade for the on-demand era of Amazon and Alibaba.
New technology plays are now coming thick and fast – and not just from 'disruptive' start-ups. Consider Maersk's evolving digital container logistics strategy, including recent tie-ups with Microsoft and IBM, on top of its smart container program. Or OneSea, a consortium of established marine and IT names with a vision to make autonomous commercial maritime traffic a reality by 2025. Or the tie-up between Port of Los Angeles and GE to launch a digital port information platform. Or DP World's recently-announced cargo tracking initiative for shippers. The list goes on. The technology genie is well and truly out of the bottle – even if current reality does not, yet, match up to the digital hype.
Commercially and operationally, what these digital initiatives share as a goal, and a need, is comprehensive, automated, systematic visibility to events, processes and status. The OneSea project may seem like an outlier here, but just try and run an unmanned ship, or robotized container terminal, or automated warehouse, without data.
Of course, the container supply chain is already awash with information – commercial, legal and operational. Indeed, the cost of physically moving a container is less than half the cost of handling the information related to its transport, said Maersk in a 2016 study of the trade pipeline. All this latent data can potentially deliver lots of operational and business value when properly mined on a massive, automated scale, as some start-ups are now setting out to do.
But all too often, the data on which supply chains rely remains after the fact, fragmented and unreliable – not surprising, given how much manual keying and rekeying is still involved. This may be a rather shaky foundation on which to build the digital revolution. At the TOC Asia conference this April, Electrolux executive Bjorn Vang Jensen lamented that the shipper currently gets "horrible visibility" from its container supply chain and that "data is not satisfactory."
This is where Internet of Things (IoT) technology comes in. Worldwide, we are witnessing an explosion of 'smart, connected things', exploiting technological advances and reducing costs in telematics devices, sensors, applications, software and communications networks – including cellular, satellite and near-field. Analyst IHS Markit predicts 30.7 billion IoT devices in consumer and industrial use by 2020, rising to 75.4 billion in 2025.
As discussed in our new podcast for The Loadstar IoT connectivity is now being actively adopted on a growing array of container transport assets, including dry and refrigerated containers, chassis and gensets, both for domestic and international maritime operations. One recent large-scale adopter is US multimodal giant JB Hunt, installing solar-based IoT tracking devices with internal cargo sensors on more than 90,000 intermodal containers and trailers.
Technology is now enabling users to track not just the in-transit and geo-fenced location of their assets at any given time, but also the actual status of both asset and cargo – from loaded vs empty, internal temperature/atmosphere, shock, motion, fuel and oil levels, to tyre pressures, door open/close, device on/off, tampering/intrusion and more.
Until recently, the ocean leg has been something of a 'black hole' in all of this. That visibility gap is now being closed thanks to developments in low-cost, on-ship cellular GSM networks like VesselConnect, our new solution just launched in partnership with Vobal Technologies. The first adopter is US carrier TOTE Maritime Puerto Rico, long a proponent of smart containers, which is using the system to monitor on-water refrigerated shipments of pharma and food cargoes.
Why does this all matter to broader container supply chain digitization efforts? Because data from connected containers (read chassis, gensets, vessels) is reliable, real and real-time. It reveals what is, versus what was planned or anticipated, in the moment, shining a light not just on asset operations but on supply chain processes, flows and hand-offs – not least in the complex ship-port-landside interface.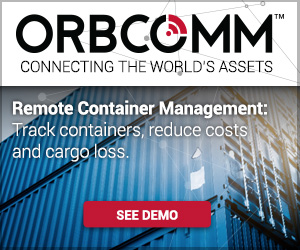 It's telling that recent adopters such as JB Hunt cite the ability to deliver better supply chain visibility to their customers as a prime reason for investing in container and trailer telematics, allowing them to deliver new value beyond just transportation. In a short space of time, asset tracking could become just the basic entry level for IoT adoption, with supply chain network optimization as the considerably bigger prize.
For global maritime container supply chains, the next decade may come to be known as the Age of Visibility. Change is certainly coming and the current and next generation of IoT technology will be central to the transformation, in ways we probably don't yet even grasp.
ORBCOMM is looking forward to taking part in the forthcoming TOC Europe Conference in Amsterdam, June 27-29, as a sponsor and speaker. We'll be joining a session in the Container Supply Chain Conference looking at how digitalization can help the industry achieve higher performance to discuss how the IoT is evolving and what this means for all the supply chain stakeholders
Al Tama is ORBCOMM's Vice President & General Manager, Container and Port Solutions. Al leads the teams that manage solutions for Container and Ports and Over the Road Transportation assets. Al has more than 13 years of experience delivering mission-critical systems to shipping lines, marine terminal operators and port complexes, and trucking companies.