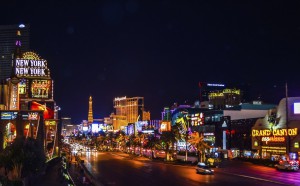 It's going to be a big week for us at the CTIA Super Mobility show September 9-11 in Las Vegas.  We will be at booth #4843 showcasing the most innovative ways businesses in virtually every sector are harnessing the power of M2M technology to make their assets smarter and their operations more efficient. With our leading-edge hardware, network services and application solutions working together, our customers have the right information at the right time, no matter when or where, maximizing productivity, utilization and profitability.
ORBCOMM provides the industry's most comprehensive offering that covers every touchpoint in the M2M ecosystem. From building our own world-class hardware to developing intuitive software platforms to standardizing satellite M2M around product formats and protocols, ORBCOMM has been at the forefront of technology and innovation in the global M2M industry for over 20 years. And we continue to expand the breadth and depth of our solutions portfolio to open a host of new market opportunities with innovations that enable better business planning and cost control. Here's a sneak peek at what we will be officially launching at CTIA:
Connecting on the Go – Today's world is more connected than ever before with The robust mobile application for both iOS and Android devices provides quick and easy access to ORBCOMM technology and solutions. Monitoring and controlling assets, accessing detailed status and user-defined reports, activating or suspending a subscriber or viewing a snapshot of device activity in real time are all available right from the palm of your hand.
Connecting Enterprise – When wired connections fail, companies big and small need to keep machines and processes connected, branches linked and transactions flowing. ORBCOMM Enterprise Connect is our new turnkey wireless backup continuity solution that provides cost-effective and reliable wireless WAN connectivity to existing broadband connections along with out-of-band management (OOBM) capabilities for distributed enterprise, financial, hospitality and retail locations.
Connecting the IoT – with ORBCOMMconnect, all of our satellite and cellular network services are accessible through one remote management portal, significantly reducing the complexity of provisioning and managing M2M assets across multiple networks.
We look forward to meeting you at CTIA and discussing how ORBCOMM can make a difference in your business.