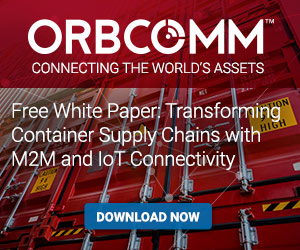 Technology to track containers, cargo and transport assets on the move has been around a long time in various guises, but today is part of an explosive global trend towards Machine-to-Machine (M2M) telematics devices and sensors, as part of the burgeoning Internet of Things (IoT).
From connected cars, digital health and fitness, smart homes, smart factories and smart cities, to real-time monitoring of heavy equipment working deep in mines and quarries, intelligent buoys that trace fish stocks out at sea and devices that track elephants and other wildlife across remote parts of Africa, IoT is already starting to transform the way we live and work.
By 2020, predicts IT research and advisory company Gartner, there will be 21 billion connected 'things' in the world, up from 4.9 billion at the end of 2015 and an expected 6.4 billion by the end of 2016.
For container supply chain operations, the potential is profound.

Today, containers, ships and other intermodal transport assets (chassis, gensets etc.) are mainly "dark, dumb and disconnected." What this means is that we really don't know much about them – they are not self-aware, we can't see them and they can't tell us about their actions and status.
M2M and IoT telemetry is all about making assets, cargo and shipments "visible, smart and connected," generating live, hard data that can be used in a variety of ways. What we are really talking about here is creating real-time visibility and control over complex container supply chain operations by fitting containers, equipment and cargo with automated locating and sensing technology.
The ability to track, monitor and control intermodal equipment and shipments in real-time across land and sea is already helping early transport industry adopters to improve operating efficiencies, drive down costs, increase security and safety, and comply with growing regulatory requirements.
In our newest white paper, ORBCOMM offers a current snapshot and future outlook on M2M and IoT in the global container supply, covering technology, adoption trends, use cases and key drivers…