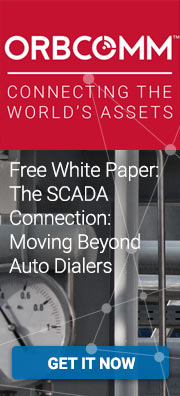 Wireless communication has enhanced the possibilities in SCADA monitoring. Operations managers are no longer restricted to relying on auto dialers connected to phone lines for communicating SCADA events. They now have more physical reach by being able to monitor, control and automate equipment located at remote sites spread over large geographical areas. It has also been part of the evolution that allowed customers to move away from closed, analog connections to digital and IP (Internet Protocol) based systems.
As technology has evolved, SCADA remote monitoring and control equipment like PLCs (Programmable Logic Controllers) and RTUs (Remote Terminal Units) have also become more feature-rich (and complex). The increase in proliferation and functions of PLCs and RTUs means there is a greater depth of information available locally to operations managers. However, the challenge is to exchange information with the equipment in a timely manner and make it available to the SCADA master station and HMI (Human Machine Interface) for viewing, interpretation and driving business KPIs (Key Performance Indicators).
SCADA SITES – POINTS TO CONSIDER WHEN DESIGNING AND RETROFITTING
Whether you are building a new remote SCADA site or retrofitting an existing site, there are many points to consider so that you are able to extract more comprehensive information. Building (or upgrading) a successful SCADA network depends not only on understanding today's remote monitoring and control requirements but also on implementing a system that can scale up to tomorrow's needs. Beyond the master station, the architecture of the SCADA network comprises of three main components. These are:
Controllers or Data Terminal Equipment (DTE) at the remote sites
Data Communication Equipment (DCE)
Communication (telemetry) network
CONTROLLERS OR DATA TERMINAL EQUIPMENT (DTE)
Today's controllers, whether they are PLCs, RTUs or intelligent communication terminals, come in various sizes and capabilities to meet master station and remote station control needs. Here are 10 factors to consider when selecting this type of equipment:
Local Intelligence and Processing: Is the unit programmable? What is the processing throughput? What is the data logging capacity of the unit?
Input/Output (I/O) ports: What is the number of I/O ports and what is their accuracy? Do they meet the needs of the application?
Communications: What telemetry communication services are supported? Are there provisions for redundant communications for critical applications? Can data be sent and received at the frequency required by the application and the operation manager?
Protocols: Does the unit support open standard industry protocols like Modbus and DNP3 on serial and TCP/IP ports?
Interfaces: What interfaces are required to connect to DCEs?
Power: What are the power requirements of the unit? Can the unit be operated on battery alone? What are the options for backup power?
Enhanced Security: Does the equipment support password-protected programming, authentication and IP firewall capabilities?
Durability and Ruggedness: Is the unit rated to handle the temperature, humidity, vibration and electrical conditions found at the remote sites?
Modularity: Is the unit expandable as demand and needs change?
Space and Installation: How much space is required by the controller and how will it be installed at the remote site?
DATA COMMUNICATION EQUIPMENT
DCEs are responsible for the exchange of appropriate data between controllers/DTEs and the master station by using the communication network. DCEs include auto dialers as well as radio, cellular and satellite modems and terminals. Here are 10 factors to keep in mind when considering DCEs for SCADA sites:
Availability: Which communication networks are available at the remote sites? This will drive the selection of the DCE. Options include radio, private leased lines, cellular and satellite.
Redundancy: Does the DCE have redundant communication options?
Data Requirements: Does the unit support the transmission of analog, digital and/or serial data?
Data Communication Rate: How much data needs to be sent to and from the remote site? Will there be a demand to change the data as the site grows or evolves? Can data be sent and received as frequently as required?
Transmission Modes: Does the site need half-duplex or full-duplex capability?
Response Time and Latency: How much time does it take to relay information between the controllers and the master station? Does it meet the needs of the application?
Interfaces: What interfaces are required to connect to the controllers?
Standards and Certification: What communication standards need to be complied with in order to operate in that region?
Power: How much power is required to operate the DCE? Can the unit revert to backup power in the advent of a failure on the main power line?
Durability and Ruggedness: Like the controllers, is the unit rated to handle the temperature, humidity, vibration and electrical conditions found at the remote sites?
Increased visibility of the status of equipment at remote SCADA sites and the ability to collect more data than was provided solely by alarms (as offered by auto dialers) has translated into significant cost and operational savings for managers.
To learn more, including the 10 key factors for selecting primary and secondary communication systems for remote SCADA sites, download ORBCOMM's SCADA Connection White Paper.