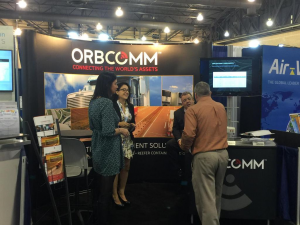 This week, American Trucking Associations hosted leaders from across the industry at its annual Management Conference & Exhibition, a four-day event that addressed several key issues including the driver shortage, highway safety and the growing role of technology in transportation operations.
From the dynamic keynotes and educational sessions to the engaging discussions that took place at our booth, there were plenty of takeaways from this year's Conference. Here are a 5 that stood out:
1. Trucking and Trailer Telematics Continues to Expand
During a panel sponsored by the ATA's Technology & Maintenance Council, participants noted that telematics is the one constant in any future-looking discussion on trucking.
PeopleNet President Brian McLaughlin noted that telematics could soon become universal in U.S. heavy-duty trucks as the federal regulation on electronic logging devices comes into force. He noted that many carriers are opting for a full-service approach—including trailer, location, fuel and temperature monitoring—in addition to the minimum requirements around hours logging.
2. The Driver Shortage is Staggering
According to the ATA's Truck Driver Shortage Analysis, the trucking industry was short 38,000 drivers in 2014. The shortage is expected to reach nearly 48,000 by the end of 2015 and, if the current trend holds, the shortage could grow to almost 175,000 by 2024.
While there are no easy answers to the shortage, Brian Kinsey, president and CEO of Brown Logistics, told an ATA technology panel that apps and other technology could help with driver recruitment.
With no end to the shortage in sight, trucking companies will be looking to further optimize the utilization of their assets, using technology to gain increased visibility into trailer and fleet operations, to reduce manual labor and improve ROI.
3. Fuel Optimization Remains a Priority
Fuel loss and theft is on ongoing concern for fleets of all sizes, especially for the refrigerated fleets dealing with improper usage when trailers are out the company's possession.
Fuel sensors connected to remote monitoring devices can detect rapid fuel loss, theft, improper invoicing and unnecessary continuous run usage—all of which can have a very real impact on the bottom line for reefer operators.
4. Reducing Maintenance Costs and Hassle
Fleets are looking to improve preventative maintenance scheduling by using technology to track miles and engine hours to monitor if a trailer is being over/underutilized.
At the same time, they expect that the technology used to gain this visibility does not add undue maintenance hassle of its own. Visitors to our booth told us time and again that solar-powered tracking was an attractive option to avoid having to send technicians to their trailer tops.
5. Two-Way Communications Key for Cold Chain
Refrigerated transportation fleets want visibility into the status of their temperature controlled cargo, but also need the ability to react to problems remotely. From turning the reefer on or off, to changing temperature set points and operation mode, two-way communications gives fleet managers the ability to reduce costly load rejections, spoilage claims and to improve ROI.
Up next, you can see ORBCOMM at the IFDA Distribution Solutions Conference (booth #323) in Phoenix from Oct. 26 – 28, where we'll be on hand to discuss cold chain compliance solutions for temperature-controlled cargo. Going to be there? We'd love to meet with you. Schedule a meeting with us.