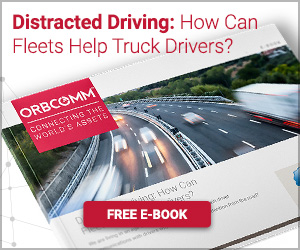 European trucking companies are benefiting financially from increased demand and tighter capacity, with freight rates hitting a 10-year high, says a recent report from The Journal of Commerce. The picture is the same in the USA, where "the economy is vibrant and producing freight growth across all sectors" with "fleets scrambling to add capacity and ordering large numbers of trucks and trailers," according to industry analyst FTR Transportation Intelligence.
This is good news for the bottom line of an industry that has traditionally operated on slim margins. But the financial upside is tempered by a growing threat, and it's not going away any time soon, warn experts. Driver shortages in Europe and the USA are reaching unprecedented levels, with an ageing workforce on both sides of the pond that's simply not getting replenished with young entrants.
France faces a current shortage of around 20,000 drivers, says the JOC article, while the UK needs 55,000 more. In a report issued last October, American Trucking Associations Chief Economist Bob Costello warned the US trucking industry could be short 50,000 drivers going into 2018. The report says that US trucking will need to hire around 90,000 new drivers per year on average over the next decade to replace retiring drivers and keep pace with projected industry growth.
Countering trucking's negative public image, paying drivers more and improving driver treatment along the supply chain are among the responses needed, says ATA.  Ironically, hours of service (HOS) rules in both Europe and the USA, and the new Electronic Logging Device (ELD) mandate in the U.S., while adding to the current capacity crunch, may also help foster a climate for change.
That's because thanks to increased regulatory and industry pressures, shippers are becoming more acutely aware of the need to be 'good customers', working more closely with their haulage providers to maximize truck, trailer and driver capacity. Especially, that includes reducing unproductive and unprofitable wait times – aka detention – at pick-up and drop-off locations, including ports, yards, warehouses and DCs.
Detention is a global issue, which in the USA alone currently costs for-hire truckers an estimated $1.1-1.13 billion annually in lost earnings as well as increasing crash risks, according to a January 2018 report from the DoT Office of the Inspector General. It also means fewer productive driving hours on the road to earn money, deliver the goods and meet supply chain deadlines.
Detention is one among many areas where industrial Internet of Things (IIoT) technology is now playing a key role in transforming trucking from 'dark, dumb and disconnected to 'visible, smart and connected'. In an article published by Freightwaves this March 15, JB Hunt Transport Services says that its new 360 platform – fed among other sources by data from 90,000 IIoT-connected trailers and intermodal containers using ORBCOMM telematics – is providing "better aggregation and transparency to the data its truckers gather."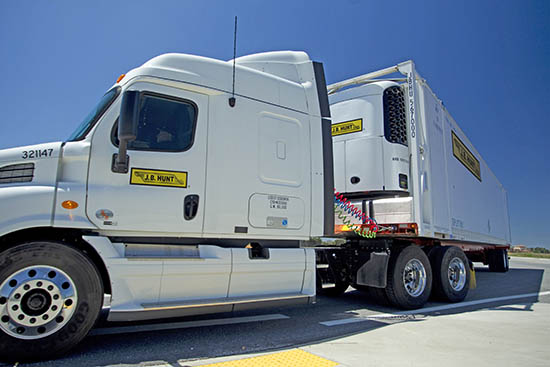 Leveraging its investment in real-time tracking and platform technology, the company has been able to build a database on detention, which can be shared with shippers whose wait time performance is less than stellar, as well as with drivers. Quoted in Freightwaves, JB Hunt CCO Shelley Simpson says: "It is important that we have a job that is fair in wages, and that we treat them right… we want to create that transparency for drivers about what they are going into."
Telematics can also shed a light onto truck and trailing equipment operations at other supply chain hand-offs. For instance, numerous recent reports cite intermodal road haulage in the USA and Europe as hard-pressed by congestion and delays at rail and port yard interfaces due to sheer demand growth and bigger cargo peaks.
Hard data on 'the good, the bad and the ugly' can help fleets and drivers mitigate current issues at shipper and other supply chain nodes by identifying bottlenecks, accurately locating grounded trailers and containers for pick-up, and alerting when equipment is empty and available for next load. In the longer run, this information can help trucking companies collaborate with shippers and other supply chain members on innovative solutions to address the underlying inefficiencies baked into long-standing industry practice around detention.
Truck telematics, including ELDs, are also a crucial piece of the puzzle. Latest in-cab technology is very much designed around the driver, reducing the burden of bureaucracy and regulatory compliance, replicating the look and feel of everyday smart phone apps for speed and ease of learning, and with early warning and coaching feedback to improve driver safety and performance.
As operators look retain their current skilled workforce and increase trucking's appeal to the younger generation, driver-centric technology – in the cab and on the trailer – will be key. For operators, having visibility to all truck, trailer and intermodal transport assets on integrated platforms will also enable big data aggregation and insights to optimize fleet and driver capacity.
Join ORBCOMM at SITL in Paris, March 20-23 and TCA 2018 in Florida, March 25-28 to discuss how truck, trailer and intermodal equipment telematics can help optimize driver and fleet capacity in road freight operations. If you can't be there, contact us at sales@orbcomm.com.