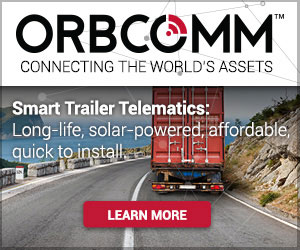 Sensor-based fleet telematics utilization is on the rise in the transportation industry, and is helping carriers of all sizes boost their bottom line, improve driver satisfaction and increase security.
Just ten years ago, many companies couldn't see ROI in telematics solutions. High prices and complicated integration processes limited adoption to only the largest fleets.
Since then, the landscape has evolved. Sensor technology has become affordable, software has been streamlined and sensor technology has improved. Installation has also become significantly easier, enabling trucks and trailers to be outfitted without going out of rotation. Sensor-based fleet telematics has become a necessity for today's fleets, and with more widespread adoption there's now hard data to support the return on investment.
Improved Fleet Utilization, Turn Times
"Carriers are only making money if trailers and containers are being used, so they're looking for every opportunity to speed the cycle," said Christian Allred, ORBCOMM's Senior VP of International Sales, in a recent Transport Topics article. "Hub Group, for example, has set up a geofence around Home Depot, and gets an alert that the trailer has been delivered, an alert when the doors open and an alert when the trailer is empty. It allows users to make a much quicker turn. Before they had to wait for the store to call them and tell them the transport unit had been unloaded and they could pick it up," said Allred.
Faster turn times are just one of the ways telematics are helping to improve driver satisfaction, a major challenge affecting the industry today. Knowing the real-time status and location of cargo and trailers eliminates unnecessary yard checks and ensures trailers are picked up or re-deployed with less downtime, translating into more paid road time for the driver.
"Shippers don't want to be billed for detention time and trucking companies want their assets on the road making more runs," said Allred. "Telematics from the use of cargo sensors gives visibility into the status of the cargo and can be turned into customized alerts if loading or unloading is taking too long. Shippers will either work more efficiently to speed up the process or move a trailer to the front of the line to avoid going over time and being billed."
Trailer Visibility Translating to Safer, Happier Drivers
Mistakes in trailer assignments are another major cause of driver concern. Drivers get sent to locations they can't bill for and must be reassigned. Drivers become frustrated, which can become a road safety issue that can affect vehicle operation and increase fuel costs. Operations where these errors are common are more likely to experience higher driver turnover rates. Visibility into the status of a trailer with the use of cargo sensors helps mitigate these errors.
Sensors Helping Prevent Cargo Theft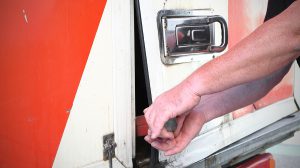 Cargo sensors can also help boost security by detecting and preventing cargo theft. Operators and drivers receive alerts if a change in load status occurs or if the sensor is damaged, tampered with or removed. This can work in conjunction with tracking devices to determine if unauthorized unloading events are taking place, allowing companies to keep close track of high-value cargo and gain greater peace of mind.
Cargo and door sensors along with fleet tracking devices and state-of-the-art applications have become an integral part of a complete asset management solution. ORBCOMM is providing J.B. Hunt with a comprehensive telematics solution using our solar-powered GT 1100 tracking devices with integrated cargo sensors. It gives full visibility to multiple classes of trailing equipment with installation times of under 15 minutes on either loaded or unloaded trailers, meaning trailers don't even need to be taken out of circulation.
"These comprehensive telematics solutions will decrease cargo theft, increase operational efficiency, decrease unauthorized use of assets and offer J.B. Hunt control over every facet of its fleet operations," said Tracy Black, Senior Vice President of Information Systems for J.B. Hunt.
Telematics improves operational efficiency and saves the industry millions of dollars in fuel, maintenance and asset wear and tear. Fleets of all sizes that had been slow to adopt the technology in the past are now looking at telematics as a means to drive more efficient operations, improve the bottom line and remain competitive.
To learn more about ORBCOMM's advanced sensor technology and complete telematics solutions, contact us at sales@orbcomm.com.
As Product Marketing Manager at ORBCOMM, Craig Bond is responsible for driving marketing initiatives for industry-leading satellite/cellular products and services. He has a diverse range of experience in global business strategy, product launches, market intelligence, brand communications and product positioning.