"Smart satellite technology was responsible for remote coverage of these important areas, ensuring high availability of the communication channel". André Balestreri – Electrical Engineer – CERFOX
On June 30th, 2020 a powerful cyclone occurred in the southern states of Brazil. Now considered the biggest wind disaster in the country's recent history, the extreme weather – with winds of over 70 mph – caused significant damage. CERFOX, a Brazilian energy company, tells us how ORBCOMM-enabled smart technology was vital in ensuring continuous energy provision, in remote areas during the extreme weather event.
The electrical grid essentially collapsed, and some areas went for hours and in some areas, days without power. CERFOX was able to rely on ORBCOMM's continuous satellite connectivity to ensure remote communications were still available. Throughout the storm, ORBCOMM's satellite terminals continued to operate, providing remote coverage in areas that were crucial in identifying failures in the electrical grid and getting things back up and running. At times, "during the outage, one-third of consumers were without coverage." CERFOX, using ORBCOMM's network was able to retain connectivity, "At CERFOX satellite signals from ORBCOMM terminals were responsible for remote coverage of these important areas, ensuring high availability of the communication channel," said Balestreri.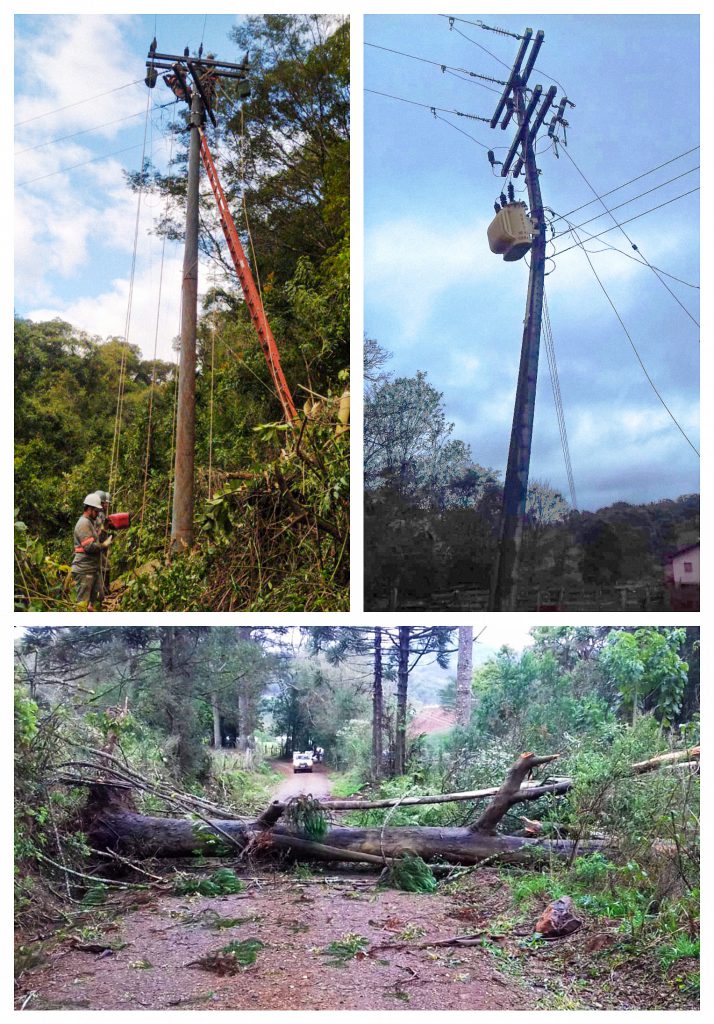 Real-time Critical Infrastructure Monitoring
ORBCOMM's solutions are deployed to remotely monitor and control reclosers (a kind of circuit breaker equipped with a mechanism that can automatically close/open it in the event of a fault) and protective equipment in smart grid applications, as voltage regulators and capacitor banks.
In connecting reclosers, events and alarms messages can be sent by unsolicited reporting by exception, including analog and digital variables states representing recloser information in the field. The values are filtered, and relevant data is transmitted, requiring minimal network usage. They are especially useful in areas where cellular coverage is limited or non-existent, like in the areas impacted by the cyclone.
Balestreri says the continued coverage from ORBCOMM's technology helped to ensure the consistent supply in what turned out to be very challenging conditions. "The damages we had were pole breaks, conductor ruptures and trees falling on the electricity distribution network. The equipment automation system and the satellite signal availability, strategically installed in points with no signal availability and points with a large concentration of consumers, where we cannot run the risk of running out of signals, helped us a lot in the quick identification of the lack of electricity, and the restoration and maneuver of the electrical network. We had no instability in the recloser system, covered by the ORBCOMM satellite technology," he said.
ORBCOMM smart satellite technology can remotely control and monitor equipment around the clock, making it possible for electricity distribution companies to control operations, with satellite as a primary or backup communications system. In the case of an issue, our systems alert the control center. The solution supports two-way communications, so users can remotely trip or close a recloser, and ping the device to get information like such as voltage, power factor, current and more.
Find out how utility companies use ORBCOMM's smart grid solutions to affordable and reliably extend their communication network. We help our customers to improve electricity distribution and prevent outages, particularly in remote areas. Download our white paper now to find out how satellite technology helps utility companies gain full visibility of smart grid infrastructure.

Reinaldo Burian holds a master's degree and PhD in electrical engineering, and has extensive experience in developing IoT solutions that enables him to use a consultative approach to deliver exceptional support to ORBCOMM's partners.