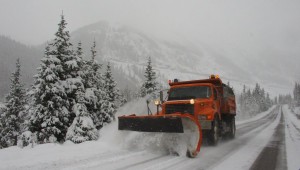 Winter is here for many of us, and with it come the sounds of shovels, snow blowers and snow removal vehicles whizzing by to clear our roadways. While most of us only have to worry about pulling a muscle when clearing our driveways, for those managing snowplow fleets, ensuring the safety of snow removal workers is serious business.
Picture this real-world scenario: it's a stormy day in Colorado and a county employee has gone missing along with the snowplow he was operating. Despite being equipped with two-way radios, dispatchers had lost contact with the driver for several tense hours. Read on to find out what happened to the subject of our story but first, what went wrong and how did the county prevent it from happening again?
Well, for starters, terrestrial-based communications systems like two-way radios and GPS-enabled tracking equipment provide at best sporadic coverage over expansive, mountainous regions like southern Colorado.  To ensure the safety of mobile workers, fleet managers and dispatchers need ubiquitous communication and location information in order to deploy rescue crews quickly to remote areas. Ideally, such a communication system should also be cost-effective and easy to deploy and maintain.
In our story, the county in question decided to deploy a solution using  satellite-cellular tracking devices on its snowplows. The devices reliably report GPS position within cellular coverage and automatically switch to satellite when cellular coverage is lost or disabled due to an emergency. This allows dispatchers to quickly and easily track the location of snow removal vehicles in cases of emergency and also to maximize resource use.
Frequent location information allows dispatchers to easily decide which vehicle is available to handle special or unscheduled plow service requests. This can potentially save hundreds of hours of operation every season, especially in regions with longer and harsher winters.
When considering budgets, the math is easy. At $200/hour for equipment use and $60/hour for the driver, if employing an asset tracking solution saves 100 hours of operation in a season (conservatively one hour per day and 100 days per average season) this translates to a $26,000 saving per year, per vehicle.
Despite not having reliable in-vehicle communications in place at the time of the incident, I'm happy to report that our story ends well. It was later discovered that the driver had drifted off the highway during white-out conditions and flipped the snowplow into a ditch. Thanks to a passerby, the authorities were notified and were able to retrieve the driver and the disabled equipment.
Had his vehicle been equipped with a satellite-cellular device, the historical location data would have accurately determined the driver's last known location, saving him several harrowing hours waiting for rescue in the freezing cold.
The incident drove home two very important needs for the county—the ability to ensure a safe working environment for its employees and the ability to track their fleet of equipment in near real-time for both regular and rescue operations.