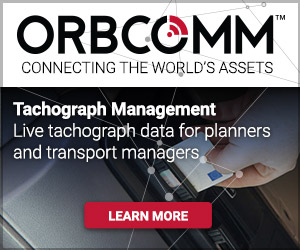 The UK's Driver and Vehicle Standards Agency (DVSA) is to enforce new on-the-spot fines for lorry, bus or coach drivers who consistently break drivers' hours rules. The rules aim to reduce the number of accidents by preventing 'tired driving.'
The new enforcement comes into effect in Great Britain from Monday, March 5, 2018. The current maximum fine for breaking driving hours rules is £300. From March 5 onwards, drivers can be fined up to £1,500 during a single stop if found to have up to five drivers' hours offences over the previous 28 days according to their tachograph information. If the driver is found to have more than five offences in the previous 28 days, they will be taken to court. As well as the fines, drivers could also end up in court or have their vehicle taken away.  
Right now, the DVSA only fines drivers for offences committed on that specific day or continuing issues such as the manipulation of tachograph records. The difference coming into effect on March 5 means that:  
The number of penalties that can be issued at a single time rises to five.
Penalties can include historical offences that occurred in the previous 28 days. 

 
Why are the fines being implemented?
The DVSA sets the rules for drivers' hours/tachographs for all goods vehicles on Great Britain's roads. It recognises the seriousness of the effect of tiredness on drivers of commercial vehicles.  
The reasons for the current and upcoming fines are to ensure drivers are sufficiently rested and not going above and beyond the allowance of drivers' hours. It says almost a quarter of injuries in accidents involving lorries are fatal, while approximately 40% of sleep-related accidents involve commercial vehicles.  
The fines work to deter drivers from driving without proper rest. It's worth noting that the DVSA issued 6,300 fines to lorry drivers between April 2015 and March 2016.  
According to DVSA Chief Executive Gareth Llewellyn:  
"DVSA's priority is to protect you from unsafe drivers and vehicles… There's no excuse for driving while tired. The results of falling asleep at the wheel of 40–tonne lorry can be devastating to families and communities. Any drivers breaking these rules is putting other road users at risk and could face losing their licence and livelihood." 
How will the DVSA enforce the fines for drivers outside of Great Britain?
The new fines apply to all drivers whether the offences took place in Great Britain or not or whether the driver lives in Great Britain or not. Drivers not living in the country must pay the fine immediately, or their vehicle will be taken away until payment is made at which time they can continue their journey.  
How should transport managers react?
It is down to fleet managers to ensure that tiredness does not become a problem for drivers. Managers can plan shifts around the legislative timings, ensuring drivers have time to get enough sleep. The key here is forward planning.  
Up until quite recently, transport managers have had to calculate drivers rest periods, extended days remaining per driver and compensation rules based on a 'best guess' approach. Managers couldn't maximise drivetime because they had to base hours information on historical data.  
A fleet manager's best asset is being able to stop violations before they have a chance to happen. Tachograph solutions like Blue Tree's TachoVision immediately make this possible by displaying driver hours information in real-time.  
Using TachoVision, managers can:  
Instantly identify how many extended driving days each driver has available

 
See when the next minimum daily rest is required and for how long

 

Check when the next weekly rest period or rest break is due to start

 

See precisely how much time needs to be compensated to ensure the driver is legal.
DVSA continues operations against tired driving
These fines are part of a continuing effort by the DVSA to ensure that CMV drivers rest properly. A significant section of the rules enforced by the DVSA focus on rest time. For example, the rules state a daily limit of nine hours of driving per day, between daily/weekly rest periods. In addition, lorry drivers are obliged to take a 45-hour rest break at least every two weeks. Since November 1, 2017, officers can issue £300 fines for drivers spending their entire weekly rest break in their truck parked where it is causing an obstruction. The new enforcement came into effect in early February, but fines will not start until March to allow for the 28-day period to be reviewed.  
Hauliers can rely on ORBCOMM's Tachograph solution to ensure up-to-date compliance with national and international legislation. To learn more, contact us at sales@orbcomm.com.