It's no secret that transportation, utility and energy are witnessing significant gains by deploying mobile field service solutions that increase productivity and profitably while decreasing costs.
But according to a new study by the Aberdeen Group entitled Service Lifecycle Excellence: Resolution at the Heart of Service, mobile workforce technology is also now enabling top performing organizations to evolve from reactive to proactive service, where the focus is increasingly on addressing issues before they occur.
Top Service Organizations Use M2M Technology to Stand Out from the Crowd
Increasingly, field technology enabling first-time fix or preventative maintenance is becoming a key differentiator for service organizations faced with shrinking customer budgets and increased competition. M2M technology allows top organizations to not only capture data from the field, but to alert the organization of a future failure, trigger preventative maintenance and better inform and equip technicians before they get on site.
According to Aberdeen Group, the most successful companies are:
15% more likely to provide technicians with up-to-date work instructions while on site;
41% more likely to use advanced technologies to dynamically schedule/manage site visits;
70% more likely to provide technicians with remote access to training materials; and,
83% more likely to use forecasting tools to ensure issues are resolved on first visit.
"Top organizations prioritize the investment in mobile tools to provide technicians with better access to information in the field," reads the Report. "The need to resolve customer issues quickly and efficiently has led to the best firms equipping the field with the right tools to find information in a complex world."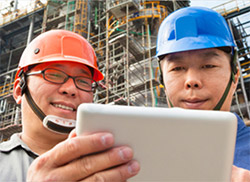 These trends provide both challenges and opportunities for M2M solution providers, who can differentiate themselves by meeting increasing demands for smarter devices to increase the efficiency and productivity of in-field workers…
Device and Network-Agnostic Workforce Automation
In our January Newsletter, SkyWave pointed to solution and device consolidation as a top trend for 2014. Indeed, it is now the expectation that M2M solutions interface with low cost but capable mass-market devices such as smartphones, tablets and trip navigators.
The most attractive solutions are similarly unburdened by network coverage, with the ability to serve up web forms and other time-saving tools even without cellular coverage—using satellite in remote areas or free Wi-Fi when available (the latter provides even more choice in low cost devices by enabling solutions to interface with any handheld device, without the need for a cellular modem).
Smarter and More Flexible Solutions
There is an increasing need in the M2M marketplace for flexible, customizable, programmable solutions based on open platforms. By offering field-ready devices that can either be custom programmed or easily configured, solution providers can quicken time to market and lower total cost of ownership.
At the same time, service organizations are also looking for smarter devices that can connect to intelligent networks (Modbus, USB, Ethernet, Wi-Fi) and go that extra mile in connecting the field worker to the back office.
In fleet management, this means going beyond simple vehicle tracking and 'dots on a map', to smarter features that enable business process improvement, including advanced driver behaviour monitoring, Hours of Service and e-forms that can be served up anywhere, even using truck stop Wi-Fi.
For utilities and energy workers, M2M technology can monitor fixed remote assets to address issues before they arise, and provide in-field access to knowledgebase and other back office resources to ensure quick and efficient resolution.