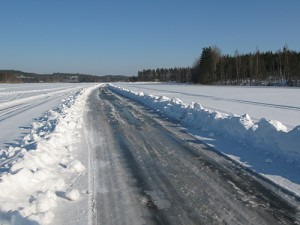 According to The Old Farmer's Almanac, it is going to be another teeth-chattering cold winter. While for us northerners that means more skiing, skating and hockey (can you ever have enough hockey?), it also means more snow, blizzards and treacherous drives to work.
This impending doom of more ice and snow reminded me of a conversation that I had with Phil Lancaster, President and Founder of Helios Global Technologies. He relayed a story where an ice road truck driver was on his way to a community in Northern Canada to deliver a much needed load of food supplies when his vehicle slid off the road and into a ditch. As he stepped out of the vehicle to assess the situation, he slipped and severely fractured his ankle.
The driver tried to make an emergency call on his cellphone but he was out of coverage. His back-up two-way radio was also of no use due to the landscape of the region and a lack of line of sight. To add even further to the woes, since the fuel valve had shut-off, the driver was unable to start the vehicle in order to keep warm.
The driver was in a serious situation on an extremely isolate road and if you want to find out what happened to him, I suggest you read our short Application Profile (no spoilers here!). Read the story for yourself, but needless to say, tracking solutions with satellite M2M capability are a must for vehicles that travel on ice roads or remote oil & gas and mining sites.
In the meantime, even though I don't plan on doing any ice road trucking this winter, it's probably time to start thinking about my snow tires soon.